Information for Faculty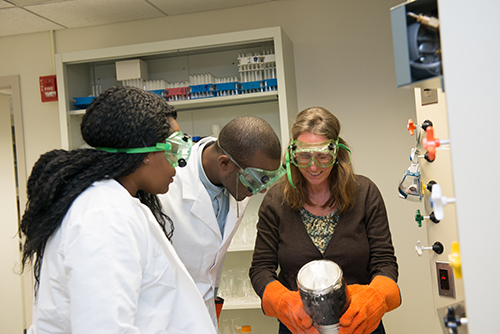 A Co-Curricular Transcript is a quick, easy, and official way to get an idea of what your students are doing outside the classroom; this can be very helpful when writing letters of recommendation. Having a good sense of your students' co-curricular activities can also help you to be a better, more informed advisor.
Study abroad experience is the newest feature to be added to the Co-Curricular Transcript program, and plans are in the works to include scholarly research projects and internships.
Viewing a Student's Co-Curricular Transcript
You can search and view any advisee's current co-curricular transcript to aide in career advising, internship placement, writing letter of reference, etc. To access the student record, proceed to the Faculty/Staff tab in my.newpaltz.edu, click Faculty Services, and then use the Student Co-Curricular Transcripts link under the Advising Menu. You can also use the Co-Curricular Transcript link on your advisee list or click https://www3.newpaltz.edu/cct/fac-staff/transcript/unofficial. Please note that not all students have an active record as it requires the student to request experiences to be added.
Managing the Co-Curricular Transcript(s) You Verify
If you are the designated campus verifier for any co-curricular transcript experiences, you are now able to view, manage and/or edit the experiences. Proceed to https://www3.newpaltz.edu/cct/role/select. Click on the Contact button and then click Manage Experiences. Use the search tool to sort those experiences. Use the Action Button on the right to edit, update, or re-assign the verification role to another campus employee.
How to Verify Student Requests
When a student submits a request to add an experience to their transcript, an e-mail is automatically generated to the employee listed as the campus designee. The e-mail will link you directly online to approve or reject the experience at https://www3.newpaltz.edu/cct/contact/student-experiences/verify. Please double-check you own records that the student did complete or is near completion with the experience. The Office of Student Activities will generate a reminder every 30 days for experiences being held in a pending status.
Adding a New Campus Related Experience to the Co-Curricular Transcript Program
We are always identifying relevant experiences that exist across campus that students may want to include in their transcript. If you know of a recurring experience that is not already included, then please feel free to submit a request for its inclusion at https://www3.newpaltz.edu/cct/fac-staff/experience/submit. If you have questions regarding a possible experience being added, please contact the Center for Student Engagement cse@newpaltz.edu or via phone at 845-257-3025.
One Time, Non-Recurring Experiences
As the program has grown, we have identified many one-time experiences such as: student research, conference presentations, student abroad (the experience itself, not the coursework), internships, and other high impact practices. To accommodate these one-time unique experiences, we have built into the software the ability for a student to initiate such requests and to identify the appropriate academic or professional faculty member that is uniquely related to that experience. This methodology allows critical learning experiences to be included while maintaining our verification integrity. If you know of common one-time experiences (details change for every student), please contact Erica Wagner at wagnere@newpaltz.edu or via phone at 257-3025 for more information.