Mark McFadden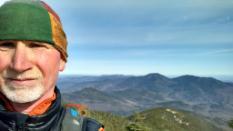 Mark McFadden (He, Him, His)
Director
mcfaddem@newpaltz.edu

Make an appointment with Mark
Drop-in hours: Mondays: 2-4pm, Thursdays: 12-4pm

Mark works with students and alumni/a from ALL majors!
---
Mark McFadden began his time at SUNY New Paltz in the Spring of 2016. Prior to starting at New Paltz he worked at Alfred University for over fifteen years where he served as the director of the Career Development Center for twelve of those years.
In his current role, he oversees the day-to-day operations of the office. This includes overseeing the budget, making sure our resources are up-to-date, developing new programs through cross-campus collaborations, expanding networking opportunities for students and alumni, and fundraising. A few new initiatives that are in the works include working with local counties to create a 'Neurodiversity Hub' in order for employers to be better equipped to hire, train, and retrain neurodiverse candidates and expanding DEI efforts through partnerships with programs such as DIFFvelopment, Emma Bowen, and Diversity Org.
Outside of work, Mark enjoys mountain biking, hiking, and skiing in the Catskills, Adirondacks, and Mohonk Preserve.