Beth King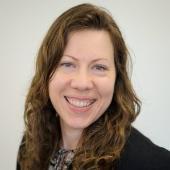 Beth King (She, Her, Hers)
Employer Relations Specialist
kingb@newpaltz.edu

Schedule a meeting with Beth
Drop-hours: Mondays: 12-4pm
Beth works with employers that want to recruit SUNY New Paltz students and alumni.


---
I am a proud alumna of SUNY New Paltz (both undergraduate and graduate degrees) who was fortunate enough to come back home to my Alma mater to work. My husband is also an alumnus. I have been a career professional working in the field of career services for 25 years.
Some of my responsibilities include
⇒ Increase employment opportunities for university students and graduates.
⇒ Build relationships with employers at the local, regional, and national level
⇒ Track job market trends as related to employment/recruiting
⇒ Co-facilitate the CAS Internship Stipend scholarships for spring and fall
⇒ Facilitate the annual First-Year Internship Program and hosting an amazing intern each spring
⇒ Establishing the CRC as a referral agency so that we can connect students with the Dress for Success and Suited to Succeed programs
⇒ Co-coordinate the Fall and Spring Career Fairs for Jobs and Internships
⇒ Planning campus/virtual visits so students can learn more about employment opportunities and also career exploration trips for students/alumni to visit employers such as to Lincoln Performing Arts Center, American Museum of Natural History and NBC Universal
⇒ Assist with scheduling on-campus interviews
What I do in my spare time
→ Adjunct Instructor for two sections of the Career & Internship Prep course
→ Member and former Vice President of the Board of Trustees for my town's library
→ Past President & 20 year Active Member of a local club devoted to civic involvement and community service
→ Former Technology Director for a professional organization's board (NYSCEEA) for two years
→ Hiking, reading books/listening to audiobooks, watching classic and new movies, spending time with my family
Please make an appointment with me at https://calendly.com/kingb/ or scan the QR code below. I would be happy to help.