Curated by Daniel Belasco
August 31 — December 11, 2016
Morgan Anderson Gallery

Bradley Walker Tomlin, No. 16, c. 1948, oil on canvas, courtesy Michael Rosenfeld Gallery
The Dorsky Museum, in partnership with the Everson Museum of Art, is organizing the first retrospective and catalogue of American painter Bradley Walker Tomlin (1899–1953) since 1975. "The gentleman Abstract Expressionist," in the words of poet John Ashbury, Tomlin was known for his elegance in both painting style and personal comportment. Bradley Walker Tomlin: A Retrospective will include over 40 paintings, works on paper, and printed materials, charting Tomlin's development from art nouveau illustrations of the 1920s to large-scale Abstract Expressionist paintings of the 1950s. The exhibition explores his formative years in Syracuse, early patronage by Condé Nast, and the important role played by the Woodstock art colony. Tomlin is best known as a key figure in the New York School and had close friendships with Adolph Gottlieb, Philip Guston, and Robert Motherwell. Unlike most of his peers, Tomlin focused on the impersonal possibilities of art. His carefully orchestrated paintings resonate with our time's renewed interest in abstraction and design.
---
Curated by Daniel Belasco
Howard Greenberg Family Gallery
August 31 – December 11, 2016 (Part II)
Opening reception Saturday, September 10, 2016, 5–7 pm
Barbara Morgan, Dance Portfolio: Jose Limon, Mexican Suite (Peon), 1944, printed 1977, gelatin silver print, gift of Howard Greenberg
Dealer and specialist Howard Greenberg has significantly impacted the study and collecting of photography over the past four decades, expanding the field to include once underappreciated artists and movements around the globe. Among his legacies are 1,145 photographs donated to The Dorsky Museum, forming a rich study collection of works by 101 artists, from singular prints by European masters Eugène Atget and Julia Margaret Cameron to in-depth holdings of over 100 prints by New Yorkers Morris Huberland and Carl Van Vechten. On the Street and in the Studio is a two-part exhibition that evaluates more than 70 highlights and novelties. Part I will focus on street photography, defined as spontaneous photographs taken in urban public spaces. Part II focuses on portraiture and the personal relationship between photographer and subject. Many of these prints have never been exhibited. The two exhibitions affirm the history of photography as a continual work-in-progress.
---
Curated by Wayne Lempka
Corridor Gallery
Ongoing
Opening reception Saturday, September 10, 2016, 5–7 pm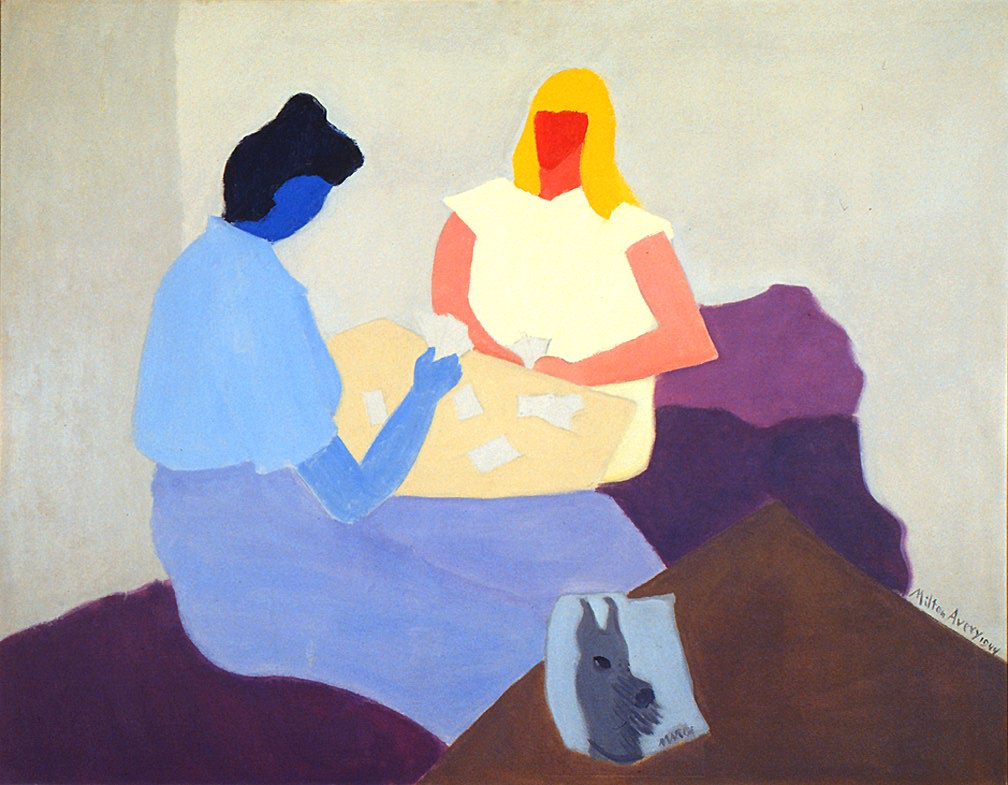 Milton Avery, Card Players, 1944, oil on canvas, gift of Mr. & Mrs. Roy R. Neuberger, 1954.002
From its humble beginnings in the 1950s, the permanent collection of the Samuel Dorsky Museum of Art (formerly known as The College Art Gallery) has grown to comprise roughly 6,000 objects spanning over 4,000 years. While many individuals have been responsible for the increase in the number of objects accessioned into the collection, it was through the initial efforts of both the University's Faculty Wives Club and the Arts & Crafts Society that a permanent collection was established on campus. When one considers that the few hundred objects which initially formed the core of the permanent collection in the 1950s, have grown to comprise approximately 6,000 objects, one cannot help but reflect upon the diligent efforts and the extreme generosity of a vast number of patrons over the last six decades.
In this ongoing exhibition, The Dorsky will focus on some of the many highlights that form the core of the permanent collection. From ancient Egyptian artifacts to American folk painting to 20th century color photographs, selections in this exhibition will periodically change in order to provide the visitor with a better understanding of the breadth and depth of the museum's holdings.
Curated by Akiko Busch
August 31 – December 11, 2016
Sara Bedrick Gallery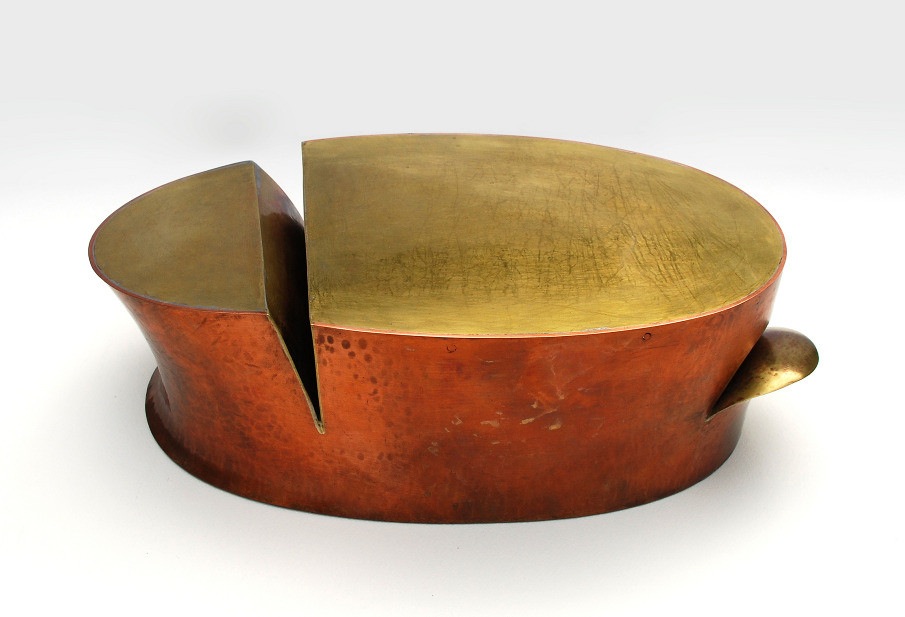 Myra Mimlitsch-Gray, Clove Oval, 2010, copper, brass, courtesy the artist
In/Animate surveys the past decade of work by Myra Mimlitsch-Gray, internationally renowned metalsmith and head of the Metal Program at SUNY New Paltz. Curated by author Akiko Busch, the exhibition explores a variety of artistic processes using iron, copper, brass, silver, and enameled steel. Mimlitsch-Gray's domestic artifacts suggest a coalescence of body and thing, conveying the mutability of the animate and inanimate and reflecting the intimacy between people and the objects they use. A spoon could be a lip, or a dangling twist of fabric, a vein. Over 40 meticulously crafted works contribute to the contemporary conversation about how household objects express ideas about presentation, utility, and class.
---
All Excess Stripped Away: Donations to The Dorsky Museum by Hugo Munsterberg
Curated by Elizabeth Brotherton

August 31 – December 11, 2016
Seminar Room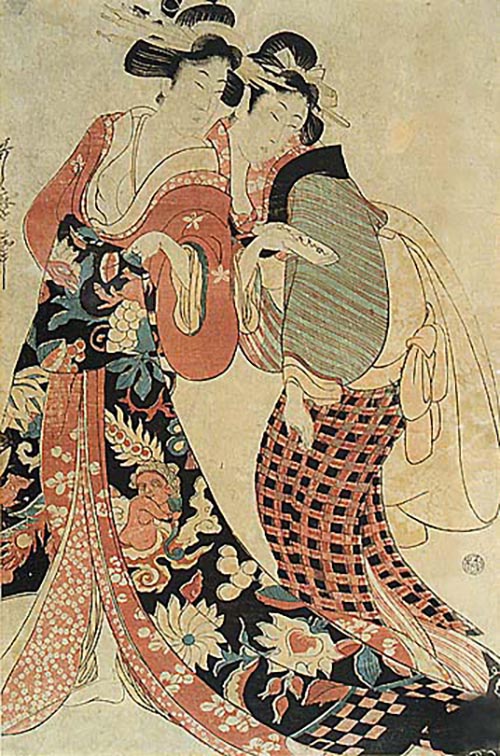 Kitagawa Utamaro, Two women, c. 1800, Woodcut, 1989.010.002, gift of Hugo Munsterberg
The items gathered in this exhibition were all donated to the College Art Gallery (later The Dorsky Museum) by Professor Emeritus Hugo Munsterberg (d. 1995), who began teaching in the Division of Art Education at SUNY New Paltz in 1958. The widely differing cultures and periods that are represented in this group of art works indicate Munsterberg's broad approach, regarding art as a primordial activity common to all humanity, and as a carrier of meaning that transcended its immediate background or cultural boundary, and also show his support for practicing artists working in the Art Department of SUNY New Paltz or in the larger Hudson Valley area.
---
Carl Walters and Woodstock Ceramic Arts
Curated by Tom Wolf

February 4 – May 21, 2017
Morgan Anderson Gallery
Carl Walters, Whale, 1927, glazed ceramic, private collection, courtesy of Conner-Rosenkranz, NY (photo Mark Ostrander)
The retrospective exhibition Carl Walters and Woodstock Ceramic Arts will survey the over 40-year career of Carl Walters (1883–1955), a pioneer of modern ceramic art in America. Walters made both functional objects and ceramic sculptures. The exhibition will feature prime examples of his witty and original three dimensional figures as well as his elegant plates and bowls. Curated by Tom Wolf, professor of art history at Bard College and renowned expert on the Woodstock art colony, the exhibition will also include examples of Walters's rarely exhibited works on paper. The first major exhibition of Walters's work since the 1950s, this show will place Walters within the context of ceramic arts in Woodstock from the Byrdcliffe colony in the early 20th century to the modernists who worked in Woodstock in the 1920s and 30s. Today, when ceramic sculpture plays a vital role in the contemporary art world, this exhibition will bring attention to one of the most prominent early practitioners of the medium in the United States.