Curated by art faculty and students
April 28 – May 23, 2017
Alice & Horace Chandler Gallery and North Gallery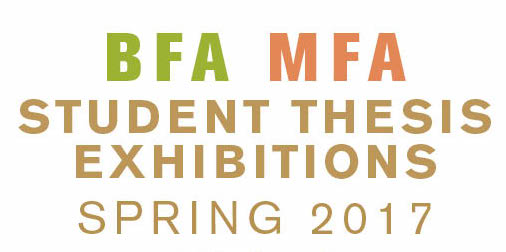 At the end of each semester, students graduating with Bacherlor of Fine Arts or Master of Fine Arts degrees exhibit art work created as part of their thesis projects in the museum's west wing. Exhibitions are designed and installed by the students, under the supervision of the Curator of Exhibitions and the museum Preparator. Works from the following options are included: Ceramics, Metals, Painting & Drawing, Photography, Printmaking, Sculpture, as well as multi-media installlations.
Friday, April 28, 5–7 pm: Opening reception for BFA Thesis Exhibition I
Melissa Aldridge /Kendall Bloodgood / Connor Henderson / Katie Kelley / Monica Knapp / Kimberly Kratzer / Raechel Manzler / Alyssa McBeth / Emily McCormick / Alissa Naer / Toni Nastasi / Hannah Oatman / Tara Platania / Zachary Viola
Friday, May 5, 5–7 pm: Opening reception for BFA Thesis Exhibition II
Melanie Berardicelli / Lillian Helling / Talya Kantro / Kelly Knowles / Jeannette LaPointe / Kaitlyn Niznik / Abby Nohai / Kristen Matuszak / Jaclyn Padich / Danny Perez / Jared Peer / Shelby Petruzzo / Dana Reifer / Alyssa Romano / Jonathan Wittmann
Friday, May 12, 5–7 pm: Opening reception for MFA Thesis Exhibition I
Brooke Breckner / Emma Olivia Chandler / Hyein Cho / Julianne Hunter / Lydia Martin / Nicholas J. Mino / Rebecca Morton / Eunyoung Oh / Michal Ozeri
Friday, May 19, 7:30–9:30 pm: Opening for MFA Thesis Exhibition II

Kimberly Christie / Briana Dragone / Ana Azzue Gallira / Christopher B. Lane / Geuryung Lee / Cong Ma / Andrea Pacione / Mingqiu Zhang / Sihui Zhang


* Special days for these exhibitions: Fridays – Tuesdays, 11-5 pm
---
Curated by Livia Straus, Juror
June 10 – July 30, 2017
Alice and Horace Chandler and North Galleries
Undercurrents: The River as Metaphor / Hudson Valley Artists 2017 calls for works that address modernity by reflecting on the Hudson River: its history, its grandeur, and its singular ability to provide us with a roadmap for meeting the challenges we face in the course of everyday life. The exhibition poses questions intended to document this work in our own time: What are the perspectives of contemporary artists living along the Hudson River, and how are they reflected in their art? Can we look to the history of the Hudson Valley to anchor our moral fiber? How can the river and the artists it inspires guide us through the ongoing process of adjusting to new norms and realities?
Submissions will be juried by Livia Straus, director and co-founder of the Hudson Valley Center for Contemporary Art (HVCCA) in Peekskill, N.Y., a non-profit organization dedicated to developing exhibitions and interdisciplinary programs that enrich our understanding of contemporary art and its relationship to social issues.
Submissions to Undercurrents: The River as Metaphor / Hudson Valley Artists 2017 are closed.
---
Curated by David Terry and Judith Brodsky with the assistance of Madeline Scholl
August 30 – November 12, 2017
Alice and Horace Chandler and North Galleries
NYFA's Official 30th Anniversary logo designed by Fellow in Poetry '01 Edwin Torres.
Artists as Innovators: Celebrating Three Decades of New York Council on the Arts / New York Foundation for the Arts Fellowships marks the 30th anniversary of a program that has supported over 4,000 artists in various fields in the visual arts, literature, and performing arts at critical stages throughout their careers. NYFA Fellows have a history of addressing pressing and often controversial issues such as the status of women, sexual orientation, equality, consumerism, globalization and more. The Dorsky and five museums on State University of New York campuses (SUNY Cortland, Alfred University, SUNY Plattsburgh, Stony Brook University, and Westchester Community College) are partnering with NYFA to present an exhibition that will travel throughout the state from Fall 2017 through Spring 2020. As part of the exhibition tour, regional SUNY partners will present complementary exhibitions and programs. SUNY and NYFA are obvious partners in this project as both shape the culture of New York State by nurturing its creative and intellectual communities.
The roster of NYFA Fellows includes such significant figures as Barbara Kruger, Fred Wilson, Christian Marclay, and Martha Rosler in the visual arts, A.M. Homes, David Henry Hwang, Tony Kushner, and Suzan­Lori Parks in theatre and literary arts; Todd Haynes, Spike Lee, and Mira Nair in film; and Meredith Monk, Julie Taymor and Yvonne Rainer in the performing arts. These artists have reflected on the era in which we live. Their impact is not only on the arts, but also on our values and social awareness. Their work is not only powerful in social and political terms, but also as visions that stand in their own right as an enduring artistic legacy, bearing witness to the importance of NYFA in nurturing the continuity and vigor of the creative community.
Participating Artists: Elia Alba / Ida Applebroog / Dawoud Bey / Ross Bleckner / Wendell Castle / Tara Donovan / Chitra Ganesh / Guerrilla Girls / Christian Marclay / Lori Nix / Faith Ringgold / Martha Rosler / Andres Serrano / Fred Wilson / Tony Oursler / Dread Scott /
---