Curated by Andrew Ingall
February 7 — July 12, 2015
Morgan Anderson and Howard Greenberg Family Galleries
Opening reception: Saturday, February 7, 2015, 5–7 pm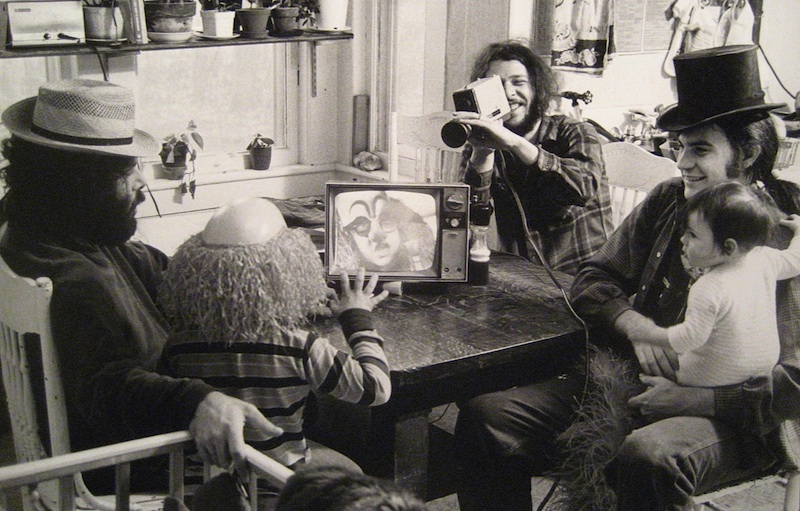 John Dominis, Videofreex (l. to r.) David Cort, Bart Friedman, and Parry Teasdale (holding Sarah Teasdale) introduce Lanesville, NY resident Scottie Benjamin to Sony Portapak technology at Maple Tree Farm, 1973, Courtesy Videofreex

This exhibition surveys the history and mythology of the Videofreex, one of the world's first video collectives, a collective of artists, storytellers, and activists who produced and disseminated alternative media across New York and other U.S. communities during the 1970s.
Organized by independent curator and scholar Andrew Ingall, the exhibition, which includes 22 newly restored videotapes, over 90 photographs and slides, and nearly 80 other objects including drawings, prints, ephemera, publications, and historic audiovisual equipment, surveys the history and mythology of the Videofreex. This collective group of artists, activists, and storytellers, produced and disseminated alternative media in New York City and in other U.S. communities from 1969 to 1978. They ran community educational workshops and presented new work in important museum exhibitions, published articles in Radical Software, and screened tapes at The Museum of Modern Art.
The materials on exhibit, largely borrowed from the personal archives of the Videofreex themselves, display the Videofreex as documenters and broadcasters of counterculture, participants in significant exhibitions of video art, and precursors of a new generation of artists utilizing social media and social practice. Highlights include vintage video interviews with political activists Abbie Hoffman and Fred Hampton, images of feminist and anti-war protests, and humorous programs like The Buckaroo Bart Show and The Lanesville TV Newsbuggy.
Though the Videofreex primarily worked as a collective, individual members created and exhibited video in museums and festivals. Videofreex: The Art of Guerrilla Television includes the remastered and digitized 4-channel Quaking Aspens (1972) by Davidson Gigliotti, who was among the first video artists to explore the sculptural qualities of multi-channel installation.
The Videofreex exploited the new technology of portable video as an emerging medium for creative expression and as a democratic tool for disseminating independent points of view in a pre-digital age. By establishing the first pirate television station in the United States, the Videofreex created a base for media education and training, and an informal media art center hosting local and international visitors.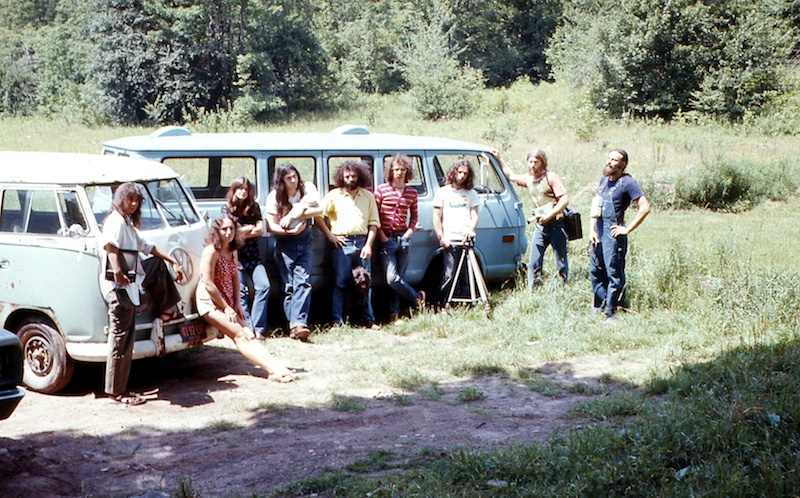 Unknown photographer, Videofreex with Bouncer, 1971, Color photograph, courtesy Parry Teasdale and Carol Vontobel (Videofreex)

The core members of the Videofreex, many of whom are active today as artists and media makers, include Skip Blumberg, Nancy Cain, David Cort, Bart Friedman, Davidson Gigliotti, Chuck Kennedy, Mary Curtis Ratcliff, Parry Teasdale, Carol Vontobel, and Ann Woodward.
EXHIBITION OVERVIEW
Videofreex: The Art of Guerrilla Television will include the following sections, distributed through 3,000 square feet of exhibition space:
• Subject to Change, the legendary CBS television pilot presentation developed by the Videofreex in 1969 that documented the counterculture movement.

• Art Scene and Art Seen features documentation of performances; individual and collective Videofreex work exhibited in nonprofit galleries, museums, and festivals; and activity resulting from an artist residency at WNET's TV Lab.

• Social and Political Movements features documentation of political events including early Women's Liberation demonstrations and the 1971 May Day anti-war demonstration in Washington, DC.

• Maple Tree Farm, a base where the Videofreex broadcasted Lanesville TV, offered mobile workshops in upstate New York, and hosted U.S. and international video makers eager to learn, network and collaborate.

• Freex Out, a dynamic workshop/studio space for temporary screenings, as well as live streaming and broadcasting by students, community groups, and guest artists.
PUBLIC PROGRAMS
The campus community and general public are invited to a panel discussion on Sunday, March 8, 2015, and film screenings at the College and select regional theaters. Program partners include the Rosendale Theatre Collective and Spark Media Project (formerly known as Children's Media Project), and Wave Farm.
Listen to Parry Teasdale interviewed on WAMC about the forthcoming film "Here Come the Videofreex."
More information on Public Programs can be found on our Special Events page.

ABOUT THE VIDEOFREEX
Videofreex was one of the pioneer production groups that formed when consumer video was first introduced in the late 1960s. Over the nine years as a collective, they produced several thousand videotapes, installations, and multimedia events and trained hundreds of videomakers in the brand new video medium. The core members of the Videofreex, many of whom are active today as artists, journalists, and media makers, include Skip Blumberg, Nancy Cain, David Cort, Bart Friedman, Davidson Gigliotti, Mary Curtis Ratcliff, Parry Teasdale, Carol Vontobel, Ann Woodward, and the late Chuck Kennedy. The Videofreex established their archive at Video Data Bank, Chicago, in 2001, and are the subjects of a forthcoming documentary film by Jenny Raskin and Jon Nealon.



ABOUT ANDREW INGALL
Andrew Ingall is an independent curator who most recently served as director of the Lynn and Jules Kroll Fund for Documentary Film at the Foundation for Jewish Culture. He previously worked as Assistant Curator at The Jewish Museum, New York, where he organized exhibitions of video, new media, and film. Additional projects at The Jewish Museum included the development of a digital library for the Museum's broadcast archive as well as directing Off the Wall: Artists at Work, a residency and open studio program. He has served on selection committees for Documentary Fortnight, The Museum of Modern Art's annual international showcase of recent nonfiction film and video, and the New York Jewish Film Festival, a collaboration between The Film Society of Lincoln Center and The Jewish Museum. He is a co-founder, former board member, and staff member of Independent Media Arts Preservation. He has participated as a working group member of New York University's Center for Religion and Media and as an Electronic Media and Film panelist for the New York State Council on the Arts.
Read curator Andrew Ingall's blog on the Videofreex website.
View a trailer for the forthcoming documentary film Here Come the Videofreex produced and directed by Jenny Raskin and Jon Nealon.
A 183-page illustrated catalog (SUNY Press, 2015) will feature an historical survey by guest curator Andrew Ingall, reflections by the Videofreex, and additional texts by Dorsky Museum Curator Daniel Belasco, Video Preservationist Tom Colley, Dorsky Museum Director Sara J. Pasti, artist Tom Roe, and scholar David A. Ross.
Click to preview the catalogue on Issuu
Additional partners may be added as programs are developed. Visit The Dorsky's website at http://www.newpaltz.edu/museum for information and updates.

The Friends of the Samuel Dorsky Museum of Art and the State University of New York at New Paltz provide ongoing support for museum exhibitions and programs. The Dobkin Family Foundation and the Lynn and Jules Kroll Family Foundation provided significant additional support for Videofreex. Special thanks to Video Data Bank and the Videofreex Archive.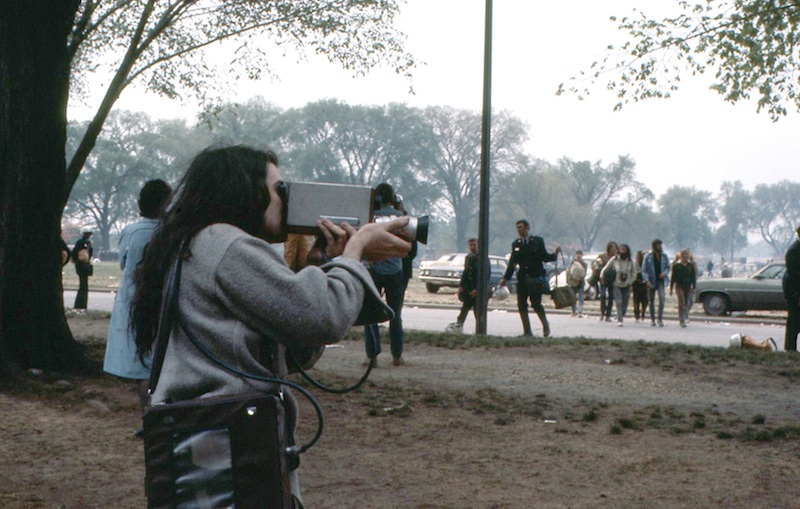 Unknown photographer, May Day, 1971, 35mm slide, courtesy Ann Woodward (Videofreex)