Curated by Chloe DeRocker

August 26 — December 13, 2015
Seminar Room
Opening reception Saturday, September 12, 2015, 5–7 pm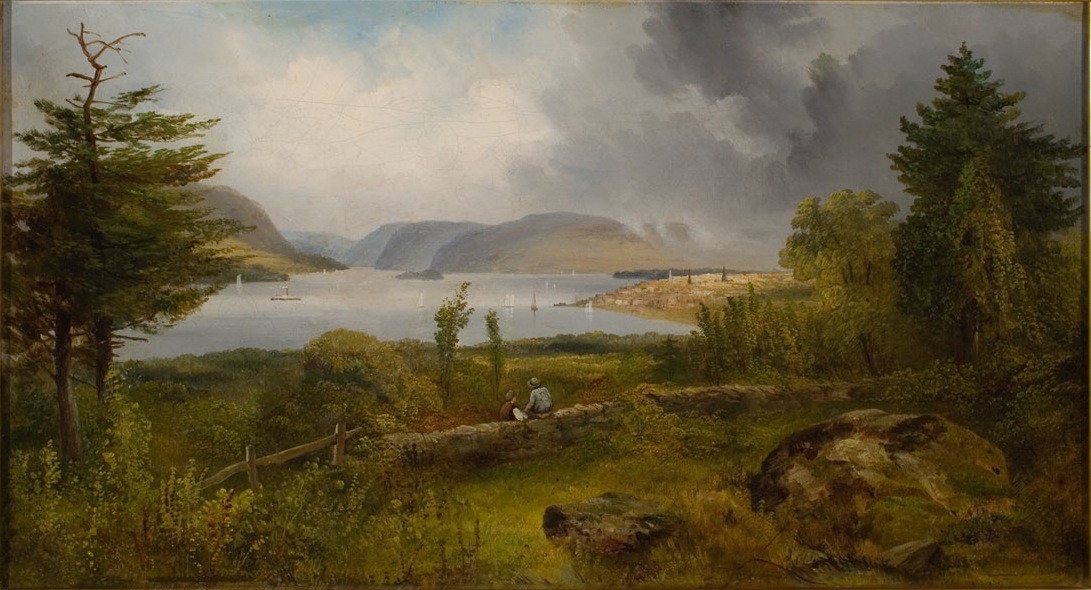 Thomas Benjamin Pope, Untitled (Rosary Heights Looking South to City of Newburgh), n.d., oil on canvas, Collection of Richard and Marguerite Lease
Thomas Benjamin Pope: Landscapes of Newburgh and Beyond showcases eight paintings by Hudson River School artist Thomas Benjamin Pope from the collection of Richard and Marguerite Lease. Scenes from the Hudson River Valley, the White Mountains of New Hampshire, and possibly Europe tell the story of Pope's life and travels. Pope's landscapes display his distinct approach to representing the atmosphere, particularly the sky. To this day Pope remains a notable figure in the history and culture of his beloved Newburgh.

The Hudson River School of landscape painters created meaningful works that manifested the beauty and uniquely American aspects of the North American landscape, especially that of the Hudson River Valley. While some Hudson River School artists such as Frederic Church and Albert Bierstadt did quite well professionally—traveling internationally, painting exotic places, and exhibiting in Europe—other artists associated with the school stayed closer to home and preferred to paint what they knew best. Among these latter artists was Thomas Benjamin Pope, who lived in Newburgh, NY. To this day Pope remains a notable figure in the history and culture of Newburgh.
It took Pope quite some time to realize his love for painting. He was born in New York City in 1833. After dropping out of school at age 14, he spent his adolescent years working at a stationer's store. Eventually Pope tried his hand as a businessman, opening several grocery stores in New York City. In 1855 Pope married Emma A. Shaw and then moved upstate to Newburgh on the Hudson River. Around this time Pope began painting in both watercolor and oil, experimenting with different genres such as portraiture, still life and landscape.

Pope also became a prominent community member of Newburgh. He was appointed a fireman in 1859 and opened a wholesale liquor company on Front Street. Pope was an active member of Washington's Continental Guards, Newburgh's military company before the Civil War, and in 1861 enlisted in Company A of the 56th Regiment New York Volunteer Infantry as a second lieutenant, eventually earning the title of first lieutenant. During the Civil War Pope was wounded during the raid by Stewart's Cavalry in the Potomac Valley where he was shot through the arm and was then honorably discharged from the army. On his return to Newburgh in 1862, Pope became active in the art community. He started creating landscape paintings and in 1865 entered the photography business with his brother William H. Pope who had his own studio. He was an energetic member of the Unitarian church and often performed skits and sang in concerts for the community.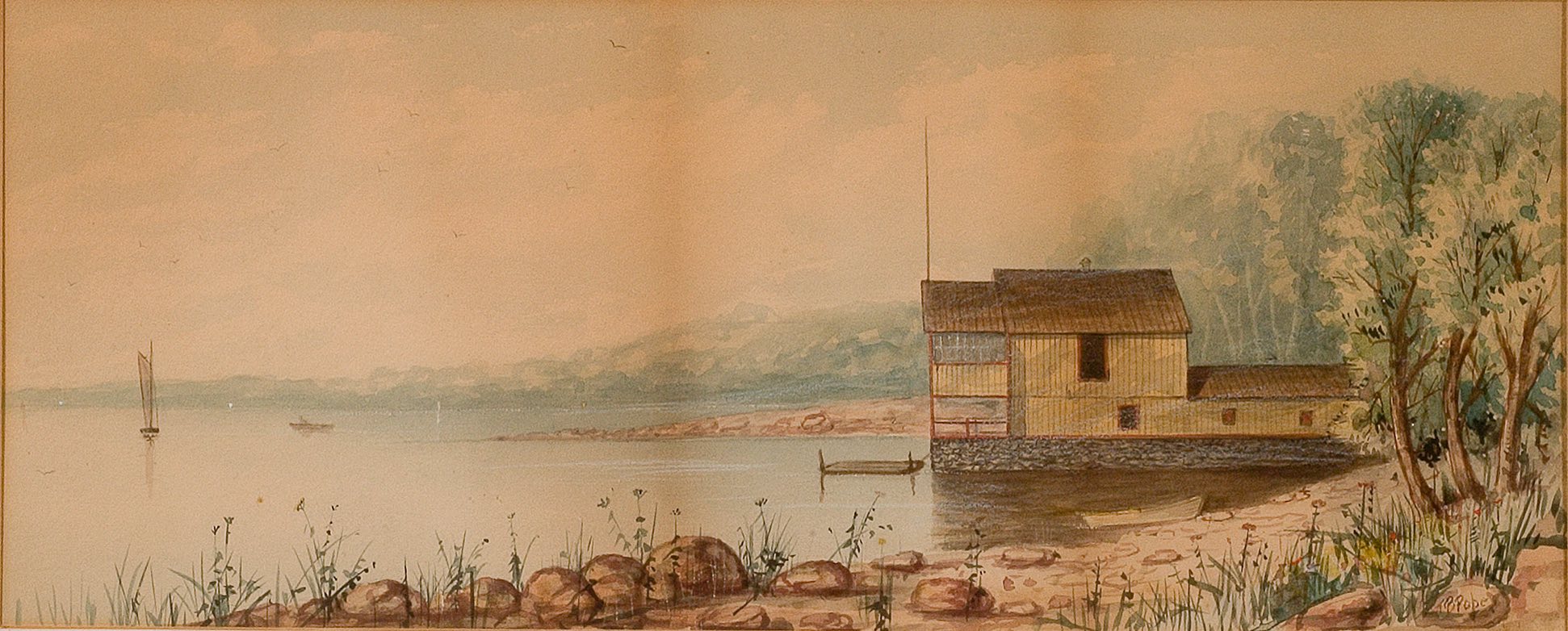 Untitled (Orange Lake, Town of Newburgh, NY with Boathouse), n.d.
watercolor on paper, Collection of Richard and Marguerite Lease

Pope's most active period of painting was in the 1870s. Pope created numerous landscape paintings in his Newburgh studio, which was open to the public to visit and see his works. Some of his paintings were discussed in local newspapers such as the Newburgh Daily Journal and the Newburgh Weekly Telegraph in which critics praised Pope's paintings. In January of 1874 the son of deceased Hudson River School artist Asher B. Durand went to see Pope's painting Autumn in the Highlands and commented, "no artist need feel ashamed of it." At this time Pope began to develop his personal style, which focused on the portrayal of the sky and water. Pope seems to have been most interested in how the position of the sun and clouds create different lighting effects during various times of day. In an untitled painting that may depict the city of Newburgh looking south to Cornwall, Pope delicately rendered the setting sun across the clouds. Another untitled painting, thought to show Rosary Heights looking south to the city of Newburgh, demonstrates how Pope skillfully represented weather effects in the sky. The painting includes a moody sky with dark thunderclouds on one side and a clear day on the other.
Pope's landscapes were well received by newspaper critics and the general public, but Pope never earned a steady income as an artist. In 1876, in hopes of increasing revenue, Pope posted an advertisement to sell his original paintings at a 50 percent discount. Pope also took on art students. He gave lessons at his personal studio or traveled to students' houses to teach them one on one. During this time Pope began writing an epistolary column for the Newburgh Daily News, under the pseudonym "Old Boy," a nickname he picked up as a young man during the Civil War. From 1876 onwards, Pope continued publishing the Old Boy letters. In his column he wrote about prominent society members of Newburgh, his memories of the war, and his occasional trips to Europe. The Old Boy column allowed Pope to express himself freely, and presumably his readers enjoyed his humor, honesty, and relatable nature.
In 1891 Pope was killed by an oncoming train while returning to Newburgh from a pupil's house in Fishkill Landing. His death came as a shock to the residents of Newburgh and the surrounding area. Pope's obituaries expressed the love his community had for him, acknowledging his artistic talents and his love for writing. While Pope never became nationally known for his paintings, he was well respected and admired for his work in the city that he called home.

Untitled (View of the Hudson), n.d., oil on board, Collection of Richard and Marguerite Lease

Very little is written about Thomas Benjamin Pope in contemporary literature. To reconstruct his life I scoured through hundreds of pages of historic 19th century newspaper articles in an archive assembled by Richard and Marguerite Lease, photocopied from the original sources held in the Newburgh Free Library. These newspapers included the Newburgh Daily Journal, Daily Telegraph, Newburgh Weekly Telegraph, and Newburgh Daily News. While these articles proved to be informative in some ways, in other ways they left me empty handed. Some of the sources I consulted had conflicting information. For example, numerous obituaries written at the time of Pope's death listed his birth year as 1832. Modern web sources list Pope's birth year as 1834. Professor Kerry Dean Carso visited Pope's final resting place, Woodlawn Cemetery in New Windsor, NY, and recorded the birth year listed on his tombstone as 1833. To not perpetuate dating errors, I take this marker as authoritative.
Through Pope's anonymous "Old Boy" letters from the Newburgh Daily News I was able to learn about Pope's trips to Europe and what he liked to do in his free time. These letters, however, were written for the entertainment of the reader and never mentioned Pope's true identity. Because of this, little specific information was revealed about his art. Seeking to fill in these gaps, I consulted art historical sources to investigate where Pope fit in with the Hudson River School. While Pope was never explicitly mentioned, I could compare his techniques and dates to those of other Hudson River School painters. This research allowed me to make great headway into decoding the life of Thomas Benjamin Pope. However, a closer examination into his life would reveal more than what is presently known.
—Chloe DeRocker '16, Department of Art History, SUNY New Paltz