7th Annual Hudson Valley/Catskill Mountain Regional Exhibitions
Ivar Elis Evers: New Paltz Watercolors, 1930-1950
October 10 – November 15, 1998
North Gallery
From Function to Form: The Intersection of Art and Craft

Betty Wilde-Biasiny, Curator
September 1–20, 1998
Chandler Gallery
Faculty Art

October 28 – November 20, 1997
An annual exhibition of new work by current Art Department faculty members
Sacred Ancient Asia: Photographs by Kenro Izu
Chandler Gallery
A special exhibition of large format platinum photographs of ancient monuments and architecture in Burma, Cambodia, India, Indonesia, and Laos. Mr. Izu will discuss his photographic work of South and Southeast Asia's sacred sights in the College Art Gallery on Friday October 16 at 5 p.m. the artist will also speak about the Angkor Hospital for Children that is being built by Friends Without a Border, a non-profit organization founded by Izu. The hospital will be located in Siem Reap, Cambodia, the nearest city to Angkor. Helping victims of land mines and contagious diseases, the hospital will also serve as an education center for medical personnel and a cultural center for local children.
Generous funding for this exhibition provided by: The College at New Paltz Foundation, Inc. The India Fund, and the Howard Greenberg Gallery, NYC.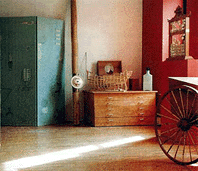 North Gallery
Sculptural works that explore the 18th and 19th century opium trade, its coincidence with the decline of the Chinese Empire, and the Western fascination for Asian goods and objects. Opium Works is influenced by Chinese objects and materials which were popular U.S. imports from 1800-1900.
Hudson Valley/Catskill Mountain Regional Exhibition Series
The Mountains, The River, and The Valley: Woodstock Artists and the Regional Landscape
A survey of paintings, prints, and drawings created by Woodstock artists during the 50 years following the founding of the Byrdcliffe arts and crafts colony
Clarence Schmidt
September 23 – October 19, 1997
A portfolio, begun in 1981, of approximately 100 portraits of artists who have lived and worked in Woodstock.
Chinese New Year Folk Prints
Professor Elizabeth Brotherton, Guest Curator
July 6–26, 1997
Sojourner Truth Library

The Sojourner Truth Library will be the site for a special exhibition of late 19th and early 20th century woodblock prints, largely nianhua (New Year's Prints) that would once have hung in people's homes. The hand colored prints were selected from the permanent collection of the College Art Gallery. They include images of door guardians as well as a wide range of auspicious symbols meant to bring happiness, children, wealth and success to families in the coming year. Also included are prints depicting colorful scenes from popular novels and Chinese Opera.
The Kenro Izu , Barbara Broughel, and Folk Print exhibitions were developed in conjunction with the New York Conference on Asian Studies (NYCAS) which was held at SUNY New Paltz from October 15 – 17. NYCAS is the oldest of the eight regional conferences of the Association for Asian Studies (A.A.S.) the largest organization of its kind in the world. NYCAS holds an academic conference each fall on a campus in the State of New York and represents all those interested in Asian Studies in the state through its membership on the Council of Conferences of the A.A.S.
Hudson Valley Artists '95: Domestic Policies
College Art Gallery, 1995
Artists included: Lesley Dill