Curated by Linda Weintraub
June 23 — November 4, 2012
Alice and Horace Chandler and North Galleries
FOR FURTHER INFORMATION ON RELATED EVENTS FOR THIS EXHIBITION, CLICK HERE.
PARTICIPATING ARTISTS

Kathleen Anderson • Joan Bankemper • Barbara Bash • Angela Basile • Lisa Breznak • Maria Cristina Brusca •
Khem Caigan • Mary Anne Davis • Donise English • Polly Giragosian • Leila Goldthwaite • Trina Greene • Jan Harrison • Jim Holl • Tatana Kellner • Claire Lambe • Allison Leach • Barbara Leon • Ellen Levy • Daniel Mack • Claudia McNulty • Meadow • Leslie Miller • Laura Moriarty • Portia Munson • Susan Osberg • Gina Palmer • Jaanika Peerna • Leslie Pelino • Elisa Pritzker • Susan Quasha • Raquel Rabinovich • Michael X. Rose • Christy Rupp • Ilse Schreiber-Noll • Laura Soles • Paul Stewart • Suzy Sureck • Diane Teramana • Karl Volk • Riva Weinstein • Sherry Williams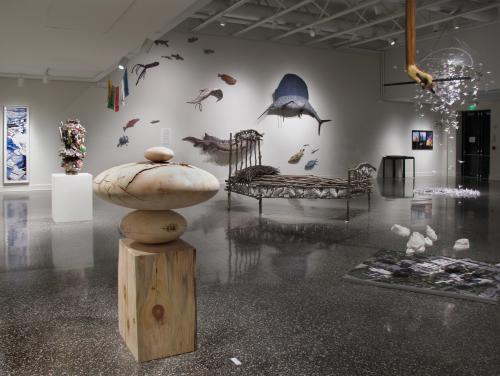 The Samuel Dorsky Museum of Art presents its annual exhibition of work by artists from the mid Hudson Valley. This year's exhibition titled Dear Mother Nature: Hudson Valley Artists 2012 is organized by guest curator Linda Weintraub. Ms. Weintraub served as the first director of the Edith C. Blum Art Institute at Bard College where she originated 50 exhibitions and published over 20 catalogues. She is the author of several books about contemporary art including "To Life! Eco Art in Pursuit of a Sustainable Planet," to be published by the University of California Press in 2012.

For Dear Mother Nature: Hudson Valley Artists 2012, Ms. Weintraub invited artists to send something to Mother Nature that expresses their relationship to her and their feelings about her. What would it be? Love letter? Care package? Medal of honor? Bill for unfulfilled promises? Payment for services rendered? Prayer for guidance? Crutches for support? Bouquet of praise? Compensation for damages? Reward for effort? Entreaty for forgiveness? Pledge of devotion? Summons for misconduct? Condolences? Advice? Warnings?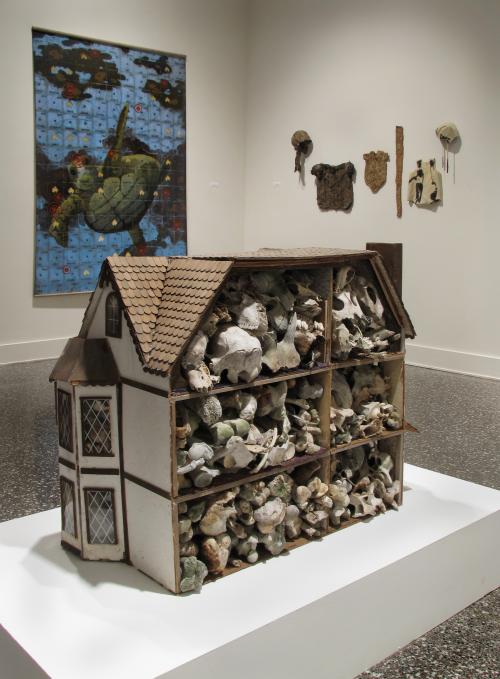 The exhibition will run from June 23 – November 4, 2012 in the museum's Alice and Horace Chandler Gallery and North Gallery. This is the fourth year that a Hudson Valley Artists Annual Purchase Award of $3,000 will be used to acquire one or more artworks from the exhibition for the museum's permanent collection. This Purchase Award is made possible through the Alice and Horace Chandler Art Acquisition Fund. Artists whose work has been purchased in the past include Charles Geiger, Curt Belshe and Lise Prown, François Deschamps, Gilbert Plantinga, and Thomas Sarrantonio.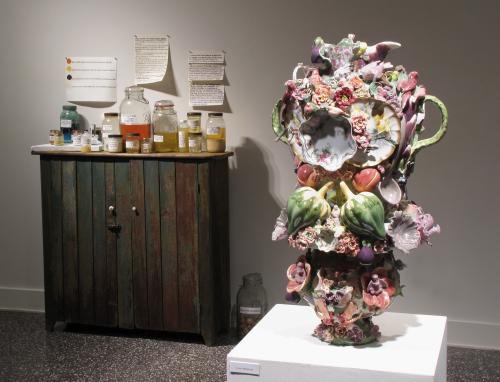 The Hudson Valley Artists exhibition is open to all emerging and mid-career artists with a permanent mailing address and active art practice in Columbia, Dutchess, Greene, Orange, Putnam, Rockland, Sullivan, Ulster, and Westchester Counties who have not had a major one-person museum exhibition and who do not have an exclusive contract with a commercial gallery. Students are not eligible. There is no application fee. Artworks created in traditional and nontraditional media as well as audio, video, film, etc., are welcome.
Losang Gyatso, Jokhang #2 (from the series "Signs from Tibet"), 2008
Anonymous seeks to explore the tension between an ancient culture's unbroken artistic tradition of anonymity and the personality-driven world of contemporary art. By examining attitudes towards attribution in shifting cultural contexts, we ask the question: how do practitioners in the emerging field of Tibetan contemporary art react to and reinterpret their predecessors' anonymous past, and what role does anonymity play in the changing landscape of contemporary Tibetan culture?