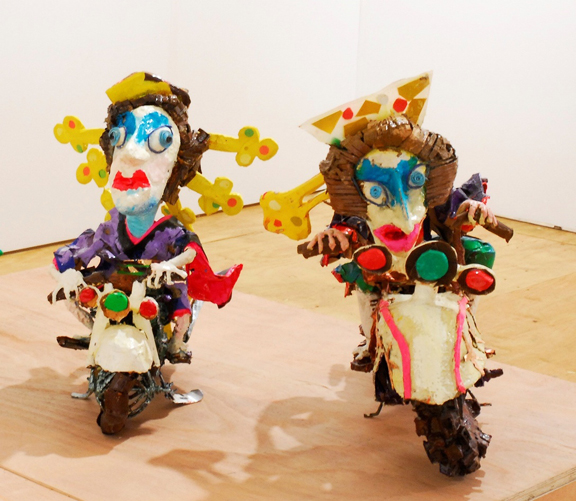 Ushio Shinohara, [two motorcycles with oiran], 2011
Curated by Hiroko Ikegami with Reiko Tomii
August 29 - December 16, 2012
Sara Bedrick Gallery
This exhibition examined the 50-year career of Ushio Shinohara, an indispensable player in the field of global art history. Born in Japan in 1932, Shinohara was active in the Tokyo avant-garde art scene. From 1958-64, a critically important period of postwar Japanese art, he was a notorious regular of the annual Yomiuri Independent Exhibition and a founding member of a short-lived avant-garde group Neo Dada. Known for his Mohawk hairdo, he invented "Boxing Painting," his version of "true" action.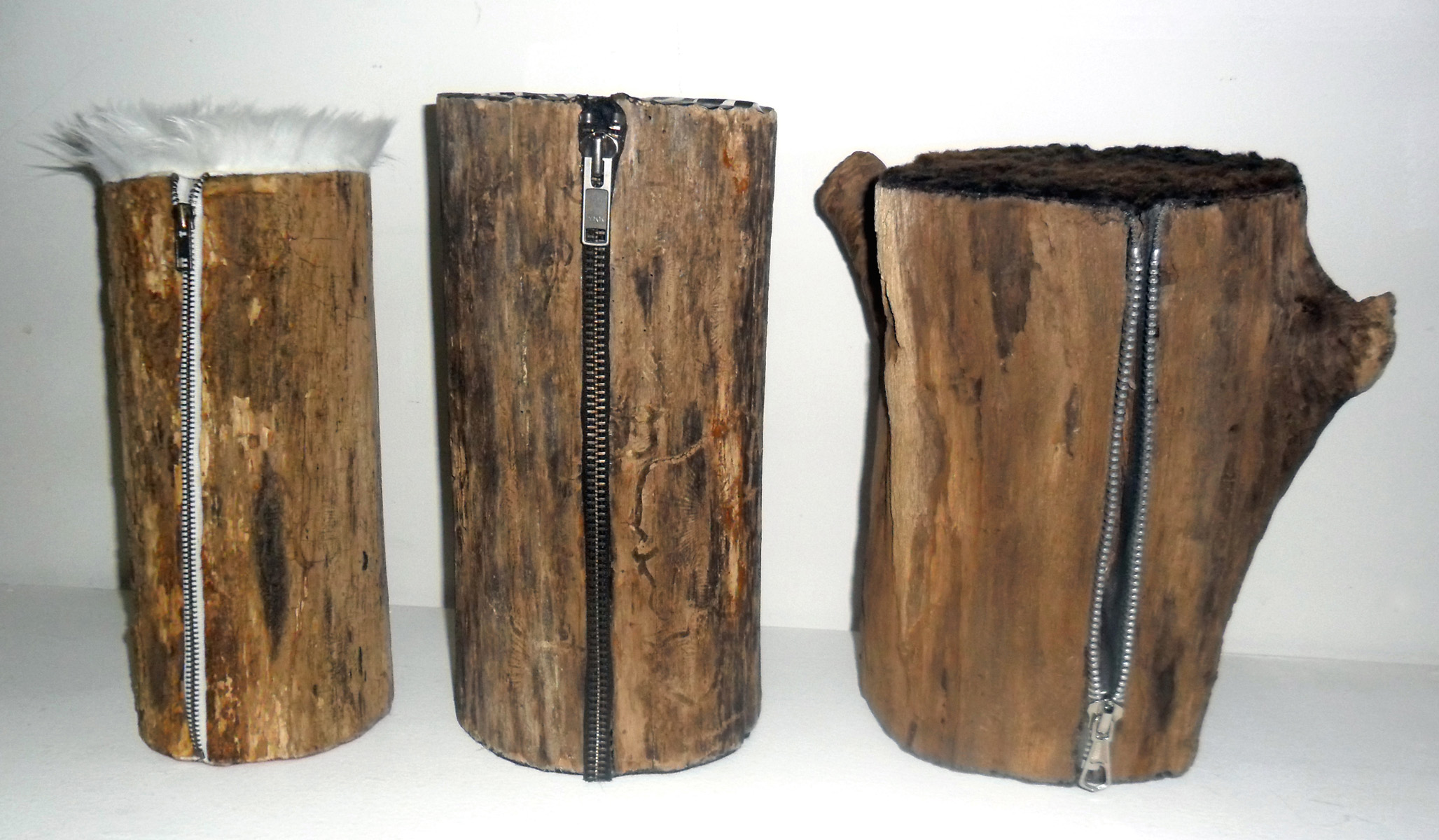 Elisa Pritzker, Zipped Trunks, 2010
Curated by Linda Weintraub
June 23 - November 4, 2012
Alice and Horace Chandler and North Galleries
Each year the Dorsky Museum invites artists to submit proposals for its annual Hudson Valley Artists exhibition series, which is open to artists from Columbia, Dutchess, Greene, Orange, Putnam, Rockland, Sullivan, Ulster, and Westchester counties. This year's exhibition invites artists to answer the question, "What would you send Mother Nature? A trophy? Condolences? A love letter? A care package? A medal of honor? Or a warning?"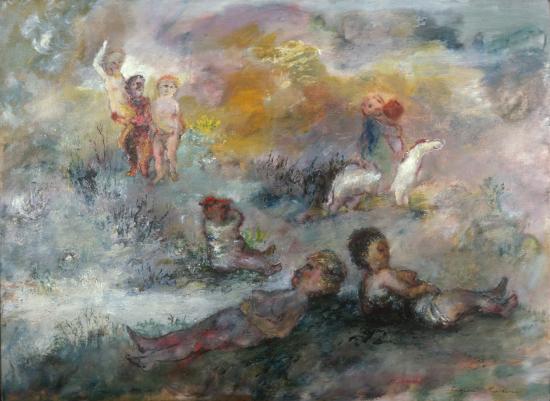 Eugene Ludins, Pastoral, 1965, Estate of Eugene Ludins
Curated by Susana Torruella Leval
February 11 - July 15, 2012
Morgan Anderson Gallery, Howard Greenberg Family Gallery, and Corridor gallery
A retrospective view of the 70-year career of Eugene Ludins, a Woodstock painter. Beginning with his residency at the Maverick colony in Woodstock in 1929 and until his death 1996, Ludins was a leading member of the Hudson Valley arts community, Ulster Co. Director of the Federal Arts Program of the WPA, and an avid baseball player. 100+ paintings, drawings, sketchbooks, photographs and memorabilia, and two sculptures by Ludins' wife, sculptor Hannah Small, illuminated the life of an artist who was both unique and emblematic of his time.
TO READ THE NY TIMES ARTICLE ABOUT THIS EXHIBITION, CLICK HERE.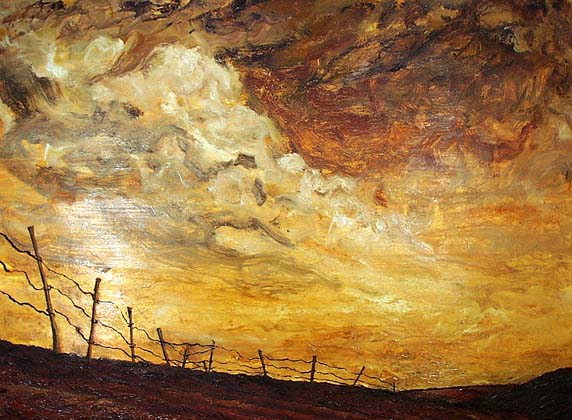 Joe Concra, Study: Sudden Ray of Hope, 1994, anonymous gift, 1999.021.002
Curated by Dorsky Museum Staff
February 11 - July 15, 2012
Sara Bedrick Gallery
Reading Objects 2011 is part of an ongoing, interdisciplinary series featuring works from the permanent collection of The Dorsky Museum. The works on display are accompanied by texts or other responses prepared by SUNY New Paltz faculty, staff and (new this year) students.
BFA I • April 27 – May 1
BFA II • May 4 – May 8
BFA Graphic Design Projects + Portfolios
MFA I • May 11 – May 15, 2012
MFA II • May 18 – May 22, 2012
Alice and Horace Chandler and North Galleries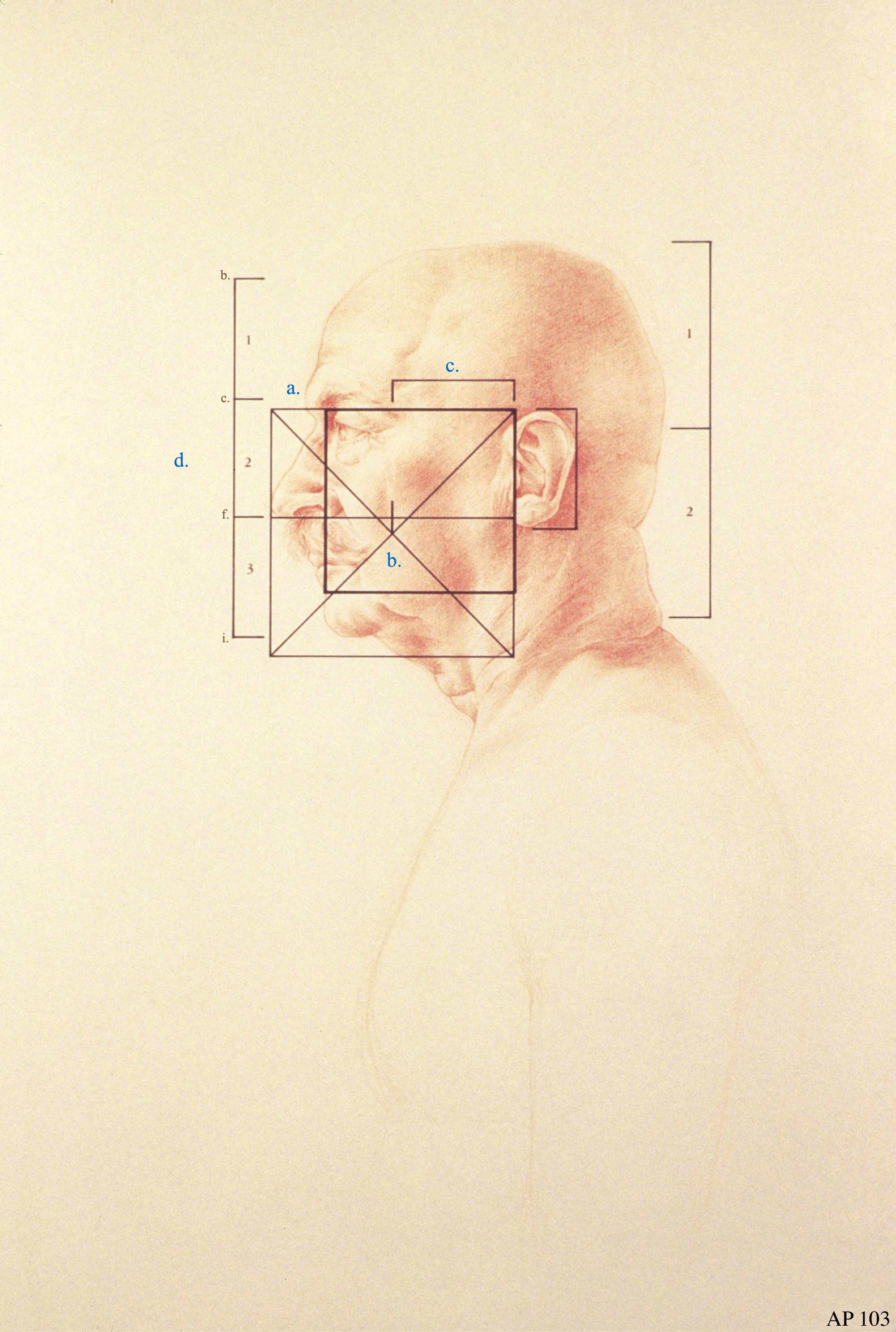 Anthony Panzera, AP 103, from "The Leonardo Series," n.d, Collection the Artist
Curated by The Dorsky Museum
January 18 - April 15, 2012
Alice and Horace Chandler Gallery
This exhibition featured 65 drawings by Anthony Panzera based on Leonardo da Vinci's notes and drawings on the human form retrieved from some 7,000 pages of Leonardo's notebooks. Panzera's drawings and additional information sheets illustrate entries from Leonardo's notes on the relative proportions of the head, torso, leg, foot, arm, hand, and whole body, and exemplify the humanistic orientation and intellectual concerns of Leonardo da Vinci.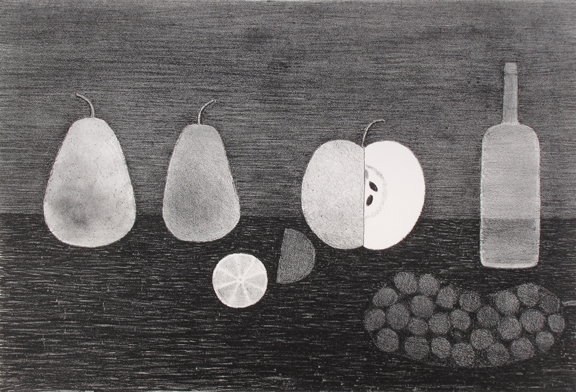 Doris [Emrick] Lee, Fruit, n.d., Woodstock Artists Association and Museum
Curated by Ariel Shanberg and Brian Wallace
August 24 - December 11, 2011
Morgan Anderson Gallery, Howard Greenberg Family Gallery, and Corridor Gallery
Bringing to light over 150 artworks and the myriad of connections that link them together, this exhibition presents fresh perspectives on a century of artistic activity in the Mid-Hudson Valley. The exhibition gathers together paintings, sculptures, furnishings, prints, drawings, photographs, conceptual works, and documentation and ephemera from the permanent collections of the partner organizations of the Hudson Valley Visual Art Consortium Collections (HVVACC).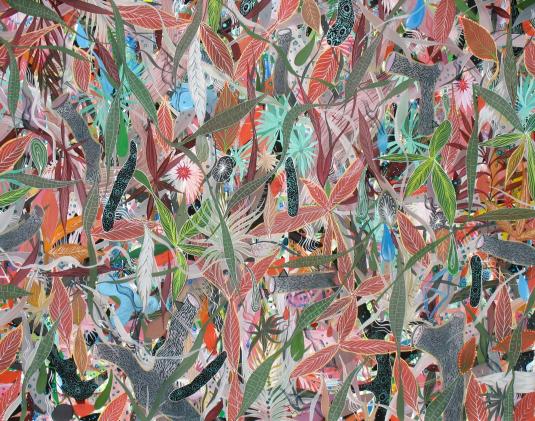 Charles Geiger, Out of Sight, 2010, courtesy the artist
Curated by Brian Wallace
June 25 - November 13, 2011
Alice and Horace Chandler Gallery and North Gallery
Hudson Valley Artists 2011: Exercises in Unnecessary Beauty will feature selected works by artists living and working in the mid Hudson Valley who dare to address that most elusive of qualities: the beautiful. We sought a wide range of submissions that range from beautiful images and craftsmanship to works that question the idea and/or ideal of beauty.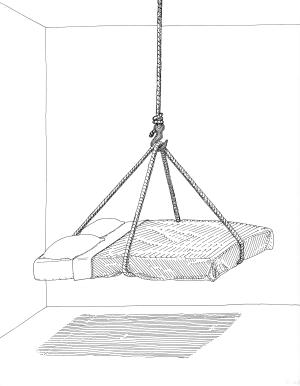 Ken Landauer, Untitled (bed), 2009, courtesy the artist
Curated by Brian Wallace
April 9 – October 23, 2011
Sara Bedrick Gallery
Ken Landauer and Julianne Swartz, independent artists and a married couple, have produced distinct bodies of work that complement one another in process, form, and effect but have never before exhibited or made work together. Landauer's drawings and objects play with scale and humor to provoke realizations about our expectations about representation and abstraction. Swartz's sculptures, installations, and architectural interventions shift our perceptions of space, form, and light.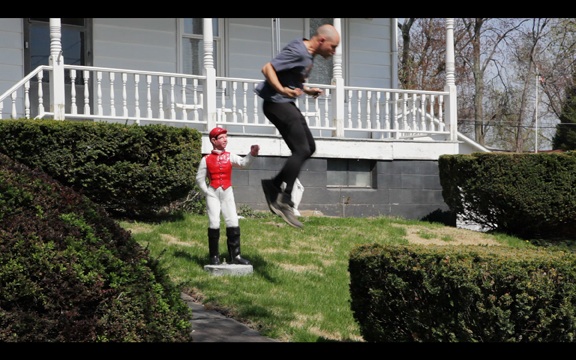 Tim Davis, Lawn Jockey Leap Frog, 2010 (video still), courtesy the artist and Greenberg Van Doren Gallery, NY
Curated by Brian Wallace
March 30 – July 17, 2011
Howard Greenberg Family Gallery
Tim Davis has developed a series of video and installation works and objects entitled The Upstate New York Olympics. A suite of 12-15 videos accompanied by bronze trophies and other commemorative objects, project documentation, and a small artist-designed publication.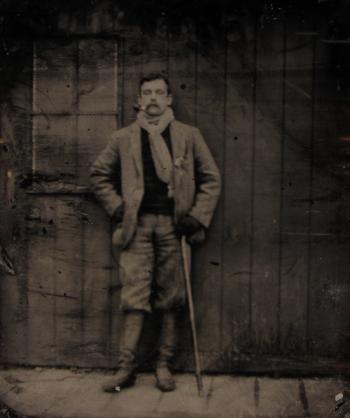 Unknown, Untitled (Man with Cane), n.d., 1993.001.006, Gift of Dr. Hugo Munsterberg
Curated by Greg Slick and Karlos Carcamo
Volume I: August 18 – December 12, 2010, Volume II: January 26 – July 17, 2011
Morgan Anderson and Corridor Galleries
This exhibition endeavors to provide an alternative perspective on the museum's permanent collection by employing the conceit of personification. The exhibition gathers thematic groups of objects, each of which serves to bear the weight of representing a facet of a fictional life. The thematic groupings include family, relationships, food, music, travel, dreams, etc., and have the double purpose of organizing the display of selected objects and of supporting the exhibition's overarching narrative, namely, the construction of a personality. The embodiment of personal traits is arguably what makes objects attractive, repulsive, even coherent to us. This exhibition looks at these inherent qualities to explore our personal and often complex connection to art objects and the associations that art engenders.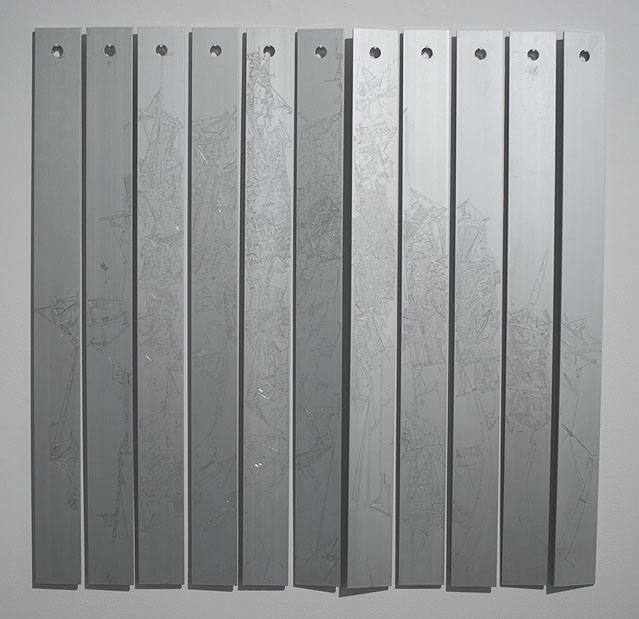 Curated by Brian Wallace
February 12 – April 15, 2011
Alice and Horace Chandler Gallery and North Gallery
Marco Maggi's obsessively minimal yet coolly detailed artworks are studies in perception that reflect back, metaphorically and physically, on the viewer. This exhibition includes recent Plexiglas-and-paper objects, altered rulers and straight edges, aluminum-foil drawings, dropped-paper works, a video projection, and a new, large-scale installation work that intervenes in the gallery space itself.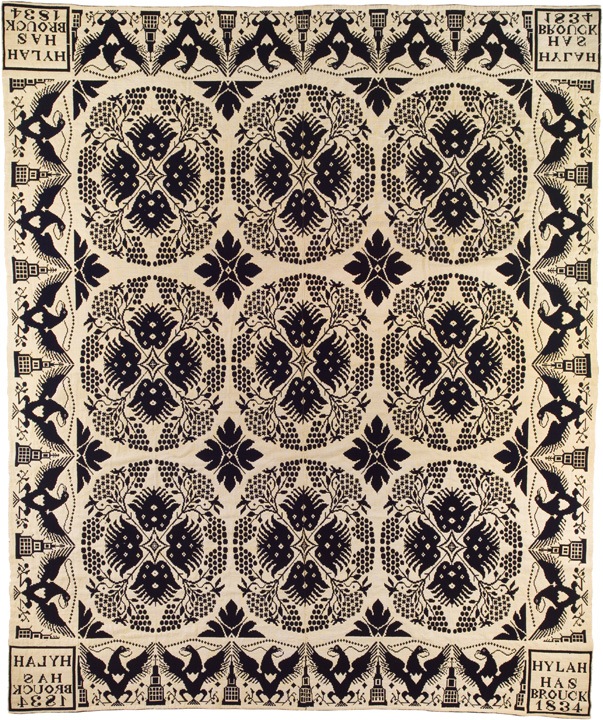 Coverlet (made for Hylah Hasbrouck), 1834, Locust Lawn Collection/Historic Huguenot Street, photograph by Gilbert Plantinga
Curated by Leslie LeFevre-Stratton and Brian Wallace
January 26 – March 18, 2011
Sara Bedrick Gallery
This exhibition, selected from the extensive textile collections at Historic Huguenot Street, will feature thirty coverlets woven from cotton and wool on water-powered looms in small factories across the mid-Hudson Valley during the first half of the 19th century.