Health Center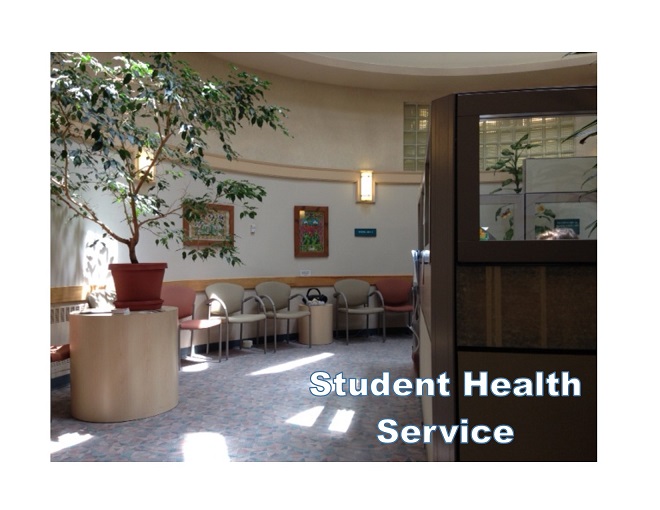 MISSION STATEMENT
To provide quality medical care in a compassionate environment.
To interact with students in a manner that will teach them how to interact with the healthcare system in the future.
To begin a dialogue with students on how to make healthy choices in life with regard to diet, exercise, sleep, relaxation, interpersonal relationships, tobacco use, alcohol use, drug use, and receiving immunizations.
---
PHONE: 845-257-3400 FAX: 845-257-3415
EMAIL: healthservice@newpaltz.edu
MAIL: Student Health Service, SUNY New Paltz, 1 Hawk Drive, New Paltz, NY 12561

Use IMMUNIZATIONS link to review NYS Required Immunizations and New Paltz Tuberculosis Screening Policy
STUDENT HEALTH SERVICE HOURS
Monday - Friday
8:30 a.m. to 4:30 p.m.: Phone calls are welcome and doors are open
4:30 p.m. to 5 p.m.: Doors are closed and staff are finishing the care of those who contacted Student Health Service prior to 4:30 p.m.
Saturday
12 to 3:45 p.m. : Phone calls are welcome and doors are open
3:45 to 4 p.m. : Doors are closed and staff are finishing the care of those who contacted Student Health Service prior to 3:45 p.m.

INTER-SESSION AND SUMMER HOURS
Monday - Friday
8 a.m. to 3:30 p.m.: Phone calls welcome and doors are open
3:30 to 4 p.m.: Doors are closed and staff are finishing the care of those who contacted Student Health Service prior to 3:30 p.m.

EMERGENCIES
DIAL 911 (This will allow students to receive immediate medical attention)
NON-EMERGENCIES AFTER HOURS & WEEKENDS
CALL: 845-257-3400
EMERGENCIES
On-campus students: contact University Police 845-257-2222 or 911
Off-campus students: call 911
LOCATION
Student Health Service is located in the round building across from Gage Hall. The building houses both Student Health Service and the Psychological Counseling Center, which are separate services.
ELIGIBILITY FOR SERVICES
In order to be eligible to use Student Health Service (SHS), students must be registered for classes. Every student needs health insurance. This is not used for the services provided at SHS. Those services are paid for by the student health fee. Insurance is needed for prescription medication, lab tests obtained outside SHS, lab tests obtained at SHS and sent to outside lab, radiologic tests, specialty physicians, emergency room visits, and hospital stays.

Submission of the Health Report (HR) helps SHS staff obtain important background medical information about the student. It is therefore recommended that the student submit a HR 30 days prior to starting college, but it is no longer a requirement for use of the health center. The Health Report can be downloaded on this website under "forms."
SCOPE OF PRACTICE
Student Health Service provides non-emergency primary medical care for problems that occur while college is in session. SHS provides care with an emphasis on preventative health care.
For routine matters such as scheduling appointments for non-urgent, non- emergency reasons, students need to call during our regular business hours.
If a student has an urgent medical problem that they feel cannot wait for our regular office hours, and they are not sure how to proceed, they may reach the on-call physician by calling 257-3400. The on-call physician is available to discuss urgent medical questions with students by telephone and to help the student caller identify his or her options for care.
Some students, because of the nature of their problems, require comprehensive health care which cannot be provided at SHS. Following initial evaluation at SHS, those students will need to secure off campus healthcare services while attending college. Students who require specialty physician care will be assisted by the Student Health Service staff in accessing this care in conjunction with their primary care medical provider (if they have one) and their insurance plan.
TRANSPORTATION TO/FROM OFF-CAMPUS MEDICAL FACILITIES
NON EMERGENCY TRANSPORTATION
The Health Center does not provide transportation to off-campus medical facilities. When a student is referred by SHS to an off-campus medical facility, he or she may use vouchers from SHS for taxi service to get to the recommended medical treatment facility. The student must reimburse the Campus Auxiliary Services for the voucher within 30 days. After hours, when this transportation is authorized, vouchers may be obtained from University Police.
EMERGENCY TRANSPORTATION
SHS will when indicated activate their emergency 911 system to transport a student to a local emergency room.