Mayor of Newark, New Jersey
Cory Booker
"How to Change the World with Your Bare Hands" was presented on October 1, 2009 at the McKenna Theatre, SUNY New Paltz.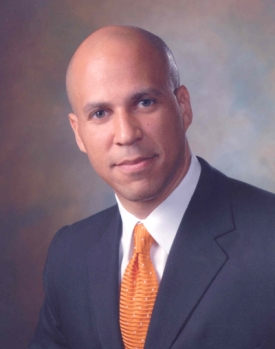 The Honorable Cory A. Booker, is the Mayor of Newark, New Jersey. He took the oath of office as Mayor of New Jersey's largest city on July 1, 2006 following a sweeping electoral victory.
Elected with a clear mandate for change, Mayor Booker has begun work on realizing a bold vision for the city. Newark's mission is to set a national standard for urban transformation by marshalling its resources to achieve security, economic abundance and an environment that is nurturing and empowering for individuals and families.
Mid-way through his first term as Mayor, Mayor Booker and his Administration have made meaningful strides towards achieving the City's mission. As of July 1, 2008, Newark, New Jersey led the nation among large cities for reductions in shootings and murders, achieving decreases of more than 40% reductions in both categories. Radical transformation of the Newark Police Department under Mayor Booker's leadership, together with the deployment of over 100 surveillance cameras throughout City, has led to Newark setting the nationwide pace for crime reduction.
Among other recent notable achievements in the past two years, under Mayor Booker's leadership, the City of Newark has committed to a $40 million transformation of the City's parks and playgrounds through a ground-breaking public/private partnership. The Booker Administration has also doubled affordable housing production within the last two years.
Mayor Booker's political career began in 1998, after serving as Staff Attorney for the Urban Justice Center in Newark. He rose to prominence as Newark's Central Ward Councilman. During his four years of service from 1998-2002, then-Councilman Booker earned a reputation as a leader with innovative ideas and bold actions, from increasing security in public housing to building new playgrounds. This work was the foundation for his leadership as Mayor. For this work, he has been recognized in numerous publications, including, among others, TIME, Esquire, New Jersey Monthly (naming him as one of New Jersey's top 40 under 40), Black Enterprise (naming him to the Hot List, America's Most Powerful Players under 40) and The New York Times Magazine.
Reflecting his commitment to education, Mayor Booker is a member of numerous boards and advisory committees including Democrats for Education Reform, Columbia University Teachers' College Board of Trustees and the Black Alliance for Educational Options. Mayor Booker received his B. A. and M. A. from Stanford University, a B. A. in Modern History at Oxford University as a Rhodes Scholar, and completed his law degree at Yale University.
In August 2009, Booker will be featured in a documentary series called "Brick City," which focuses on how the City of Newark is working to become a defining example of urban transformation.
"Democracy is not a spectator sport," said Booker. "It's about rolling up your sleeves and getting to work. Change comes from good people coming together with collective struggles and doing something about it."

CNN News clip about Cory Booker:
Mayor Cory Booker/ Newark, New Jersey
Cory Booker: The Story of My Newark Life
Arrangements for the appearance of Cory Booker made through Greater Talent Network, Inc., NY, NY