Ridgeview Hall
---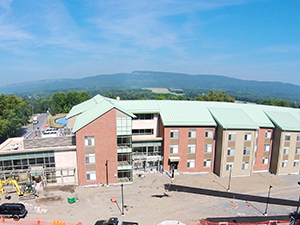 SUNY New Paltz celebrated the opening of Ridgeview Hall, a modern, 225-bed residence hall that will help meet significant student demand for on-campus housing on Aug. 11. Inaugural residents include first-year, transfer and returning students.
Located on South Road between the Athletic and Wellness Center and Lenape and Esopus Halls, Ridgeview features a new café and gathering space, a seminar room, a faculty apartment, quiet study lounges, Skype rooms and an unparalleled view of New Paltz's iconic Shawangunk Ridge.
"The opening of Ridgeview Hall is an exciting addition to the College and will help meet significant student demand for safe and reliable housing on- and near campus," said President Donald P. Christian. "Continued progress on building and improving our physical environment is critical to our ability to serve current and future students with the high-quality programs and opportunities they deserve. Ridgeview Hall is a modern, optimal living and learning space and we're pleased that it will offer more of our students the opportunity to become more involved in campus life."
The three-story, 69,000-square-foot residence hall features residential wings organized in clusters of four double beds around two private bathrooms. The building's design is intended to accommodate students' requests for heightened privacy while conserving energy and earning Leadership in Energy & Environmental Design (LEED) Silver certification from the U.S. Green Building Council.
Ridgeview is the 14th residence hall on campus. With this additional residence hall now open, the College increases its housing capacity to provide about 3,250 students, or approximately 50 percent of undergraduates, with the opportunity to live on campus.
Construction of the $33 million residence hall, which created 170 construction jobs, officially got underway with a groundbreaking ceremony in December 2013.
Complex Director: Jennifer Nugent
Office Phone Number: (845) 257-4401
Email Address: nugentj@newpaltz.edu
Office Hours: Monday: 10am to 12pm & 2pm to 3pm
Tuesday: 10am to 11am and 3pm to 5pm
Wednesday: 11am to 1pm
Thursday: 3pm to 4pm
Friday: 12pm to 2pm & 3pm to 4pm