President Christian to retire in 2022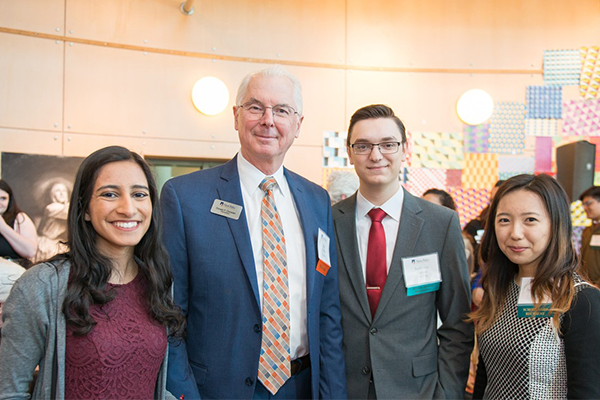 SUNY New Paltz President Donald P. Christian announced his intention to retire at the end of June 2022, after a 45-year career in higher education and 12 years as president. Christian was appointed as the College's eighth president in 2011 after serving as interim president in 2010-11, and provost and vice president for academic affairs at New Paltz in 2009-2010.
During the remainder of his tenure, Christian's focus will be to position SUNY New Paltz for continuing success in a dramatically changing higher education world and to set the stage for the next president's entry and success. Work will include ongoing planning for a post-pandemic future, additional progress on diversity and inclusion and anti-racist initiatives, and guiding campus leaders through the presidential transition.
A search for Christian's replacement consistent with the SUNY-wide Presidential Search Guidelines is underway.
Christian's 12-year presidency is marked by many collective accomplishments. Through his leadership, the College's reputation as a top-tier public institution has grown both statewide and nationally. The College competes successfully for strong students with excellent public and private colleges and universities across the Northeast. The College has been recognized for high retention and graduation of students from historically underrepresented groups as well as first-generation and low-income students, with rates well above state and national averages for both public and private institutions. Additionally, the College continues to rank in the top 3% of colleges and universities in a nationwide index of upward socioeconomic mobility of our graduates and is nationally recognized for its support of veteran and military-affiliated students.
Christian has been a strong advocate for the value of a liberal education tailored to 21st century needs, for study abroad and student research experiences, and for the great breadth of disciplines and majors at New Paltz. Christian has supported the rapid growth of STEM enrollments and the development of additive manufacturing and 3D printing at the College, including securing millions in state and private funding to provide equipment and build a new Engineering Innovation Hub on campus. He has worked to expand and strengthen programs and opportunities for students from underrepresented groups, and to increase the College's focus on equity, diversity, and inclusion.
"It has been an honor and a privilege to serve as President of SUNY New Paltz and to have had such a long and rewarding tenure in this role," said President Donald P. Christian. "I am pleased and proud of the collective accomplishments of this community during the last 11 years and look forward to what we can achieve in the coming year. Amid budget challenges and more recently a worldwide pandemic that tested all our abilities and stamina, this community and each individual student and employee, has persevered and excelled through it all. The quintessential SUNY New Paltz community spirit I have come to respect and cherish has been especially apparent this past year. I wish for my successor the same warmth and acceptance that Sandy and I received from faculty, staff, students, alumni, and supporters of this top-tier public university."
Read more about Christian's legacy and leadership at newpaltz.edu/president-christian/.
SUNY New Paltz celebrates $24.7 million in campaign support on campus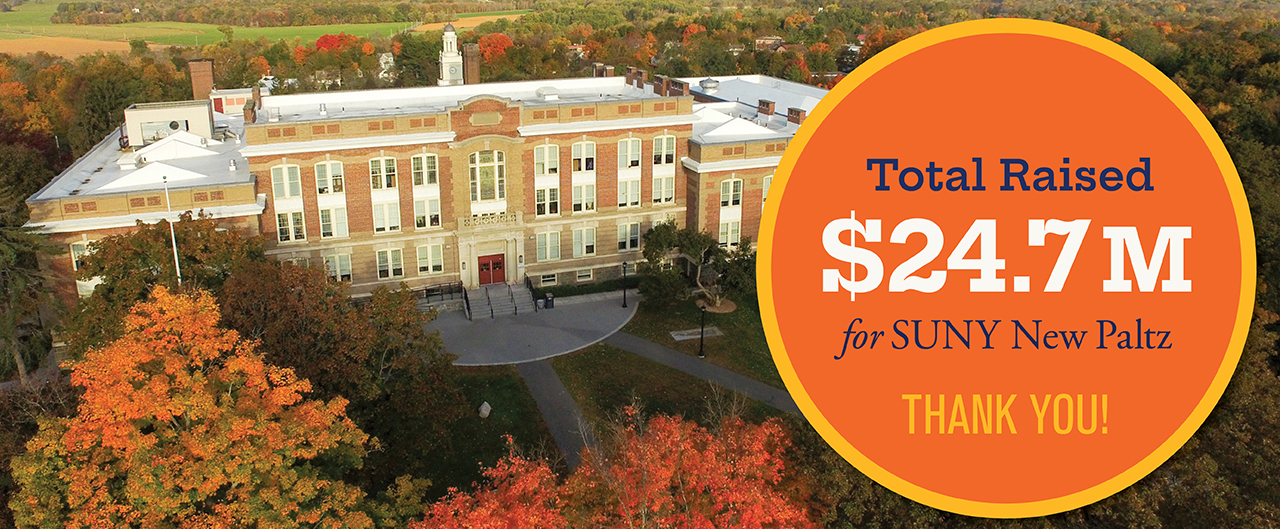 This year, SUNY New Paltz celebrated the successful completion of Soaring Higher – The Campaign for SUNY New Paltz, the first-ever comprehensive campaign in the College's history.
Thanks to the generosity of many members of the global New Paltz community, the SUNY New Paltz Foundation was able to exceed the original goal of $23 million – raising a total of $24.7 million in campaign support, with more than $10 million in scholarship support, $11.1 million in program support, and $3.5 million in unrestricted support for the Fund for New Paltz.
The Campaign Cabinet was led by a group of 18 distinguished alumni and business leaders, with Michael T. Keegan (Executive Vice President and Head of Community Markets, M&T Bank), serving as its chair, and James H. Ottaway Jr.'18 HON (Retired Director and Senior Vice President of Dow Jones and Chairman of Ottaway Newspapers) serving as honorary chair.
"To complete a campaign of this scale is a tribute to committed donors in our campus community and around the world," said President Donald P. Christian. "The remarkable devotion and generosity of our alumni and friends reflect the quality of the SUNY New Paltz experience and our tradition of educating compassionate global citizens that the world needs now more than ever."
Campaign funds will create new opportunities for current and future generations of New Paltz students. They enable the College to welcome more students to campus through expanded scholarships—with a record-setting $1 million awarded to students last year alone—to establish new programs, like the Student Psychological Resilience Project, and to grow unrestricted funds.
Additionally, philanthropy continues to add to critical, emergency resources for students such as the Crossing the Finish Line Fund, which helps students in crisis complete their education, and the Student Crisis Fund, which provides one-time grants for a range of emergency needs.
The Campaign's successful completion showcases the College's strengths, even amidst a global pandemic: the resilience of students adapting to new ways of living and learning; the selflessness of faculty and staff leading by example both academically and philanthropically; and the generosity of alumni and friends of the College who have transformed its programs through private support.
The campus community celebrated the conclusion of Soaring Higher—The Campaign for SUNY New Paltz this fall, with a reception and remarks in the Lecture Center. The program included comments from SUNY New Paltz President Donald P. Christian, Vice President for Alumni Relations & Development Erica Marks, Campaign Chair Mike Keegan, and current New Paltz student Mackenzy McMorris '22 (Black Studies).
Learn more about Soaring Higher – The Campaign for SUNY New Paltz online.

The Dorsky Museum Celebrates 20th Anniversary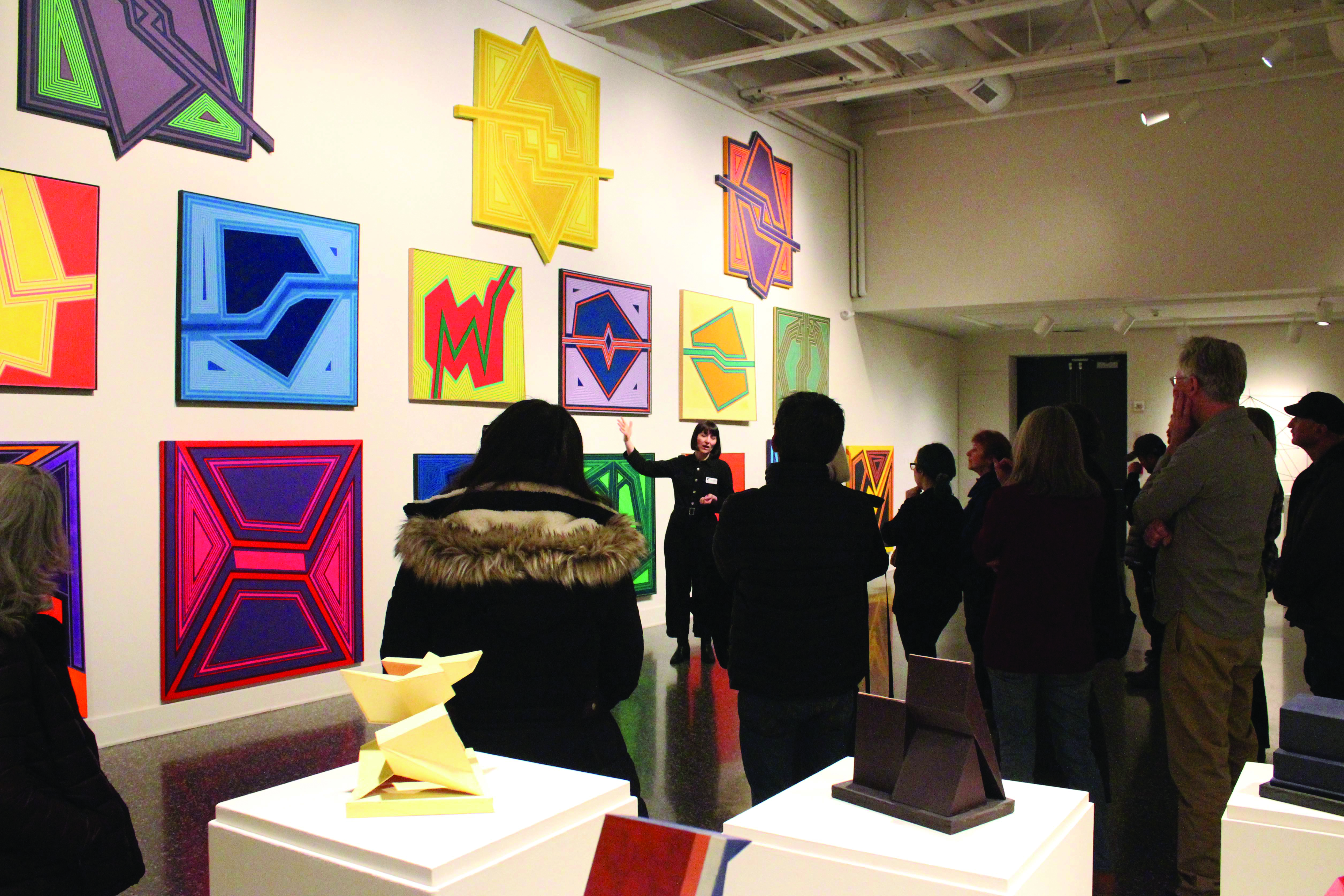 Fall 2021 marks 20 years since The Samuel Dorsky Museum of Art opened its doors, thanks to a gift from founding philanthropist Samuel Dorsky and others who transformed the original SUNY New Paltz College Art Gallery into a leading art museum in the Hudson Valley.
"For two decades, The Dorsky has created exceptional art exhibitions and programs to enrich and inspire SUNY New Paltz students and the Hudson Valley community," said Anna Conlan, the Neil C. Trager Director of the Dorsky Museum. "None of that would have been possible without our community of students, artists, local partners, professors, campus colleagues, staff members, supporters, volunteers, and visitors. We want to thank everyone for being part of our story; we look forward to the next 20 years together!"
The Dorsky's year-long celebration includes an exciting schedule of anniversary programs to learn about its history and meet some often people who have made the Museum what it is today.