A.J. Williams-Myers, longtime Black Studies faculty member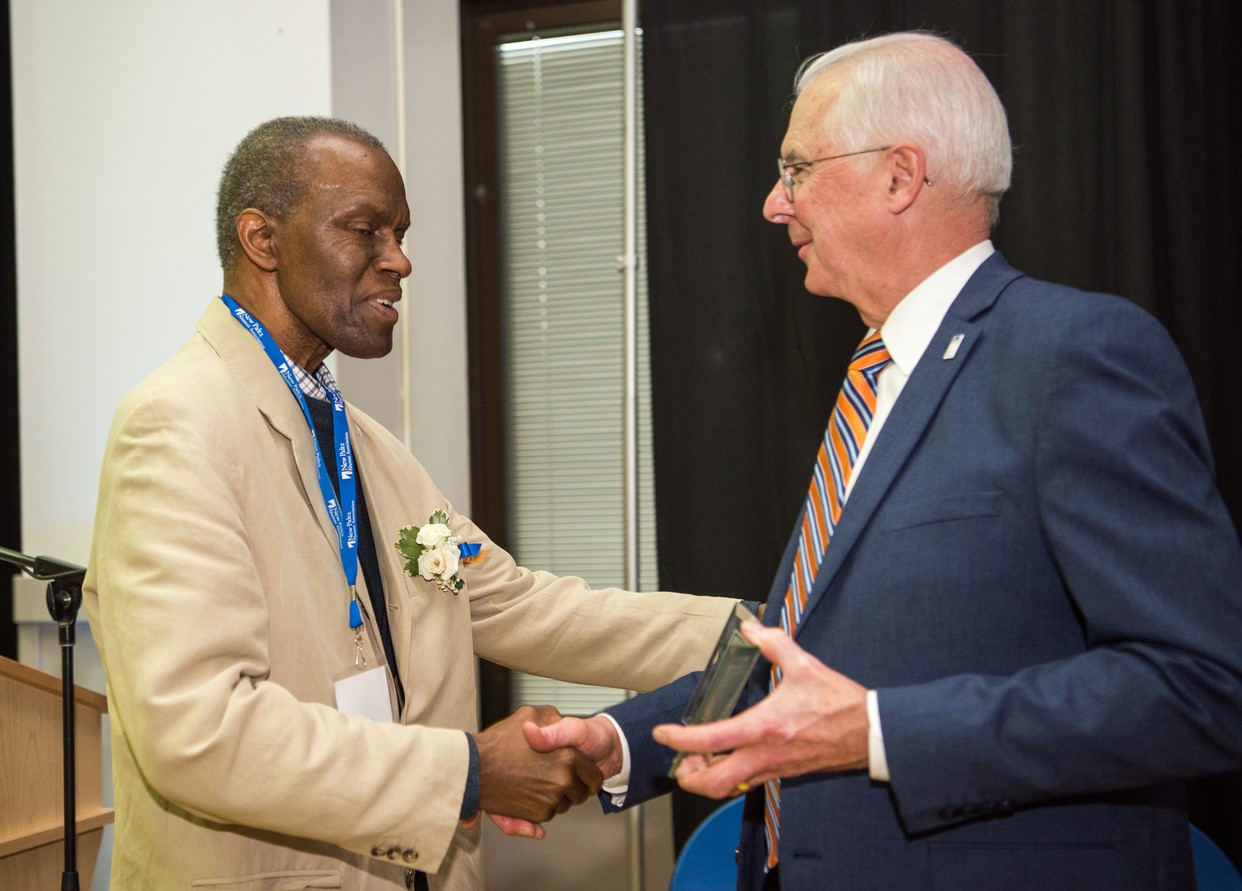 Dr. Albert J. ("A.J.") Williams-Myers, professor emeritus of Black Studies and a longtime community leader based in Kingston, New York, passed away peacefully on July 12, 2021, after a brief illness.
Professor Williams-Myers was a former chair of the Department of Black Studies at SUNY New Paltz and a widely recognized expert who authored many books on African American history, including moving and informative works on the Middle Passage trans-Atlantic slave trade.
A dedicated educator who touched hundreds of students' lives over more than 36 years as a faculty member at New Paltz, Williams-Myers received a Heritage Award at the College's 2017 Alumni Reunion celebration.
"As a teacher and productive and engaged scholar, A.J. was well known for his ability to awaken students to think about history and the lives of people who lived in other times, and what that has to do with his students' own lives and understanding of who they are," said President Donald P. Christian. "He was particularly adept at helping his students and others understand the historical roots of deeply seated racism in America. He helped his students understand the slave trade and how it and its legacy have played out in the Hudson Valley and in other parts of the northern United States."
Williams-Myers remained engaged in the Hudson Valley after his 2016 retirement from the College. In 2017, Williams-Myers was honored for his lifetime of scholarship, teaching and community involvement when a new library focusing on African and African American history and culture was named in his honor.
Among his many activities, he served as an elected member of the Huguenot Historical Society's Board of Directors, was a former director of the New York African American Institute, a member of the New York State Freedom Trail Commission, a historian for the African Burial Ground Interpretive Center in New York City, and a parishioner at Christ Episcopal Church in Poughkeepsie, New York.
Mourning Brian McShane '74, who served on the Foundation Board of Directors for 10+ years
The College shares news of the death of Brian McShane '74 (English), a former New Paltz Foundation Board Director and longtime friend of the College. He passed away on July 13, 2021, at the age of 70.
Brian served on the Foundation Board for more than a decade at SUNY New Paltz, during which time he and his brothers, Dennis McShane '77 (Russian Studies) and Timothy McShane '84 (Business), co-founded and funded the Helen A. and James T. McShane Memorial Scholarship Fund in honor of their parents to help New Paltz students study abroad in Ireland.
For nearly two decades, Brian also facilitated support from the Katzenberger Foundation which provided more than $100,000 in gifts for the College's Educational Opportunity Program (EOP), with a total of 93 students receiving support.
Brian was known for his charismatic personality, generosity and kindness. He worked at Advertising Checking Bureau (ACB), a privately held company headquartered in New York City, for more than 40 years and rose through the ranks in sales and marketing to become president and owner in 1996. The company currently has several hundred employees and offices in New York City, Tempe, Arizona, and Memphis, Tennessee.
Brian grew up in Massapequa, New York, and raised his family in Rockville Centre, New York.
He is survived by his wife of more than 40 years, Eileen; three children: Caitlin (Peter Rizzo); David (Dawn), and Travis (Lindsay); and five grandchildren: Owen, Sumner, Sienna, Emma, and Conor.
The family of Brian McShane welcomes contributions in his memory to the Helen A. and James T. McShane Memorial Scholarship Fund (or simply, McShane Memorial Scholarship). Gifts may be made online or by check made out to the SUNY New Paltz Foundation. For questions, please contact Vice President of Development & Alumni Relations Erica Marks, email markse@newpaltz.edu or phone 845-257-3238.
Alumni
1930 - 1949
Doris T. Brown '37
Edwin M. Ford '39
Dorothy W. Harkness '39
Jennie Pausewang '46
Doris H. Donley '47
Jane S. Reutershan '47
Marie C. Mahar '49
Marguerite Saccoman '49
Gertrude Arduino '49
Marion G. Arnold '49
1950 - 1959

Anthony V. Percoco '50
Seymour M. Evans '52
Richard Burhans '52
Betty P. McElmon '53
Arthur A. Delaney '53
Floyd W. Mott '53
Roberta C. Mitchell '54
Jacqueline S. Mandia '54
Helen K. Beuka '54
Armand J. Trivilino '54
Barbara C. Morrison '55
Breda McMahon '56
Sabra J. Gilbert '57
Sally Rushfield '58
Mary Jane P. Mahoney '58
Sondra L. Bauernfeind '58
Roberta Frischman '59
1960 - 1969
John B. Sloan '60
Mary Anne Heidgerd '60
Rhoda S. Kopan '61
Elizabeth A. Kistler '61
Dorothy M. Mancini '61
Maybelle E. Gregory '61
John W. Wirchansky '64
Gale J. Parker '64
Melody G. O'Connor '64
William H. Hipp '65
Walter G. Kachel '66
Arthur J. Gribbins '66
Albert D. Winter '66
Richard T. Menconeri '67
Richard C. Grimm '67
Nancy R. Neiman '67
Jack Youchah '67
Frances W. Hoffmann '68
Nora T. Kiely '68
Constance Hunt '69
John J. Larkin '69
Barbara K. Winters '69
Sondra Sperber '69
1970 - 1979

John B. Dockstader '70
Elliot I. Nachbar '71
Carolyn M. Tague '71
Julia B. Strong '71
Anita L. Wetzel '72
David M. Goldman '72
Sabina Shapiro '73
Joseph Fowler '73
Eugene F. Warfel '73
Timothy T. Ellstrom '73
Arlene Sorensen '73
Susan F. Lee '74
Brian McShane '74
Martin Mastromarino '74
Stuart A. Rosenthal '74
Kevin R. Steuding '75
Edward S. Berens '77
Kenneth W. Baker '77
Stephen D. Ladin '77
Phil Subey '78
Jay T. Forbes '78
Wayne W. Taylor '79
1980 - 1989

David W. Coffey '80
Sharon B. Dimatteo '80
Meghan M. Lordon '81
Bernard J. White '81
Eileen Zipes '82
Teresa N. Prichard '82
Sandra Owen '82
Merilee C. Bartlett '82
Jean E. White '82
Malina M. Melville '83
Frank V. Guarino '83
Joyce P. Schiff '86
Frank M. Corliss '86
Brenda Rousseau '87
Tom Davison '87
Carla M. Simmons '88
Spencer M. Mass '88
Patricia A. Corbett '89
Jean L. LaTour '89
Kathleen A. Richardson '89
1990 - 1999

Nancy D. King-Barton '91
Maureen Spatuzzi '91
Susan M. Morgiewicz '91
William C. Kuba '93
Bruce M. Rogers '93
Elizabeth P. Gordon '93
Darell S. Whitaker '93
Marvin F. Preiser '93
Michael C. Meehan '95
2000- 2020

Marcia Deangelis '00
Lisa M. Castellanos '00
Gable A. Erenzo '02
William D. Saturno '02
Dianna L. Redner '03
Christopher Capaci '05
Christopher G. Kearse '06
Michael S. Emerick '07
Rita L. Varian '07
James C. Thompson '09
Thomas J. Keegan '20
Faculty & Staff
Mr. Joseph Britto
Ms. Catherine R. Decker-Coffey
Prof. Glenn Doty
Prof. Kenneth A. Ervin
Dr. Ahmad Haffar
Mr. Jeffrey Hlopek
Dr. Vanderlyn R. Pine
Ms. Daisy B. Simmons
Prof. Margaret H. Taylor '63
Prof. Irving Weiss
Dr. Albert J. Williams-Myers