International Study & Service Learning

STUDY ABROAD & SERVICE OPPORTUNITIES FOR GRADUATE STUDENTS
IN THE HUMANISTIC/MULTICULTURAL EDUCATION PROGRAM
The opportunity for students to study and live in another country through intercultural, multi-national exchanges provides valuable personal and professional knowledge and skills. The Humanistic/ Multicultural Education at SUNY New Paltz and International Partnership for Service Learning, a recognized leader in service-learning programming around the globe, have partnered to provide SUNY students with the opportunity to study for a semester or summer at one of several locations around the world. SUNY students now have the chance to complete graduate level coursework overseas that will count toward their degree program and to offer volunteer service in a variety of community settings.
Students will participate in academic study at the partner institution of the international program location, with direct guidance from the international partner institution and the in-country IPSL program staff. Students will volunteer at a local community organization for approximately 10-15 hours per week and participate in the IPSL course, Institutions in Society, which serves to tie a student's service experience to their academics and helps create an in-depth immersion experience. This socio-anthropological course contextualizes the service experience against the grain of the local cultures (history, literature, politics, language, religion).
The volunteer service that is part of the IPSL program is not an internship, but a rich volunteer opportunity at a local service organization that serves the needs of the community. All SUNY/IPSL students will take the service-learning reflections course as part of their volunteer service to the community.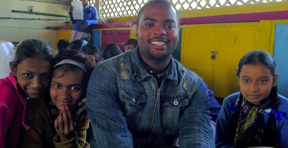 HME student Kareem Donaldson in Kolkata, India
Important additional information about this SUNY/IPSL Program:
There may be additional or different classes offered in a given semester. Please inquire with IPSL for current offerings and options. Service-learning placements are subject to change depending on the local needAll programs include excursions to important cultural and historical sites. Students can elect a summer or semester term and courses and credits will vary.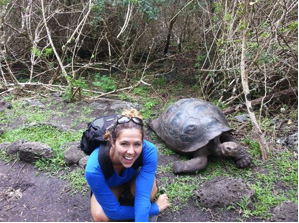 HME student Lisa Dellaporte on the Galapagos Islands, Ecuador
INTERNATIONAL PROGRAM LOCATIONS / SAMPLE COURSES / SERVICE OPPORTUNITIES
Cusco – PERU
Coursework: Spanish language, Quechua language, History of the Inca Civilization, Biodiversity of Peru, Contemporary Issues in Peru, Art & Design in the Andes, Photography, Andean Nutrition,
Service Opportunities: Education for Physically or Mentally Handicapped Children, Education to At-Risk Youth in a Residential Setting (Orphanage), Primary Education in a Semi-Rural School
Segovia – SPAIN / Rabat – MOROCCO*
Coursework: Spanish language, Arabic language, Art & Architecture of the Iberian Peninsula, Advocacy-Documentary Filmmaking, Spanish History-Culture-Civilization
Service Opportunities: Adult Education, Working with Immigrants in an Educational Setting, Intercultural Education
*Morocco is not available during the summer term
Dar-es-Salaam/Arusha – TANZANIA
Coursework: Swahili language, Development in East Africa, Economics of Education, Africa and its Place in History, Security and Africa, Public Health in Tanzania, Local and Community Responses to Conflict, Urban Planning in Africa
Service Opportunities: Teaching in Orphanages, Public Health/Awareness
Phnom Penh - CAMBODIA
Coursework: Khmer language, International Relations of Mainland SE Asia, Buddhist Meditative Traditions, Cambodia's Development in a Historical and Political Perspective
Service Opportunities: Teaching in a School for Vulnerable Children, Youth Empowerment, Rural Educational Development Opportunities
Siena – ITALY
Coursework: Italian language, History, Intercultural Communication, Socio-Anthropology, European Union, Italian Culinary Traditions
Service Opportunities: Education to Immigrant Populations, International Education, Emergency Response teams, Community Development Work
IPSL programs combine academic studies and volunteer service and full cultural immersion to give students a deeper, more meaningful study abroad experience. Founded in 1982, IPSL was an international not-for-profit educational organization serving students, colleges, universities, service agencies, and related organizations around the world by fostering programs that link volunteer service to the community and academic study. Today, IPSL, LLC offers a graduate program and undergraduate service-learning™ programs in nations across the globe—programs in which nearly 4,000 students from more than 400 universities or colleges in the U.S. and 25 other nations have participated.
Programs are hosted through the Center for International Programs: Study Abroad office. For specific information on program locations, such as curriculum or service placements, please visit: http://www.newpaltz.edu/studyabroad.