International Study & Service Learning

STUDY ABROAD & SERVICE OPPORTUNITIES FOR GRADUATE STUDENTS
IN THE HUMANISTIC/MULTICULTURAL EDUCATION PROGRAM
The Graduate Program in Humanistic/Multicultural Education at SUNY New Paltz and IPSL - formerly the International Partnership for Service Learning and Leadership - a recognized leader in global service-learning programming, have partnered to provide SUNY students with the opportunity to study for a semester or summer at one of several locations around the world. SUNY students now have the chance to complete graduate level coursework overseas that will count toward their degree program and to offer ethical, volunteer service in a variety of community settings.

Students participate in academic study at the partner institution abroad, with direct guidance from the international partner institution and the in-country IPSL program staff. Students volunteer at a local community organization for approximately 10-15 hours per week and participate in the IPSL Reflections course, Community Organizing and Social Activism (COSA) which serves to tie a student's service experience to their academic coursework. This socio-anthropological course contextualizes the service experience against the grain of the local cultures (history, literature, politics, language, religion).

The volunteer service that is part of the IPSL program is not an internship, but a rich volunteer opportunity at a local service organization that serves the needs of the community.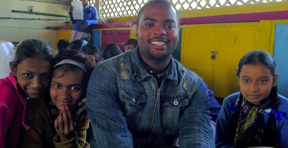 HME student Kareem Donaldson in Kolkata, India
SUNY/IPSL Program:
• There may be additional or different classes offered in a given semester - please inquire with IPSL for current offerings and options.
• Service-learning placements are subject to change depending on the local need.
• All programs include excursions to important cultural and historical sites.
• Students can elect a summer or semester term and courses and credits will vary.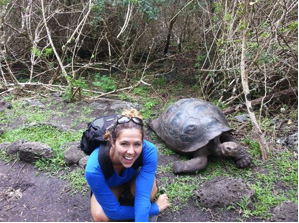 HME student Lisa Dellaporte on the Galapagos Islands, Ecuador
INTERNATIONAL PROGRAM LOCATIONS / SAMPLE COURSES

CUSCO, PERU
Required
• Spanish Language (Beginning, Intermediate and Advanced)
• COSA in Peru: Community Organizing and Social Activism
Electives
• Indigenous Cultures and Traditional Health and Healing
• International Human Rights & Indigenous Peoples
• Environmental Sustainability & Biodiversity of Peru
• Environmental Justice as a Social Movement
• Quechua Language (Beginning)

MEDELLÍN, COLOMBIA
Required
• Spanish Language (beginning, intermediate and advanced)
• COSA in Colombia: Community Organizing and Social Activism
Electives
• Comparative Peace Processes: South Africa, Rwanda, Northern Ireland, Colombia
• From Escobar to Santos: Perspectives on Modern Colombian History

ARUSHA, TANZANIA
Required
• African Culture and Swahili Language
• COSA in Tanzania: Community Organizing and Social Activism
Electives
• Human rights
• HIV/AIDS in East Africa
• Women's health
• Sustainable development
• Peace studies
HANOI, VIETNAM
Required
• Vietnamese Language
• COSA in Vietnam: Community Organizing and Social Activism
Electives
• Environmental, Sustainable Development
• Global Health and the Environment
• Politics and Policy of Development
• Sustainable Blusiness in a Globalized World
• Globalization and Social Justice

SIENA, ITALY
Electives
• Intensive Italian Language
• Semester Italian Language
• Intensive French Language and Culture
• COSA in Italy: Community Organizing and Social Activism
• Intercultural Communication
• European Union Development Policy
• NEPAD - New Partnership for Africa's Development

CHIANG MAI, THAILAND
Required
• Thai Language
• Institutions of Thai Society
Electives vary per term. Recent options include:
• Buddhist Meditative Traditions in Southeast Asia
• Socially Engaged Buddhism in Asia
• Buddhism in Thai Society
• The Government and Politics of Thailand
• Empire, Imperialism and Colonialism in SE Asia
• Human Security in Asia
• Government and Politics of Thailand
• Self Exploration through Visual Art and Culture of Thailand
• Introduction to Thai Dance
• International Relations of Mainland SE Asia

GUAYAQUIL, ECUADOR
Electives
• Spanish Language (Beginning, Intermediate and Advanced)
• Institutions in Ecuadorian Society: IPSL Service-Learning Course
• Electives from the Current University Catalog