Diversity and Inclusion Training with Steven Jones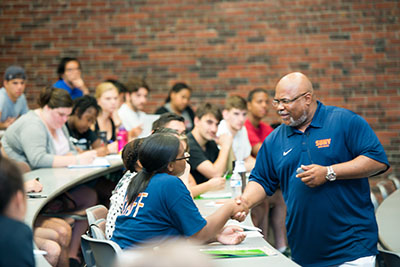 The following is an excerpt from President Christian's Nov. 13, 2015 faculty report:
The message
that Tanhena Pacheco-Dunn (Executive Director of Compliance and Campus Climate) and I sent to the community yesterday noted the reality of recent racially based incidents on U.S. college campuses. We reminded students, faculty, and staff about the impact of such incidents and less-overt actions on community members of color, and on the entire community.
Our ongoing work with consultant
Dr. Steven Jones
has focused on educating members to develop culturally responsive and inclusive practices and competencies as a skill set through which we can better recognize these acts, their impacts, and our own responsibility for them, and on developing language and tools to talk about them, especially with our students. Dr. Jones has now worked with nearly 250 members of our community, including student leaders, department chairs, upper-level administrators, and faculty and staff, since June 2015. We are receiving feedback that this work is having a powerful impact on members of our community. My own involvement in these conversations, in a session with Dr. Jones this summer and in the brief time I had to join a session with him and Department Chairs, has been very meaningful for me. More workshops are planned for the spring semester 2016. These actions were initiated in accordance with the College's Strategic Plan, which was developed in 2012.
We also shared that we are planning the appointment of a Chief Diversity Officer and the development of a broader diversity and inclusion plan that includes strategies for student recruitment, retention, and completion; administrative, faculty, and staff recruitment and retention, and evaluation of our progress. You will hear about and have an opportunity to be involved in these conversations during the spring semester.