Alumni News
Archived News
---
1960s
Robert Barnes '69 Asian Studies Major continued his graduate education at the University of Pittsburgh from 1969-1970. He is currently an Economic Growth Advisor for U.S. Agency for International Development in Manila, Philippines with responsibility for managing US Government assistance activities focused on the Southern Philippines (e.g., Mindanao and the Sulu Archipelago). Email: robarnes@usaid.gov 4/03 7/03
---
Richard (Rick) Hessney '72 Chinese Major In 1971-1972, Rick was one of the first New Paltz students to study Chinese as part of the college's exchange program with Nanyang University in Singapore. He also studied Chinese at Taiwan National University while working on an MA in East Asian Languages & Cultures at Columbia University, where he received his PhD in East Asian Languages & Cultures in 1979. Rick taught Asian literature at Brooklyn College from 1977 to 1980 until the loss of his position due to budget cuts led to a career change in 1981 to publishing with Reader's Digest. Since then he has worked in magazine and music editorial jobs at Readers Digest and is now Creative Director in the music division. As music was always his first love (though supplanted for a decade by love of Asian studies and Chinese literature), he is happy to be working in the music and entertainment field. Email: richard.hessney@rd.com 8/03
Derryl MacLean '72 Asian Studies Major received a PhD from McGill University in Islamics. An Associate Professor at Simon Fraser University in British Columbia, he is a social historian of religion specializing in Islam. His research interests span the pre-modern Islamic East (India, Iran, Central Asia), and include issues surrounding conversion, syncretism, and millenialism. He is currently researching the Mahdaviyah, an Islamic millenial movement of South and Central Asia. For information about his publications and courses, visit SFU. Email: derryl_maclean@sfu.ca 3/03
David A. Riggle '73 Asian Studies Major After a Masters Program at the University of Michigan Center for Japanese Studies, he took his law degree at the University of Detroit in 1977, specializing in International Law. He has practiced customs and international trade law exclusively since 1979 as a partner in Riggle and Craven in Chicago, Illinois. Visit his website at http://www.tradelaw.com/riggle.htm 3/03

The Observer Vol. XXIII, No. 1, August 2005
Denis Fred Simon '74 Asian Studies Major + Political Science Major After leaving New Paltz, he earned an MA in Asian Studies (1975) and a PhD (1980) in Political Science from the University of California at Berkeley. He taught international business and global technology mgt at MIT's Sloan School of Management (1983-1987) and the Fletcher School of Law & Diplomacy at Tufts University (1987-95). He served as Director of the China Strategy Group (1995-1998) and General Manager of Anderson Consulting (now Accenture) in Beijing (1998-1999), Managing Director of Scient Corporation in Singapore (2000-2001), and President of Monitor Group China (2001-2002). Returning back to academia, he became the Dean of Rensselaer's Lally School of Management and Technology in 2002.
In the summer of 2004, Denis was appointed as the Founding Provost of the Neil D. Levin Graduate Institute of International Relations and Commerce of The State University of New York. He is frequently quoted in the Western and Chinese press on business and technological developments dealing with the Pacific Rim. For recent press releases with information about Denis' background and interests, please visit
SUNY News
Times Union
BizJournal
RPI
Email: CHINAPRC@aol.com 8/04
Terry Wright '74 Asian Studies Major, left New Paltz with a serious interest in yoga and Asian medicine, which led him to pursue a BS degree in Nutrition from RIT in Rochester and then a Naturopathic Doctor's degree at the Southern College of Naturopathic Medicine in Arkansas. He now has his own practice in Georgia. 7/03
>Linda Giglio Heitmann '75 Asian Studies Minor (concentration in South Asian Studies) + Secondary Social Studies Major While at New Paltz, Linda was dedicated to Indian Studies and received credit by exam for studying Hindi language and remembers being a member of the East-West Union. She subsequently completed an MS and CAS at SUNY during the 1980's and also taught as a an Adjunct with the Department of Elementary Education during the late 80's and early 90's. She is now preparing to defend her dissertation proposal at Fordham University with research regarding leadership and student literacy. She is currently the Principal of the Titusville Intermediate School in the Arlington Central School District in Poughkeepsie. 4/03
John Stengel '75 Asian Studies Major studied Mandarin Chinese at Nanyang University in Singapore from June through October 1973. After graduating from New Paltz, he earned a Master of Library Science degree in 1977 from SUNY Buffalo and worked in public and college libraries before working in four state prisons as a general and law librarian. He retired in 2003. John writes, "We lived in a log cabin without electricity for 8 years and I became an Adirondack 46er in 1993. Now I do a lot of hiking in north central Pennsylvania and on Civil War battlefields; also am a reenactor. Ran as a write in candidate for Congress last fall." 9/03
Michael Siegell '75 Asian Studies Major writes, "It was in large part my exposure to the wonderfully vital and interdisciplinary nature of the Asian Studies program during my earlier years in New Paltz that I felt the freedom and inspiration to continue exploring various connections and interests of mine in several areas that intersected with Asia. After completing my BA in Asian Studies in 1975, I went on to get an M.A. in Education, a CAGS in Expressive Art Therapies, and finally a Ph.D. in Psychology in 1988.
I've always felt extremely fortunate in being able to combine my scholarly, clinical and artistic interests to my longstanding connection to India. I started studying North Indian Classical music and the sitar during my New Paltz days and have continued travelling back and forth regularly for extending periods of training under my sitar guru. It was in fact, my experience as a musician--learning and playing--that led me more formally to the world of psychology. In 1985-86, I was awarded an American Institute of Indian Studies Fellowship to do research for my doctorate in psychology and worked on the psychological dimensions of India's classical music tradition, focusing on the phenomenology of learning, playing and performing.
I am fairly active performing and teaching sitar in the New England area and over the years have been fortunate to accompany many of the great classical musicians of India, most recently Ravi Shankar in September 2003 at Boston's Symphony Hall. After my New Paltz days, I initially trained as a music therapist and expressive art therapist and later as part of my my doctoral training, was incredibly fortunate to start a long period of study and collaboration with Erik Erikson, whose own interests in the cultural dimensions of psychological experience, the arts and India were woven into his monumental work on human development. Presently, I am a fulltime professor of psychology at Cambridge College, Cambridge, MA and direct the undergraduate psychology program. I teach courses focusing on the psychology of the arts, cross-cultural and holistic psychology and the spiritual dimensions of psychological development. I loved my years in New Paltz and the experiences and learning that it provided me continue to reverberate and enrich my life." Visit the Holistic & Expressive Arts Studies Concentration website describing one of Michael's programs Email: msiegell@cambridgecollege.edu 10/03
Charles Hammond '76 Chinese Major received an MA (1979) and a Ph.D. from Columbia University in Chinese Literature. He is an Associate Professor of Chinese at Southern Illinois University. Visit his website for information about his research and publications as well as many useful links of interest to those studying Chinese. Email: chammond@siu.edu 3/03
Jean Roth '76 Asian Studies Major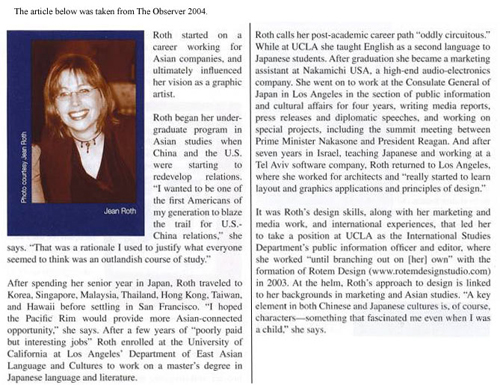 Update: Click here to read an interesting interview with Jean by the Los Angeles-based Digital eve LA in which she muses about the journey she has taken with her various careers since leaving New Paltz.
Earlier she had written, "After receiving my MA in Japanese Language and Literature from UCLA in 1982 (thesis focus on the relationship between literary portrayals of Yoshitsune and related historical milieu), I worked for 4 years in the Public Information and Cultural Affairs section of the Japanese Consulate General in Los Angeles. I married and moved to Tel-Aviv, where I did a myriad of things, working in a software company, and in a Japanese-Israeli joint venture firm in the Diamond Exchange, as well Japanese teaching and translation and cultural consultation for businesses. I lived there for 8 years.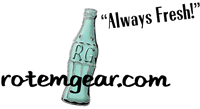 When I returned to Los Angeles in 1995, I worked in two architecture firms where I started to learn graphic design and layout. The combination of my new graphics skills with my marketing and public information work experience and international background led to my job at UCLA's International Studies department as public information officer and editor/designer of our quarterly newsletter, covering global topics and speakers such as fomer president Jimmy Carter and UN Secretary-General Kofi Annan. I recently left UCLA to pursue other career avenues and am currently self-employed as a graphic designer, editor, and creative communications specialist. Visit my online portfolio at http://www.rotemdesignstudio.com and "virtual bazaar" for t-shirts and gifts at http://www.rotemgear.com (or click the icon above)
Email: jrotem@rotemdesignstudio.com
Jeannie Irvine '78 Asian Studies Minor + Math Major with Computer Science Concentration travelled to China with her daughter in 2000 on a study tour led by Ron Knapp. 7/03
Howard Bayewitz '79 MA Asian Studies. After a 35 year teaching career, 31 of which were in the Kingston City school district, he retired in 2001. During his 31 year career in the Kingston City school district, he taught Asian and African area studies in the middle school for 15 years and then spent the final sixteen years teaching the A.P. European History class and all the tenth grade Global Studies Honors
students. In 1991, he participated in a Summer Fulbright program in India and a similar program in Indonesia in 1997 followed in 1999 by a grant from the Korea Society for study in Korea. In 1999, he was selected as the outstanding High School Social Studies Teacher in the country by the NCSS (National Council for the Social Studies). Belated congratulations! Email: hbayewitz@worldnet.att.net 4/03
---
Richard Block '81 Political Science Major/Asian Studies Minor see below a recent update from Richard that appeared in the Spring 2006 The Observer.
06/06
Howard Smith '81 Asian Studies Minor/Economics Major earned a law degree from New York Law School. He has been in the China travel business for more than 20 years and has been President of his own firm ChinaSmith since 1986. Email: tour@chinasmith.com 3/03
Mary (Neasum) Chin '81 Asian Studies Minor +Psychology Major and Business Administration Minor is currently working as interactive tech support for Manheim Auctions, which is part of Cox Enterprises. Mary adds the following reminiscence from her days studying Asian Studies at New Paltz, "I truly loved all the Asian Studies classes and the professors. It gave me a stronger connection to my heritage. My favorite professor was Mrs Jane Lee who taught the Chinese Language class. She was such a dedicated and kind teacher. Mrs. Lee continued to teach even after an long illness. We used to go to her home to learn because she was unable to travel." Email: Mary.Chin@cox.com 7/03
Andy Eisenberg '82 Chinese Studies Contract Major received a PhD from the University of Washington, Seattle, in Chinese History in 1991. He is currently an Associate Professor at Northeastern Illinois University, where he has taught since 1991. Andy teaches courses in East Asian history (China, Japan, Korea) with a time frame ranging from the classical (c. 1200 BC) to the 1950s) .Visit his website http://www.neiu.edu/~history/eisen.htm for information about his research, publications, and courses. E-Mail: A-Eisenberg@neiu.edu 3/03
Michael Boccio '83 Asian Studies Contract Major studied Chinese at PekingUniversity from 1980 to 1982 as part of the SUNY New Paltz exchange program. After graduation, he became one of the early China trade pio
neers, assisting US companies interested in accessing the China market. More recently Michael helped China's restaurant sector move into the modern world as part of the original team responsible for facilitating McDonald's entry into the China market. Michael was responsible for establishing and managing a company that is a key component of McDonald's China supply system. After leaving China in 1996, he moved to Sydney, Australia and then Hong Kong and Tokyo, where he managed his companies investments and business affairs in those markets. Now he has returned to the US and is the Vice President of Commercial Affairs for his company. His wife Sophia is the Managing Director of the Chicago International Film Festival (click to check out the festival website) Email: bocciowong@cs.com 7/03
Click here for an article about Michael in a recent issue of 'The Observer'
Marilynn Smith '83 Asian Studies Contract Major has been in the China travel business for more than 20 years and has been Vice-President of her own firm ChinaSmith since 1986. Email: tour@chinasmith.com 3/03
Skip (Eldred) Taylor '85Asian Studies Major studied Chinese in Taiwan from 1984-1988 and then again in 1991. After returning to the U.S. from Taiwan, he got certified at SUNY New Paltz in 1997 as a 7-12 English teacher. Shortly after, he learned about the J.E.T. program for teaching in Japan. He writes, "I hadn`t had a chance to visit Japan before, and even though I didn`t fit their usual profile I applied and, much to my own surprise, was accepted. I completed three years with the J.E.T. program and am currently doing the same work as an employee of the Nagareyama Board of Education. My teaching certificate is still provisional, so I have to decide what to do about that soon, but I am enjoying my work here very much. In addition to teaching I am studying Japanese Budo (Aikido and Karate), and I host a televised test of English (the TOEIC test, via ECC), which is broadcast daily on satellite television. Check out the program's website by clicking http://www.bsfuji.tv/moshimoshi Here's a glimpse of the TV star (click on the image for a full view)!



The school year starts on September 1, so unfortunately I won`t be able to attend the reunion. But I wish everyone well and hope we have a chance to meet sometime." Email: skipt@hotmail.com 7/03
---
Conán Carey '90 Asian Studies Minor/Philosophy Major completed completed an MA degree in Japanese in 1998 at the University of Wisconsin, Madison. He has had extensive language training at Kanazawa University (1988-89), Beijing (Summer 1994), Inter-University Center, Yokohama (1994-95), and the Inter-University Program in Taipei (1996-97).
Conán is interested in communicating with anyone doing research in the fields of Japanese setsuwa or Chinese pien-wen, so-called transformation texts, with a view toward establishing the historical routes and means of transmission for the Chinese tales in their journey to Japan. He also suggests that he would like to hear from those interested in establishing a group in East Asian folklore. Conán delivered a paper at the New York Conference on Asian Studies on October 1998 and had a 60 page monograph "In Hell the One Without Sin Is Lord" published in Sino-Platonic Papers #109 at the University of Pennsylvania in October 2000.
Conán is currently a PhD Candidate, Asian Languages, Stanford University, specializing in premodern Japanese literature with interests in the transmission of folktale motifs from the Chinese continent to Japan in the medieval age; Chinese pien-wen and Japanese setsuwa; Buddhism in Asian literature; non-ratiocinative modes of philosophical reasoning; folklore; pre-modern states of awareness. He writes, "Currenty awaiting a response to applications for the Fulbright and Fulbright-Hays fellowships submitted earlier this year. Hope to be at Nagoya University researching Japanese tales of karma, the underworld and rebirth under the guidance of renowned folklorist Abe Yasuro beginning fall 2003. Still playing guitar and writing poetry. See you all in Japan!" Email: barbs@stanford.edu 3/03
Robert Chiappetta '91 East Asian Studies Major + International Relations Major has worked for the past four+ years as a Government Affairs Representative for Toyota in Washington DC. He writes: "If I can be of any help to you or your students, please let me know." On August 9, 2003, Robert got married to Cristina in Lucca, Italy, and writes that both hope to attend the October 2003 reunion. Congratulations and best wishes to Robert and Cristina! Email: robertchiappetta@erols.com 8/03
Amy Nowacoski '95 Asian Studies Major + International Relations Major with Minor in Japanese Languageworked for three years with the Shizuoka Prefectrual Government in the International Affairs Division as a Co-ordinators for International Relations (CIR) in the Japan Exchange and Teaching (JET) Programme. Amy writes, "JET is a rewarding way to experience Japan. I would love to be a resource for any New Paltz student considering the JET Programme! Since returning, I've focused on fundraising special event production and am now hoping to go to cooking school. Email: AmyNowacoski@msn.com 8/03
Tammy Kelly '96 Asian Studies Minor + Anthropology Major 8/03
Josephine Perry '98 Asian Studies Minor + International Relations Major writes, "I studied abroad for four months in the spring semester before the fall semester of graduation. I took 2 years of Japanese 3 times a week and Ms. Ryan killed us, literally and figuratively. Anyways, I have my Masters in ESL. I worked at Roosevelt High School for three years and currently will be teaching at Walton High School. I think that learning a foreign language has taught me sensitivity toward language learners and I am better equipped to teach. Although I have minimal practice with Japanese, I will take a one hour course of Japanese on Wednesday night for the summer because teachers can do those enriching things while vacation is in session. I hope all is well in New Paltz. All I can say is,.the real world is nothing like the bubble life we lived in New Paltz.. I wish college could last forever." She signs herself, "A very proud Alumni of NP" Email: greenbee32@hotmail.com 7/03
Joseph Samalin '98 Asian Studies Contract Major returned from Japan in 2001 after serving for 3 years in the famed JET program. He wrote: "I taught for three years at Yamagata Senior High School in Gifu Prefecture. I also organized and ran cross-cultural conferences, teaching seminars, and served as a Regional Prefectural Advisor for all JET Programme participants in Gifu, played on a Japanese basketball team, studied Aikido, volunteered at an orphanage, participated in a Japanese archaeological dig, and taught English at the Gifu Prefectural Police Academy...." Currently he is studying in a graduate program at Columbia University. Email: js2329@columbia.edu 3/03
Susan Chung '99 Asian Studies Contract Major returned to Seoul in 2001 for an additional year of study at the Korean Language Institute, in preparation for graduate school in Korean studies. Email: 8/01
Erynn Sarno '98 Asian Studies Contract Major + Art History Major was in China for three years after graduating. She wrote in August 2001 that she made several trips around Asia during her stay there, including visitis to Xinjiang province in Western China and Southeast Asia. She had been planning to return to China, but, she writes, "due to SARs, I was unable to attend the Inter-University Program at Tsinghua University in Beijing so instead have been enduring Middlebury's grueling Chinese language program." In Fall 2002, she began studying for an MA degree in East Asian Studies at Harvard University and earned her degree in 2004. Erynn writes, "Harvard has been good to me, and I am lucky to have such fantastic resources and professors at my fingertips. I attribute much of my academic success there to the relationships I forged with my professors at SUNY; they offered a lot of guidance and insight (and still do), and of course the necessary skills and tools to continue to the graduate level. Though I am enjoying myself at Harvard, it is a bit too vast (but the libraries are fantastic!) and I am considering further graduate study in Chinese art history at a smaller school and/or becoming involved in the museum/conservation field."
Erynn Sarno won an award for the excellence of her M.A. thesis, "Representing Huineng: Monastic Modes of Display and Literati Responses to the Presentation of the Sixth Patriarch of Chan Buddhism," written for the East Asian Studies program at Harvard University. Remarking on its "unprecedented scale and range," Erynn's advisor Eugene Wang notes its author's "great instinct and sensitivity," "superb and methodic analysis," and "remarkable command of the scholarly literature on the related issues," He further adds, "the level and sophistication of her thesis exceed those qualifying papers of our graduate students in the Ph. D. program." Erynn's other thesis advisor, Yukio Lippit, adds that the thesis "has the makings of an exciting dissertation on Song-period painting of Chan [Zen] subject matter, should she pursue a doctoral degree in Chinese art at some point." It wouldn't be a bad idea, Erynn! We are all proud of you.
In Fall 2004, Erryn will be teaching 'Women of China' at SUNY New Paltz while Professor Kristine Harris is on leave as well as working for SUNY's Levin Institute in New York City. Email:erynnator@hotmail.com 8/04
Reunion RECOMMENDATION: Eryyn writes to recommend the New Paltz Hostel as "a very comfortable place with a wonderful, hospitable owner who clearly wants to provide a memorable stay." The October 16th weekend will be very busy in New Paltz, so reserve a place to stay soon!