Conferences, Events & Initiatives
Annual Meeting: Friday and Saturday, Sept. 28-29, 2012
Conference Theme: Contesting Tradition
»
»
We are no longer accepting paper or panel proposals
»
SUNY New Paltz students and faculty as well as undergraduate students from other area colleges are welcome to attend panels at no charge.
Members of the public can register for $25. This does not include meals or the Friday concert. On-site registration will be in the Student Union.
Registration fees (includes meals, refreshments, NYCAS membership and conference highlights as listed below):
Regular participant:
Full conference: $120
One day: $100
Student participant:
Full conference: $80
One day: $60
Late registration (after Aug. 1) is an additional $15
Please note: Fall weekends bring a lot of tourists to the New Paltz area. We urge you to make your reservations as soon as possible, since rooms will likely become unavailable as the conference date approaches.
Directions from New York City airports
Conference Highlights:
Plenary session with author Ha Jin
Shinohara Pops! Exhibition and performance by Japanese artist Ushio Shinohara
On the Farm: Photography exhibition by Veronica O'Keefe
Concert by the Neel Murgai Ensemble
Plenary session: Ha Jin, author of A Good Fall
Due to a medical emergency, Ha Jin had to cancel his appearance. Prof. Insu Fenkl of SUNY New Paltz will instead discuss Ha Jin's book.

Acclaimed author Ha Jin will open NYCAS 2012 on Friday, Sept. 28 with a talk about his work and a reading from his most recent short story collection, A Good Fall (2009).
Born in northeastern China in 1956, Xuefei Jin (Ha Jin is his pen name) was a teenager during the Cultural Revolution, serving in the People's Liberation Army and educating himself in Chinese literature. After earning bachelor's and master's degrees in English literature, he left his native China in 1985 to attend Brandeis University, and has since done his writing in English. Jin completed his Ph.D. here in the United States and is now the author of six novels, four short story collections, and three books of poetry.
Ha Jin's first full-length novel Waiting (1999) won both the National Book Award and the PEN/Faulkner Award. His novel War Trash (2004), set in the Korean War, won him a second PEN/Faulkner Award and was also a finalist for the Pulitzer Prize. His short stories have been anthologized in The Best American Short Stories and The Norton Introduction to Literature, and his collections have received many awards, including the Asian American Literary Award for The Bridegroom (2000), the Flannery O'Connor Award for Under the Red Flag (1997), and the PEN/Hemingway Foundation Award for Ocean of Words (1996). He has also received three Pushcart Prizes for fiction and a Kenyon Review Prize.
Along with A Good Fall, Jin's recent books include the novel Nanjing Requiem (2011) and a collection of essays, The Writer as Migrant (2009). A Fellow of the American Academy of Arts and Sciences since 2006, Ha Jin lives in the Boston area and works as a creative writing professor at Boston University.
All incoming first-year students in the English Department's Common Summer Reading Program and students in Asian Studies will read Ha Jin's book, attend the plenary session, and discuss it in their classes at New Paltz.
Ha Jin, "Exiled To English," The New York Times (May 31, 2009)
"The Art of Fiction," an interview with Ha Jin in The Paris Review (2009)
Ha Jin, A Good Fall (2009)
Praise for A Good Fall:
"[Jin] is a master of the straightforward line; he makes the most of his spareness. As in Chekhov's late work, his writing (which is mostly stripped of adjectives and adverbs) covers a lot of ground quickly — no-frills sentences about Chinese immigrants who lead no-frills lives in New York." –The New Republic
"The storyteller's art is richly on display here. Ha Jin has a singular talent for snaring a reader. His premises are gripping, his emotional bedrock hard and true...You might even call it: captivating." –The Washington Post
Shinohara Pops! The Avant-Garde Road, Tokyo/New York
Curated by Hiroko Ikegami with Reiko Tomii
Sara Bedrick Gallery at the Dorsky Museum
Aug. 29-Dec. 16, 2012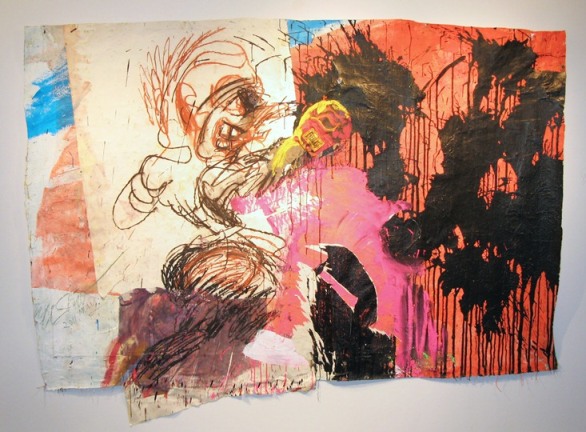 This exhibition examines the 50-year career of Ushio Shinohara, an indispensable player in the field of global art history. Born in Japan in 1932, Shinohara was active in the Tokyo avant-garde art scene. In 1958–64, a critically important period of postwar Japanese art, he was a notorious regular of the annual Yomiuri Independent Exhibition and a founding member of a short-lived avant-garde group Neo Dada. Known for his Mohawk hairdo, he invented Boxing Painting, his version of "true" action painting, and Imitation Art, in which he critiqued the modernist idea of originality.
On the Farm by Veronica O'Keefe
McKenna Theater Gallery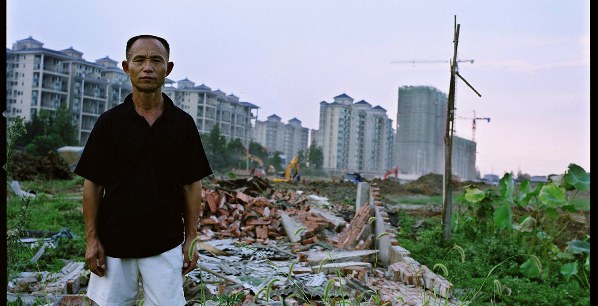 On the Farm is a series of film portraits chronicling China's agricultural development as it reaches a pivotal point in its evolution. The project began in October 2009 and covers a full agrarian cycle, culminating with the harvest of October 2010. The photographs draw from each of the nation's nine agrarian regions and, viewed as a cohesive body, illustrate a critical point in human history. On the Farm documents those who have been left behind in China's urban migration and urges viewers to confront the wellspring of their sustenance. Perhaps most importantly, the portraits pay homage to some of the hardest working, most indispensable, and disturbingly under-compensated people on the planet: our farmers.
Veronica O'Keefe is a New Paltz graduate and 2009-2010 Fulbright Fellow. Her work has been exhibited at the International Print Center New York (IPCNY) and 1650 Gallery in Los Angeles.
Friday evening concert by the Neel Murgai Ensemble
McKenna Theater, $10 public, $8 students at box office, $7.50 for conference participants in advance

The Neel Murgai Ensemble performs a unique raga chamber-jazz, combining Murgai's sitar with violin, cello and tabla. Their music is rooted in the raga and tala of Indian classical music but combines elements of jazz, Western classical and experimental music and modern improvisation.
Neel Murgai is a multi-instrumental performer, composer and teacher. He has studied sitar for 15 years. He has performed everywhere from the Lincoln and Kennedy Centers to the Blue Note and the David Letterman Show.
Sameer Gupta is a tabla and drumset player of jazz, world, and fusion music. He has performed at Lincoln Center, the Birla Auditorium in Kolkata and Asagiri Jam in Japan.
Arun Ramamurthy has studied south Indian Carnatic music. His music has led him to perform at prestigious venues such as Carnegie Hall, Lincoln Center, Kennedy Center, Le Poisson Rouge NYC, Maris Music Festival in Chennai, and others.
Marika Hughes is a graduate of the Juilliard School in cello performance. She is happy to have performed with some of her favorite musicians including Charles Burnham, Adam Levy, David Byrne, Gina Leishman, Whitney Houston, Jenny Scheinman, Kyle Sanna & Toshi Regan.
Learn more about the Neel Murgai Ensemble at neelmurgai.com.