SUNY New Paltz SolarCar Racing Team
Formula Sun Grand Prix Press Releases: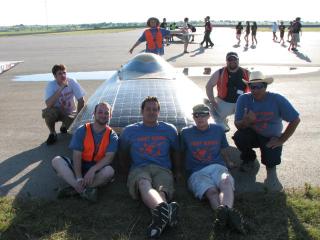 The sun is setting at the end of a long hard week - but well worth every bit!
Pictured in back: Tim Parker. From left to right are: Josh Fino, Chris St. John, Ben Rounds, Breandon St. John, Courtney Lia, and Robert Nickison.
DAY 5 - Formula Sun Grand Prix 2009
What a day! The SUNY Hawk ran better than could have ever been expected, compiling more than 200 miles. Our drivers drove a phenominal race, and the crew made all the right calls, drawing every ounce of energy out of the car (so much so that it crawled across the finish line with no time remaining in 6th place!)
The results are in!
| | | | |
| --- | --- | --- | --- |
| Place | # | Team | Car Name |
| 1 | 35 | University of Minnesota | Centaurus |
| 2 | 3 | University of Kentucky | Gato del Sol III |
| 3 | 11 | Northwestern | SC5 |
| 4 | 24 | University of Waterloo | Midnight Sun IX |
| 5 | 5 | Illinois State University | Mercury II |
| 6 | 32 | SUNY New Paltz | SUNY Hawk |
| 7 | 9 | Iowa State University | Sol Invictus |
| 8 | 88 | University of Texas - Austin | Samsung Solorean |
| 9 | 254 | University of California - Berkeley | Gold Rush |
| 10 | 13 | Michigan State University | Brasidius |
| 11 | 28 | Kansas State University | ReParagon |
Thanks goes out to all the teams for their help and support. Special thanks to: Kansas State University for lending us some necessary equipment , University of Minnesota for sharing its telemetry data, and Robert Nickison for his friendship - we hope to see you next year! And extra special thanks to our sponsors: SUNY New Paltz, Ulster County BOCES, TSEC, P&G's Restaurant, and most of all to Lee "The Man" Cabe - if it were not for his passion of solar car raycing, wisdom, and experience of the sport, this great week in Texas would have never been possible!
DAY 4 - Formula Sun Grand Prix 2009
Another positive day! We completed over 100 laps (greater than 170 miles) under beautiful Texas sunshine today. The team is really starting to come together with a few days of experience now under their belt.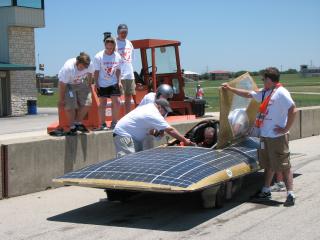 Day 4 - The SUNY Hawk crew performing a pitstop and driver change from one St. John to another (Breandon is successfully out, letting Chris take the wheel!)
DAY 3 - Formula Sun Grand Prix 2009
Drivers, start your engines electric motors. The first day of raycing saw plenty of action - including a rollover by the University of Waterloo, CA team (no one was hurt.)
New Paltz finished the day in good shape, completing over 100 miles in its first day of solar car competition - ever!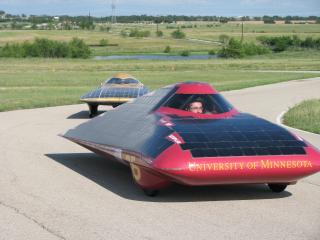 Day 3 - The SUNY Hawk closing in on race leader - University of Minnesota.
DAY 2 - Formula Sun Grand Prix 2009
Another day of intense scruitineering. The SUNY Hawk team worked on the car from sun-up to sun-down; tweaking the electrical and mechanical systems to satisfy the inspectors. Bottom line: the hard work paid off and We're In! We start tomorrow at 8:00am for 10 hours of grueling racing versus the best solar car teams in the U.S.A. and Canada!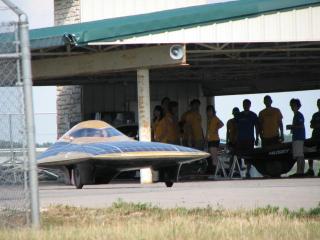 Day 2 - Breandon St. John running the car through qualifying (dynamic testing) as other teams look on.
Day 1 - Formula Sun Grand Prix 2009
Key word for today is perserverance! The crew arrived in Cresson, Texas last night after a 3 day journey which by itself was a team victory.
Today was the first of two scuitineering days where all 11 cars are looked at very closely from a mechanical and electrical design and implementation standpoint, safety is the key constraint. The finishing touches were being placed on our car - or so we thought! Several issues arose with our car, but we were not alone, all the other competitors needed to go back to the drawing board for day two.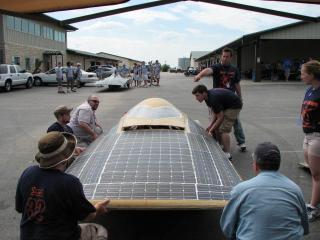 Day 1 - the team works together aligning the top shell with the bottom shell.
Pre-trip
Welcome to SUNY New Paltz' Solar Car Team web site. We are placing the finishing touches to the SUNY Hawk and it's off to Texas to compete in the Formula Sun Grand Prix 2009 - our first race - ever!
Special thanks to Lee Cabe for making this possible!
Good luck team!!!