Meet the Staff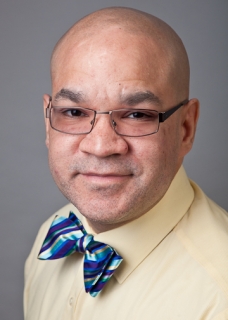 Mark Rumnit '93, Director of the Scholars' Mentorship Program
Mark Rumnit is a proud SUNY New Paltz alumnus and has been a valued employee at the College since 2008, when he took a position as an academic advisor with the Educational Opportunity Program. He transitioned to Academic Advising in 2012, and over the years has served hundreds of students, assisting with academic challenges like course selection and fulfillment of major requirements and also helping them acclimate to college life through counseling at various stages of their undergraduate careers.
In 2012 Rumnit expanded his role to include working as an instructor in the Scholars' Mentorship Program. He brings a familiarity with the program, its mission and its day-to-day operation to his new position as director.
Since the SMP's founding in 1988 it has grown to involve more than 50 faculty and staff mentors working with more than 200 student protégés each academic year. Students gain access to unique courses and leadership opportunities in offices and organizations across campus. The SMP is a major factor in attracting high-achieving general admission students of color to SUNY New Paltz, and plays an instrumental role in student success in and out of the classroom.
Rumnit holds a master's degree in liberal studies & education from SUNY Stony Brook and a bachelor's degree in history from SUNY New Paltz.
Mark D. Rumnit
Director - Scholars' Mentorship Program
State University of New York at New Paltz
Student Union Building 035
1 Hawk Dr.
New Paltz, New York 12561-2443
Phone: (845) 257-2762
Email: rumnitm@newpaltz.edu
MRP Task Force
Rita Celariste
Associate Director of Educational Opportunity Program
E-mail: celarisr@newpaltz.edu
Office: Student Union Building 019
Mark Colvson
Dean of Library
Email: colvsonm@newpaltz.edu
Office: STL M48
Lisa Jones
Dean of Undergraduate Admission
E-mail: jonesl@newpaltz.edu
Office: HAC 204
Dr. Gweneth Lloyd, Director of Peer Mentor Programs
E-mail: lloydg@newpaltz.edu
Office: Student Health & Counseling Center 201
Rendesia Scott
E-mail: scottr@newpaltz.edu
Office: School of Business, VH 312
The Scholars' Mentorship Program reports to:
David L Eaton, Vice President of Enrollment

Office: HAB 905B
Phone: (845) 257-3210
E-mail:
eatond@newpaltz.edu