Dr. Margaret Wade-Lewis Memorial Scholarship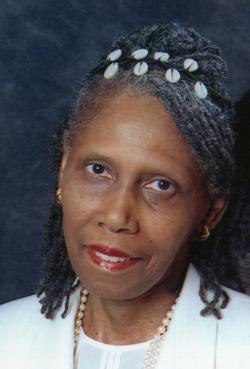 The Dr. Margaret Wade-Lewis Memorial Scholarship Endowment, established through the generosity of alumni, friends and family, provides scholarship assistance to New Paltz undergraduate students who are accepted participants of the Scholars Mentorship Program (SMP) and actively engage in leadership and community service either on- or off-campus.
The scholarship is named in honor of Dr. Wade-Lewis, beloved former Department of Black Studies faculty member and department chair who joined the College in 1974. A well-respected educator, mentor and student advocate who had a profound impact on the lives of countless New Paltz students, especially students of color, Dr. Wade-Lewis was also a skilled and dedicated administrator. In 1988 she helped found the SMP, and as its director oversaw its development into a national model for recruiting, retaining, advising and supporting high-achieving students of color in higher education.
Dr. Margaret Wade-Lewis had previously served as an administrator of the Minority Recruitment Program (MRP) at New Paltz, a predecessor to the SMP that similarly helped attract students from underrepresented backgrounds (primarily Black students) and support them via scholarship funding and individualized advising.
Dr. Margaret Wade-Lewis passed away in 2009, after more than three decades of service to the SUNY New Paltz community. In 2010 the endowment funding the MRP was named in her honor. The new Dr. Margaret Wade-Lewis Memorial Scholarship Endowment is a continuation of that fund and a celebration of Dr. Wade-Lewis's life of service to the College and to the students whose success, in and out of the classroom, she worked so tirelessly to secure.
"Dr. Wade-Lewis was a mother, an adviser, a confidant, a friend, a mentor, a role model and a teacher of students. This is why I want to make her students aware of the many contributions she made in their lives. I continue to support the endowment because it was so near and dear to Dr. Wade-Lewis. She continually mentioned so many students who needed financial help with things like unplanned class trips, clothes for job-related situations, books and other educationally related materials and unplanned emergencies. Quite often, Dr. Wade-Lewis advanced the funds herself when possible."
* David Lewis, husband to the late Dr. Margaret Wade-Lewis