Men Valuing Professionalism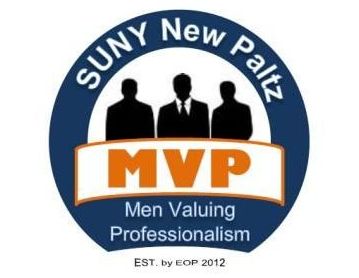 Men Valuing Professionalism (MVP) - established by EOP in 2012 - is dedicated to developing leadership skills, teaching professionalism, and encouraging positive campus and community engagement. MVP has been designed to address the needs of our EOP male students and positively reinforces the desire for young men to pursue leadership positions on campus, while building the skills required to effectively do so. While the focus of the program is on male student leadership development, many of the initiatives and programs offered by MVP are open to all students.
In recent years, we have noticed a decline in the number of male EOP students gaining on-campus leadership positions here at New Paltz. Our young men are not pursing these positions at the same rate as their female counterparts. MVP works to identify how young men can develop the character and the skills which would help our members be competitive in an interview process and to establish a positive lasting reputation.
MVP develops leadership, communication, collaboration, management/organizational skills as well as ethical and moral decision making amongst its members by carefully selecting initiatives/workshops, guest speakers, community service activities, and other relevant events which meet the vision, mission, and goals of the program.
Examples include:
• Leadership qualities initiative by the Vice President of Student Affairs Dr. David L. Rooney
• An initiative on budgeting and personal finance by Alumni Pascal Guirma
• Event planning workshop by Brendan O'Brien
• A comparison initiative of good vs. not so good public leaders by Aaron Hines
• Attendance at various Career Resource Center Workshop Wednesdays career development workshops
• Participating in New Paltz Clean Sweep
• Volunteering for Graduate School Open House & Accepted Students Day
• Attending EOP initiatives
• Attending a dining etiquette event through the School of Business
• Professional attire workshops
• Participating in internal team building exercises
| | |
| --- | --- |
| | |
The MVP Executive Board members meet individually with one of the four current program advisers for support and guidance in their roles as officers for the program and the advisers are available for personal guidance for all voting and aspiring MVP members. As MVP members become more engaged in campus and community activities they expand their network and professional support system. The program maintains its design and organization through the adherence to its constitution which was modeled after the M.A.L.E.S. program at Eastern Connecticut State University. In late fall 2012 the constitution was modified to meet the needs of our students and to fit with the structure of EOP and SUNY New Paltz, thus through extensive research and collaboration between EOP and then current students MVP was established. If you would like any further information about the program please call Robert Hancock at 845-257-3226.
Vision Statement:
Men Valuing Professionalism (M.V.P.) offers all EOP male students purposeful community engagement, and a cohesive, supportive network founded on topics relevant to male student development, including leadership, civic engagement, and active citizenship in higher education and beyond.
Mission Statement:
Through continual improvement and assessment, the program connects males from diverse backgrounds to one another and the campus community, advancing individual self-efficacy, self-awareness, and collective broadening of perspective via civil, productive, and positive program initiatives.
Goals include:
• Consistent communication amongst members, and involvement in decision-making with EOP Staff who provide guidance and feedback throughout the semester.
• Fostering connections amongst students, and between students, the university, and campus community.
• Making informed decisions in challenging academic, social, and personal circumstances.
• Defining personal values, short and long-term goals, and standards of conduct congruent with campus rules and regulations.
Membership Highlights:
This program is currently open to EOP male students at SUNY New Paltz. Any of these students can attend MVP events, however if they want to become official voting members they must complete and maintain specific requirements as follows:

• Students seeking membership must attend two or more MVP Program initiatives, complete at least two hours of community service, and must present a written statement of commitment to the mission of MVP.
• Members must maintain involvement in meetings and events. The constitution outlines a strict attendance policy.
• They must conduct themselves in an honorable fashion. If there is documented evidence to the contrary their membership will be revoked.
• If a student losses membership and wants to regain their place in the program, they must follow specific steps and all active members will vote on the reinstatement of membership.
Executive Officers & Positions Spring 2014:
President: Joel Almanzar
Vice President: Akeem Samuels
Finance Chair: Jesus Silvestre
Secretary: Andrew Caceres
Public Relations Media Manager: Roniel Urena
Community Service Coordinator: Thierno Balde
Sergeant of Arms: Jeffrey Noboa
Historian: Dany Ramdhanie
Advisers:
Antonio Bonilla EOP Director
Robert Hancock EOP Adviser
Carlos Aponte Graduate Administrative Assistant
Brendan O'Brian Events Coordinator
---