STEPS Program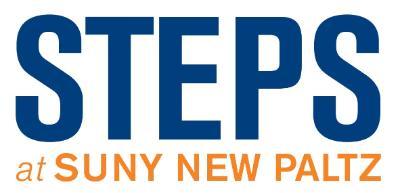 WHAT IS STEPS?
The STEPS Program provides personalized feedback for students to make informed decisions about alcohol and substance use. It consists of an online survey about your alcohol use, a one-hour informal meeting with a professional staff member, and an online follow-up survey.
HOW WILL STEPS HELP ME?
Your meeting will include:
• Personalized feedback about drinking and other health-related topics
• Educational information about the effects of alcohol
• Tips for staying safe

Information you share as part of the STEPS Program is kept confidential.
This includes survey responses and information discussed in person. We only inform Residence Life and/or Student Affairs of the dates of your completion of the program.
WHAT DO I NEED TO DO?
Make an appointment
Schedule an appointment by calling the College Prevention Coordinator at 845-257-3028. Be sure to ask for a STEPS appointment. The College Prevention Coordinator will let you know where your appointment will take place and any additional information.


Fill out an online survey
After you call and make an appointment, you will be emailed the link to the online survey to complete two days prior to your scheduled appointment.


Attend your appointment
During your appointment you will discuss your survey results with a trained professional staff member. If you are unable to attend your appointment or need to reschedule, please call 845-257-3028, 24 hours prior to your scheduled time.


Complete the required follow-up survey
The College Prevention Coordinator will email you instructions to complete an online follow-up survey three months after your appointment. Complete the survey within 48 hours to fulfill the STEPS Program requirements.