RESOURCES
Student Engagement & Leadership:

EOP Conference 2016: "Strong Foundations, Strong Future"
Important Dates:
All session proposals & papers due: February 8th, 2016
Notification of acceptance: February 16th, 2016
Pre-conference workshop materials due (for printing): March 15th, 2016
Regular presentation materials due: April 15th, 2016
EOP Conference: Saturday, April 30th, 2016
Call for Proposals & Papers
The EOP conference serves many purposes. The EOP Alums are provided an opportunity to reconnect with the program and meet current students. Current students gain networking experience and benefit from mentoring of Alums.
The conference also provides information, educational materials, and a forum to showcase presentation skills for Alums and students.
All these aspects of the EOP conference serve to strengthen the EOP family connection and program as a whole.
What is the focus of this year's conference?
This conference will focus on the concept of a strong foundation. EOP has been on the SUNY New Paltz campus for 47 years and this conference will discuss our personal foundations, the program founding mission, and how we contribute to our future as individuals and as part of the community by building a strong foundations for future growth.
---
EOP Alumni Reunion Event 2015 Saturday October 3rd:
"Once EOP, Always EOP......EOP Pride!"
---
Chi Alpha Epsilon (XAE) EOP Honor Society Induction Ceremony
The Educational Opportunity Program at SUNY New Paltz cordially invites you to attend the 13th Annual Chi Alpha Epsilon Honor Society Induction Ceremony for Opportunity Program Students.
Please join us on: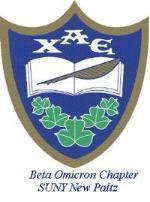 Date: May 1, 2015
Time: 3 p.m.
Location: LC 100
~ Refreshments will be served ~