Major in Chemistry!
New Paltz chemistry students emerge from their studies with excellent employment potential in industry, teaching, research, and government. Students have access to a variety of state-of-the-art instruments used in laboratory instruction and research projects, led by exceptional faculty with expertise in many areas of chemistry including environmental, nanoscience, and biochemistry. Our graduates have gone on to pursue Ph.D.'s in chemistry, attend medical school, and work in various teaching and hands-on laboratory positions. The chemistry major at New Paltz offers three tracks: chemistry; American Chemical Society-certified chemistry; and chemistry with an emphasis in biochemistry.

Contact Information
Coykendall Science Building (CSB) 105
SUNY New Paltz
1 Hawk Drive
New Paltz, NY 12561-2443

Phone: (845) 257-3790
Fax: (845) 257-3791
Recent Chemistry News


The student-run Chemistry Club and the Chemistry Department welcomed local families to campus on Nov. 2 for Family Mole Night, an annual evening of fun, hands-on lab experiments for kids ages 6-12.
Named for a unit of measurement used by chemists to express atomic mass, Family Mole Night has become a tradition for chemistry students at SUNY New Paltz. It is held every year during National Chemistry Week and regularly sees attendance of 50 or more young learners. Read more and view photos here.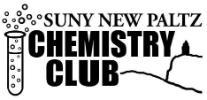 All Majors Welcome!

When: Every Wednesday at 8 pm
Where: CSB 319 (or 321 two doors down)
Questions? Email npchemistryclub@gmail.com, or find us on Facebook at "Chemistry Club (SUNY New Paltz)"