Gage Hall
---
Learn the history of the building's name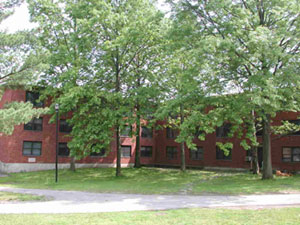 Gage Hall is a residence hall within the Parker complex. The Parker complex is composed of the traditional corridor style hallways with a single sex bathroom shared by all residents of the floor or house which is maintained by the Custodial Staff. Students who live in the corridor style buildings enjoy a lot of activity and interaction with the members of their house.
Lounges can be found on each of the floors. Located in the basement of Gage Hall are two laundry rooms with washers and dryers, a T.V. lounge, and a garbage/recycling room. On the first floor there is one main study lounge, as well as vending machines, a microwave oven and two small study lounges. The basement and second floors house T.V. lounges. Cooking facilities are located on the basement, second and third floors. There is also a computer lab with ten computers on the third floor. The largest residence hall on campus, the diverse residents of Gage Hall are known for their active participation in Hall Government and all areas of campus life. Gage Hall is in close proximity of the Health Center, Elting Gymnasium, and outdoor tennis courts.
Gage is also a 10 month hall and open during all scheduled vacations (unless otherwise indicated by the Director of Residence Life) to permit those students needing housing an opportunity to remain on campus when other halls are closed. You must live in 10 month housing to stay over breaks.
History: Gage Hall was named for Kitty Augusta Gage, a teacher of classical and modern languages at New Paltz Normal School from 1886 until her retirement in 1913. Kitty Gage was known for her wit, intelligence, vigor, and above all, her generosity toward students.
Complex Director: Amanda Maldonado
Office Phone Number: (845) 257-4701
Email Address: maldonaa@newpaltz.edu
Office Hours: Hello Everyone!
For the summer, please contact me via email.
Office Hours will resume Fall 2023.

Have a wonderful summer!

*******************************************
Fall 2023
Mondays: 10am - 12pm, 1pm - 2pm
Tuesdays: 1pm - 3pm
Wednesdays: 2pm - 4pm
Thursdays: 2pm - 5pm
Fridays: 10am - 12pm

Have a wonderful semester!!! You got this!!!
RA Office: (845) 257-4700