Bruce Kreutzer '73, named assistant coach for the Charlotte Hornets
By Ryan Novitsky, Athletic Communications Director
---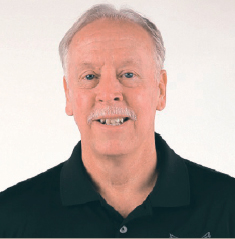 A look at the staff directory of the Charlotte Hornets of the National Basketball Association (NBA) reveals a few legendary names: Patrick Ewing, associate head coach, who starred for the New York Knicks, and of course, Chairman and "His Airness" himself, six-time NBA champion with the Chicago Bulls, Michael Jordan.
But another name on this list is New Paltz alumnus Bruce Kreutzer '73 (Elementary Education N-6 Social Studies). Kreutzer has spent more than 40 years in the coaching ranks and is now an assistant coach for the Charlotte Hornets, joining the organization in July 2015.
Kreutzer, 66, can be found in the record books for New Paltz men's basketball, taking the eighth-most free throws in singleseason history, attempting 159 in 1970-71. Although he only played for the Hawks for two seasons, Kreutzer still has fond memories of the campus and the town.
"The full experience of college was special," said Kreutzer. "What I remember most is the camaraderie and the campus atmosphere. This was a lively era during the Vietnam War and the many peace rallies added to the college experience."
Unfortunately, Kreutzer's playing career was derailed due to injury, but he took this as an opportunity to explore a different facet of the sport through coaching.
Kreutzer has previous ties to Charlotte having served as an assistant coach at Queens University in Charlotte – reaching the NCAA Division II Final Four in 2003 – and UNC Charlotte, as well as head coach at Garinger High School, where he won the 4A Boys North Carolina State High School Title in 1989.
"I'm grateful to have the chance to come back home and work in Charlotte," he said. "Plus, working for Michael Jordan is pretty cool."
As impressive as his professional resume is, Kreutzer credits his New Paltz roots and his experience as a player for his current success.
"New Paltz provided me with everything; it's part of me and it's my school," Kreutzer said. "Now, every day is new and I'm working with the greatest athletes in the world. I was given this opportunity and I am taking full advantage of it. My dream has come true at 66 years of age!"