Professor Wigfall remembered as pioneer for African-American arts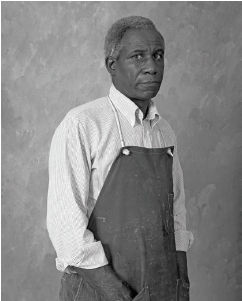 Benjamin Wigfall, professor emeritus of art and nationally regarded printmaker, died on Feb. 9, at age 86.
Wigfall was born in Richmond, Va., in 1930, the son of two working class parents in a tightly segregated community. Even as a child his love of art was undeniable and he secured private lessons at the Virginia Museum of Fine Arts with the help of his art teacher and support of his family. This early exposure inspired him to study art in college. He enrolled in Hampton Institute, now Hampton University, and later earned a master's degree in art from Yale University. He taught at Hampton until 1963, when he was hired at SUNY New Paltz where he taught until his retirement in 1991. He was one of the first African-American professors to teach at the College and was beloved and revered by generations of students.
Wigfall is mourned by many in the broader community who speak of the tremendous impact his teaching, curatorial talents and community work — specifically, the print shop, called Communications Village, which he started and ran in Kingston's Ponckhockie area — had on many lives. His influence continues to resonate in Kingston's burgeoning Midtown Arts District.
During the 1970s and 1980s, Communications Village became a destination for local youths where, Wigfall invited local and nationally renowned artists to teach and collaborate with members of the local community through printmaking, photography and poetry readings. Many important contemporary African-American art luminaries, including Benny Andrews, Romare Beardon, Jayne Corgez, and others participated at the studio, along with Wigfall's New Paltz colleagues and students. Recognized for its important role in the community, Communications Village received support from the New York State Council on the Arts, IBM and the America the Beautiful Fund.
In 1988, Wigfall opened the Watermark Cargo Gallery in Kingston, N.Y., which specialized in African and contemporary art and showcased works by some of the nation's most respected artists.
Wigfall is survived by his wife, Mary, son, Gino Wigfall, and daughter, Gia, and son-in-law Dr. T. Peter Oke-Bello, along with four grandsons. A memorial service for Professor Wigfall is scheduled on campus in June.
College mourns the passing of Arthur H. Cash
Distinguished Professor Emeritus professor Arthur H. Cash, who taught for more than 40 years in the English Department at SUNY New Paltz, passed away in December in Watch Hill, R.I. He was 94.
The author of a two-volume biography of the English novelist Laurence Sterne, Cash became a Pulitzer Prize finalist in 2007 for his biography of the 18th century English radical John Wilkes.
He taught at the University of Colorado, the University of New Mexico and Colorado State University before joining SUNY New Paltz in 1967 where he taught courses in the Bible and Ancient Greek and Roman Literature. He was named a SUNY Distinguished Professor in 1989 and retired in 1997.
Cash attended the University of Chicago on the G.I. Bill, earning a bachelor's degree in 1948. He was awarded a master's degree from the University of Wisconsin in 1950 and a doctorate from Columbia in 1961.
The passing of Irma Goldknopf
The College shares the news of the passing of Emerita English Professor Irma Goldknopf, 95, an active faculty member in the establishment of the Women's Studies program (now the Women's, Gender and Sexuality Studies program) at SUNY New Paltz.
Born in New York City in 1920, Goldknopf initially studied journalism at Hunter College, and in her early career worked as a sculptor, a high school teacher and as a propeller blade inspector during World War II.
She married her husband, David Goldknopf in 1941 and David later taught courses in English at the College from 1961–1983. The two remained together until his passing in 2015.
Goldknopf joined the College in 1967, following her Ph.D. study at Syracuse University, and taught in the English Department until her retirement in 1997. The Goldknopfs established the Irma and David Goldknopf Scholarship at SUNY New Paltz, which is designed to support students enrolled through the Educational Opportunity Program, especially those who are single parents.
Alumni
1920 - 1929
Kathleen Curry '22
Rosemary Curry '25

1930 - 1939
Elaine Kniffen '36
Selma (Weiss) Mindes '39

1940 - 1949
Ruth (Niesen) Samuel '42
Marjorie (Bentley) Bandla '43
Suzanne (Riley) Hall '43
Mary Ellen (McCormack) Danks '46
Katherine (Benjamin) Elliot '46
Mildred (Neus) Browngardt '47
Jean (Piercy) Morse '48
Doris (Ritter) Klenkel '49
Frederick Rothfuss '49

1950 - 1959
Doris (Ferris) Delfosse '50
Marion Schulze '50
Elizabeth (DePuy) Heckman '51g
Suzanne (Simons) Metzger '51
Patricia (Mimnaugh) Ginter '52
Frank Manzi '52
H. Alan Metzger '52
Norman Ellman '54
Marcia (Wasserman) Essig '54
Ethel Frye '55g
William Kupec '55
Gloria Breuninger '56
Agatha (Miller) Kerr '56
Cass Baker '58
R. Harry Smith '58g
Margery (Case) Brem '59

1960 - 1969
Lois Burns '60
Carla (Smith) Decker '61
Mathew Zachariah '63g
Joann Brown '64, '88g
Denis Cahalan '65
Agnes (Krimezis) Vona '65
Robert Zapf '65
Janine (Vitigliano) Fau '66
Jane Gatsch '66g
S. Warren Hurley '66
Diana (Simehock) Mendez '66
Celeste Zaferiou '66
Raymond Butler '67
Solomon Iyasere '67, '68g
Thomas Agne '68
Charles Cassidy '68g
Margie (Carman) Fischer '68
Paul Grootkerk '68
Margaret (Schmitt) Hinz '69
Bonni (Brown) Smiles '69
1970 - 1979
Robert Hinz '70g
Kenneth Black '71
William Gagnon '72
Paula Kitchen '72
Barbara Mrozik-Wolff '72
Carol Ackerson '74
Alan Schaechter '74
Stephen Finkle '75
Ellen Bernstein '77

1980 - 1989
Maria Dabenigno '80
Tracey Brooks '81g
Leslie (Butler-Brown) Dwyer '81
Linda Wagner '82
Dinamarca Scecchitano '83
Kenneth Moran '84
Brian Mohin '86
Carol (Staats) Lefemine '87
Victoria (Kube) O'Donnell '87
Barbara Kay '88g
Mark Rosenthal '88

1990 - 1999
Rebecca Debrosky '90
Laurie Churchill '91g
Michael Cline '91
Michelene Husar '91g
Joyce Carey '92
Matthew Pelish '93
Gregory Evangelista '95g
David Friedland '97
Daniel Kelleher '97
Jodi (Craigie) Parker '97, '03g

2000 - 2010
Judy Iacovino '00
Mark Dooley '01
Michele Garland '01
Tammy Gioia '02
Jane Hunt '05
Vernell McClinton '08
Demet Turker '10
Faculty & Staff
Gloria Bonali
Arthur Cash
Irma Goldknopf
John Alphonso Karkala
Donald Schiff
Haig Shekerjian
Benjamin Wigfall