Culinary Creations
at 2016 Democratic Convention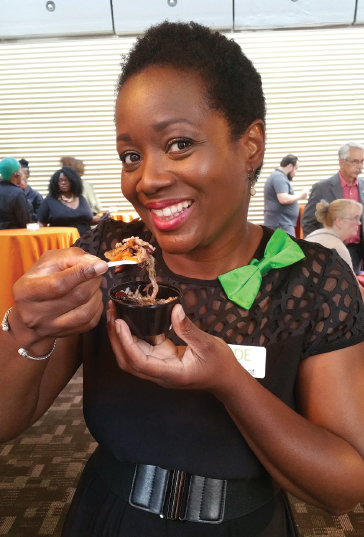 Janet Davis '96 (Communication Media), a noted chef, restaurateur and the CEO of JADE Jamaican Grill, was chosen from hundreds of applicants as a culinary vendor for two events held during the 2016 Democratic National Convention in Philadelphia, Pa., in July 2016.
Thousands of guests sampled JADE's signature rum cupcakes with Caribbean Sea salt frosting at the Media Party at Citizens Bank Park on July 23, 2016. Attendees also enjoyed jerk pork and rice and peas at the Welcome Delegate Reception, held at the Kimmel Center for Performing Arts on July 24 2016.
"It was easy going for the most part, but it was a lot of work," said Davis. "Every person who visited our booth made mention of our fabulous décor and they delighted in every bite of food. Many came back for more and folks are still buzzing."
A few days prior to the event, Davis made a live television appearance on the local FOX news program, "Good Day Philadelphia," where she featured the three dishes that would be served at both convention events.
"This entire experience is a great example of how my degree in communications complements my work as a chef and business owner," said Davis. "I'm comfortable in the kitchen and also promoting JADE through various media outlets." Born and raised in Jamaica, the alumna's fascination with food began at an early age when she joined her mother in the kitchen at home and at the family restaurant. She spent her early career working in human resources and earned her master's degree in communications from Temple University in Philadelphia, Pa.
"Pursing my dream is a decision I will never regret," said Davis. "This national recognition and historic event have been an experience I'll always remember and I thank God for everything He is doing."
In addition to her work, Davis also gives back to her local community and supports numerous causes, donating her services and sharing her knowledge and expertise via speaking engagements. She was the keynote speaker at the 2016 bi-annual EOP Conference at SUNY New Paltz and volunteered her time as a panelist at the College's first Women's Leadership Summit in April 2015.