Alumni couple seeks to help struggling students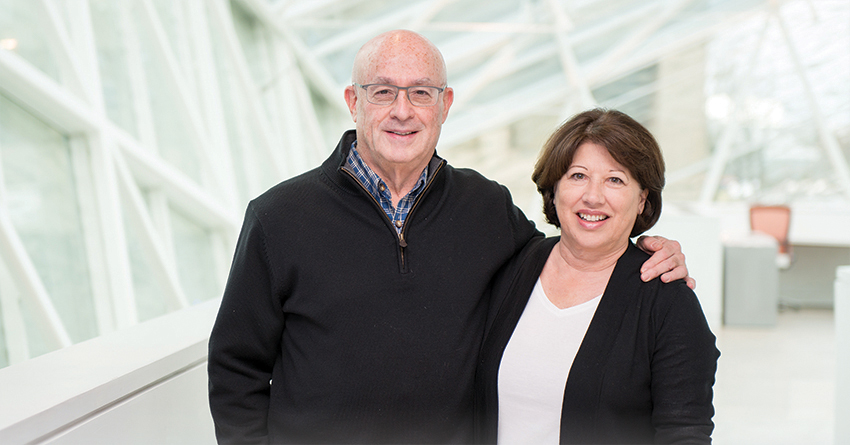 Dr. Steven Brody '73 (Psychology) and Karen Krause Brody '71 (Art Education) '80g (Art Education) created an endowed fund for the College of Liberal Arts & Sciences at SUNY New Paltz to assist students facing unexpected financial challenges.
"We wanted to give a gift to someone suffering some sort of economic hardship," said Steven. "The students with a 3.9 or a 4.0 almost always find a way to finish and get their degree. There's often someone there to rescue them. We wanted to help the people with a 3.0 who don't have that guardian angel watching over them."
As young students at New Paltz, the Brodys sometimes struggled to pay for their education. Karen had financial help from her parents, but Steven did not. Both sought loans to cover living expenses and tuition and Steven found hours of work-study to supplement their simple lifestyle.
"There were many nights when we were first married and I was in school that we had cereal for dinner," said Steven. "We imagine there are still students like us, who are focused on their studies but still struggling to stay afloat."
Karen, who previously served on the Foundation Board, said the education she and her husband received at SUNY New Paltz was the catalyst for everything else they later achieved. "We were prepared because of New Paltz," she said. "It only makes sense to give back and try to make a difference."
For Karen, this success was measured by being an art teacher, full-time parent, real estate agent and the business manager of Steven's practice before her retirement. After four years in the U.S. Army, Steven completed his residency in oral and maxillofacial surgery at the Hospital of St. Raphael, an affiliate of the Yale School of Medicine. He is now managing partner at Greenwich Oral and Maxillofacial Surgery Associates, where he has worked since 1984.
Steven was also on the College's Presidential Search Committee in 2010-11 and served on the Liberal Arts and Sciences advisory board. The couple, who has two children and two grandchildren, hope their gift will inspire other alumni to contribute to SUNY New Paltz.
"I think private universities sometimes have more of a culture of philanthropy and in some ways New Paltz has a ways to go," said Steven. "We would like to inspire other alumni to give back to the College because there are still students we can relate to all these years later, and they need our help."