Lifetime Learning Institute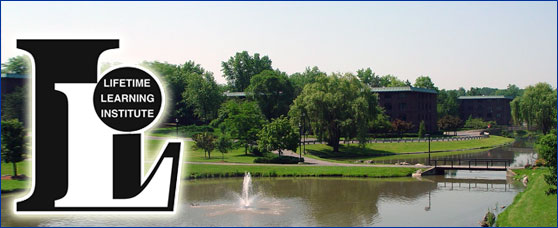 January 2021 LLI Updates
TO: The New Paltz Lifetime Learning Community

Summing up LLI's path in 2020 -- "What a long, strange trip it's been." -- The Grateful Dead

In our last communication, we spoke about the success of the Fall 2020 online program. Most participants were pleased with the classes, the presenters, and became more comfortable with the technology after a few classes. This was due to the efforts of the Council, committee members, class presenters and hosts.

Not a group to rest on our laurels, the Council has been busy on several fronts.

Virtual Brunches. Given the success of the Fall program, the Council decided to test a virtual version of our brunches with a slight modification – BYO Brunch. The first one was on November 24th with 32 participants. The subject was Covered Bridges of the US and China. The second virtual brunch was January 19th, speaker Tom Mounkhall, one of our regular presenters presented a World Historian's view of the film – The Mission (selected segments). Stay posted for future events.

Lifelong Learning Institute Regional Meeting. Ten Lifelong Learning groups met on November 20th to discuss the challenges, solutions, and potential next steps as we look to keep our programs vital. Four members of our Council attended. Most of the groups are grappling with the same issues. I am sure we (within our chapter and with other chapters) will be having more conversations based on some of the challenges and ideas presented.

Spring LLI session. Our Spring session will be held online with approximately 20 classes – 6 more than the Fall session. We expect our spring 2021 catalog to be uploaded to this site at the end of January.

Registration will be online as this was successful in the fall. (form link will be uploaded at the same time as the catalog)
The fee is $60 for the Spring session. Registration is in two steps: 1) register online 2) send your payment via mail to LLI. Your registration will be complete once we receive your payment.
Emails and a postcard will inform you of when the catalog is available online.

Volunteers. As we indicated in previous updates, volunteers are the lifeblood of this organization. We have two areas that need your participation:

Volunteer classroom hosts

are needed for us to put the classes online. In short, 20 volunteer hosts are needed for us to proceed with all the courses. Please keep this in mind and contact us at lifetime@hawkmail.newpaltz.edu to volunteer – we will give you all the training and support you need.
We also have 4 vacancies to fill on

the Council board

: Vice President, Volunteer Chair, 2 Members-at-large positions. Again, contact us at lifetime@hawkmail.newpaltz.edu to get more information on what each position entails.

Hope to see you at the next brunch and in the Spring.

The Council
---
Welcome to the Lifetime Learning Institute of the State University of New York at New Paltz
We offer stimulating and fun, non-credit, non-competitive courses for adults 55 years and older. Our courses are offered each fall and spring semester in four or eight-week formats. Wednesday courses are typically offered on the SUNY New Paltz campus and Friday courses are offered in and around New Paltz.
Get on the Mailing List
If you're not sure, but just want to get on the mailing list to receive the catalog, call us at 845-257-2892 and leave a message, or drop us a line at lifetime@hawkmail.newpaltz.edu. Please be advised that LLI does not maintain a physical office space. We look forward to meeting you!