General Education Program
General Education 5 information coming soon
Student Experiences with General Education

Watch this video and learn about what SUNY New Paltz students gained from our General Education program. Then scroll down to learn more.
The Value of General Education
SUNY New Paltz's General Education (GE) Program provides the foundation for your intellectual development. GE courses provide you with a broad knowledge base and essential communication skills. Not only will you gain exposure to knowledge, you'll also explore new perspectives, ways of thinking, arguing, and being. Through your GE courses, you will learn how to think instead of what to think. The GE Program's diverse course offerings develop your capacity for lifetime learning and adaptability to rapidly changing career fields.
Your General Education Program is organized around three categories:
skills in basic communication, mathematics, and foreign language.
disciplinary knowledge in art, the humanities, and the natural and social sciences.
study of the regions of the world.
Categories: General Education 4
Below you will learn about how GE4 courses are organized into these categories. In all courses, you will explore content specific knowledge alongside faculty experts. These courses will build a foundation of knowledge and skills which you will draw upon your entire life. Your General Education Program can also help you choose a major and will prepare you to specialize in one academic field.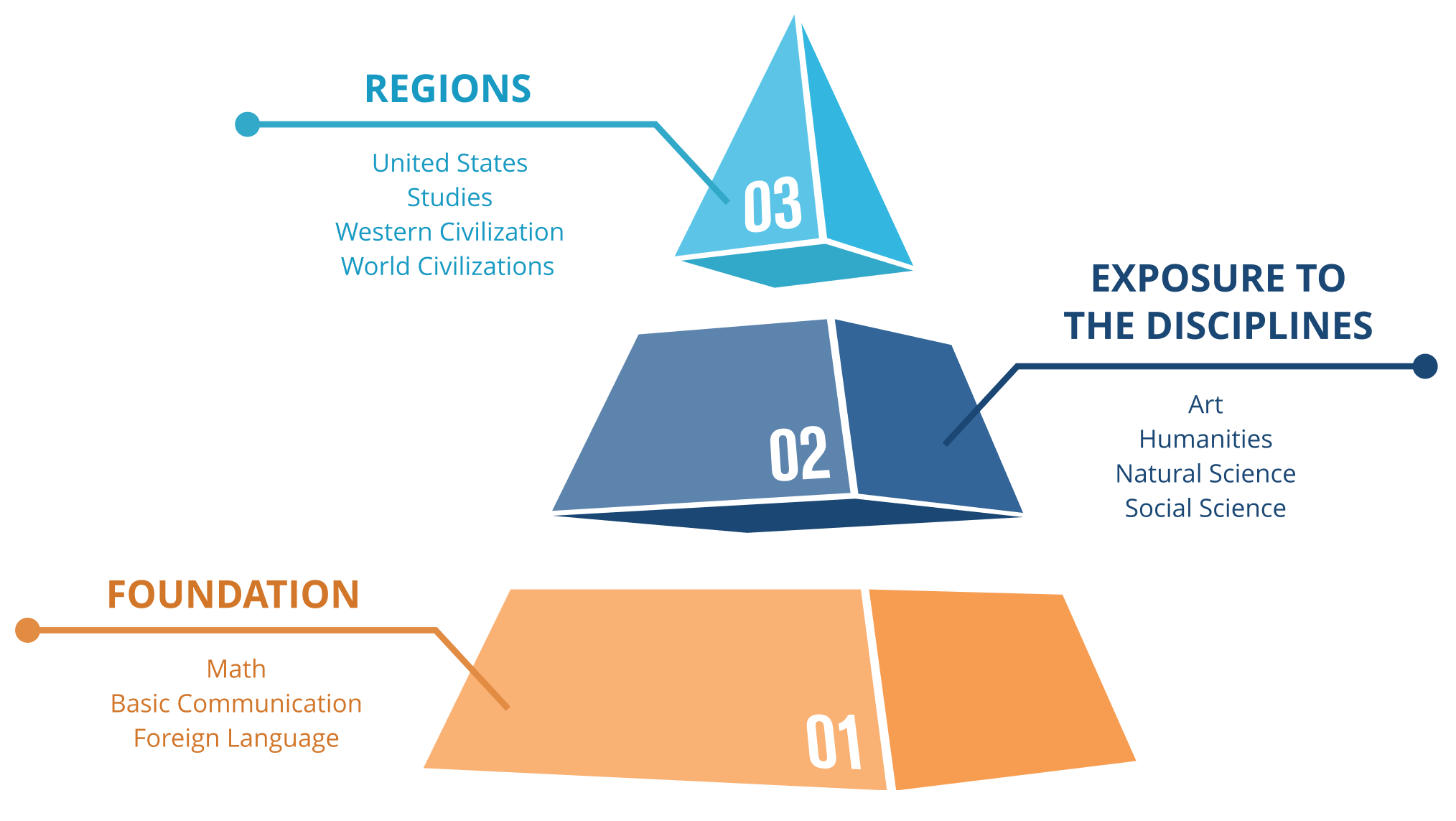 A high-quality education must ensure students' comfort in the use of words and numbers. Our GE requirements serve this basic purpose. You are required to take courses in Math, Basic Communication, and a Foreign Language of your choice.
General Education Category I: Foundational Skills
All modern education must ensure that students can use words and numbers. Our General Education requirements serve this basic purpose. You are required to take one course in Math (MATH), Composition (BCOM), and one or two courses designed to help you achieve an intermediate level of proficiency in a Foreign Language (FLN) of your choice.
General Education Category II: Exposure to the Disciplines
Our General Education curriculum includes classes in four academic disciplines. These reflect very different ways of knowing. Each discipline has rigorous methods for constructing knowledge that are teachable and can transform your habits of mind. By taking classes in these disciplines, you will come to understand how artists, humanists, natural and social scientists answer questions about the world, the universe, and ourselves.
General Education Category III: Regions of the World
By studying regions of the world, you will explore questions about identity including who you are and how you may differ from others. The study of the United States, Western Civilization, and World Civilizations will help you become an informed, engaged, and thoughtful citizen of the world.