Study Abroad - Veraluz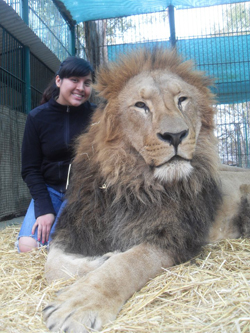 Veraluz De Leon
Study Abroad Argentina
Q: WHAT'S IT LIKE TO LIVE AND STUDY IN ANOTHER COUNTRY?
A: Living in another country is both very nerve-wrecking and exciting, but having had the opportunity to live and immerse myself in a new culture was one of the greatest experiences I've ever had. Along with this, studying in another country is both rigorous and intimidating, but a challenge that will be sure to allow you to grow. Living and studying abroad has been a great learning and growing experience; I now feel that I am more culturally competent and prepared for new challenges that may arise.
Q: WHAT ARE THE CLASSES LIKE?
A: The classes in the Pontificia Catholic University of Argentina were intense and very demanding. Having to attend classes taught in another language was not new to me, but the course load was. Classes were only offered once a week and although this sounds appealing they were all about three hours long, where most classes were paper based and required a lot of intensive writing- something I have now mastered.
Q: WHAT IS IT LIKE GETTING TO KNOW NEW PEOPLE FROM A
DIFFERENT CULTURE?
A: Getting to meet new people from other countries and cultures was very exciting for me and was something very easy to do with the program I was a part of. Having to meet other students from other places is something intimidating at first because you're never quite sure how to go about it, but just like me they were studying in a new country too. Meeting students was a great learning experience because I was able to discuss issues from a more global perspective and enhance my global awareness which is one thing studying abroad will allow many people to do.
Q: WHAT ELSE WAS ENJOYABLE ABOUT YOUR EXPERIENCE (ex.
Did you work or go on any special trips)?
A: One of the definite perks of studying abroad is the chances you have to travel to other places. This is something I definitely took advantage of when traveling to other countries and several places within Argentina. Opportunities like these allowed me to learn more about the country and the several different cultures that can be found within one country, which is fascinating and eye opening.
Q: WHAT ABOUT FAMILY AND FRIENDS BACK HOME?
A: Having to leave my family and friends behind was one of the least difficult things to do, yes I was going to miss them and I definitely did, but thanks to technology my time abroad was not too bad. Before studying abroad I made sure to spend quality time with my loved ones, open a Skype account and create a blog. These three things made me enjoy my time abroad so much more because I was able to balance my time wisely and stay in touch with my loved ones back at home. Keeping a blog allowed me to write about my daily adventures and keep my loved ones posted back at home which minimized the time I spent on Skype and allowed for more time traveling. Of course, skyping kept everyone back home at ease which is one thing I highly recommend for anyone who travels, it's a good way to let others know how you're holding up.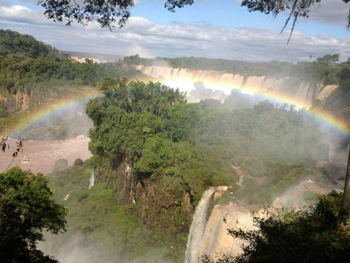 Q: SAYING GOODBYES AND RETURNING HOME?
A: Saying goodbye was sad, coming back home was even sadder -considering I had to say goodbye to a place I had made my home. I am a true believer that one should appreciate every moment you have, that's why when leaving home, one should embrace their loved ones and appreciate that time and not worry about anything else because next thing you know you'll be coming back home missing the place you studied abroad in. Coming back home was exciting and as I mentioned sad, but it happened sooner than I had expected and made me wish I had spent more time in Argentina because time does fly by when you're having fun.
Q: HOW DID YOU FUND THE PROGRAM?
A: Fortunately I applied and was awarded the Gilman Scholarship for a fairly reasonable amount which helped fund both my ticket and travels abroad. Along with the Gilman Scholarship I decided to take out some loans before heading to Argentina to make sure that I would be financially stable all throughout my time there. It is always better to be safe than sorry, so if ever money is a problem there are many ways to find help that is available for you to study abroad.