Study Abroad - Michelle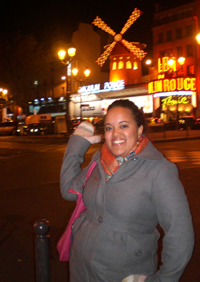 Study Abroad Valencia, Spain
Michelle Hernandez is an EOP student and Psychology major who spent her Fall 2007 semester studying in Valencia Spain. She also traveled to Morocco, Italy, Paris, and Portugal while abroad. She had this to say about her experience, "I met people from all over the world and made life long friendships that I will carry with me forever. The culture was different, the people were different, their customs and everything in between was different, but the experience was unforgettable. I wouldn't do anything different and if I had the opportunity to do it again I would do it in a heartbeat without a second thought in my mind."
Q: What is like to live and study in a foreign country?
A: Living in a foreign country has by far been the most amazing experience in my life so far. At first I was a little scared and skeptical because I didn't know what to expect. I lived with a senora in her home which I thought was going to be hard but on the contrary it was great. She was my mother away from home. She cared for me, prepared my meals and did the things any mother would do for their child. I grew to love this woman and will keep her in my heart forever. I know I have a second mother that awaits me in Spain. Things were very different and adjusting was going to be a process but as time went by and I met many many new friends things got easier. I began to enjoy my time abroad to the maximum. Everyday was something new, whether it was going to local places with my new friends, hanging out with my teachers or traveling all over Europe; there was always something to do. The classes were small, which allowed me to have an intimate relationship with my professors. The courses I took were interesting and taught me many things about Spanish culture I hadn't known or even imagined such as, the concept of bullfighting and what it means and entails. The professors were extremely caring and genuine. They wanted my time to be enjoyable and the classes to run smoothly.
Q: What is it like getting to know people from different cultures?
A: I met people from all over the world and made life long friendships that I will carry with me forever. The culture was different, the people were different, their customs and everything in between was different, but the experience was unforgettable. I wouldn't do anything different and if I had the opportunity to do it again I would do it in a heartbeat without a second thought in my mind. Meeting people not only from Spain but from all over the world was great! I can now travel to other countries in the world and know that I have someone there to greet me. Everyone was so welcoming and willing to allow me into their home if ever I needed somewhere to stay. The people I met from Spain became very close friends of mine and people that I stay in contact with and will for many years to come. I can go back to visit and know that they will be there waiting with open arms.
Q: What else was enjoyable?
A: Traveling all over Europe I must say was the highlight of my whole experience. I loved going to different countries and experiencing different cultures. Though many times I was language confused between Spanish, French, Italian and English, because of the places I'd been but it was still amazing! I traveled to Morocco, Italy, Paris, Portugal, and several places within Spain. It was so easy to go to all these countries because everything was so close together. I loved every place I went to and would love to go back! It was truly amazing to say the least, I don't think there are words to describe this experience as a whole.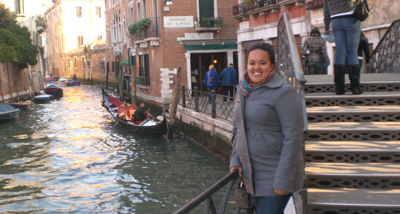 Q: What about family and friends back home?
A: It is only natural to miss your loved ones back home but if you keep yourself occupied, which is most likely to happen, you will be fine. You're so busy doing so many things and there is so much to do that time flies and before you know it you'll be home and trust me time does go by very very quickly! Keeping this in mind when abroad do all the things you would like to do: travel, go out, meet people, and keep yourself occupied with activities you enjoy because before you know it it'll be time to go back home.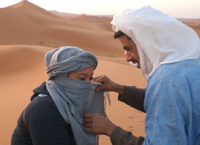 Q: Saying goodbyes and returning home
A: This has to be the hardest part of the whole experience. Leaving after spending several months immersed in a culture and meeting people you have made connections with is extremely hard. You've developed relationships that mean a lot to you and as difficult as it was to leave home it will be just as difficult to leave what has been your home for those months. For me personally it was very hard! I met so many wonderful people I didn't want to leave behind. I didn't want this unforgettable and life changing experience to come to an end. Not only the people I met from Spain but also the students that came along on the trip just as I did not knowing what to expect.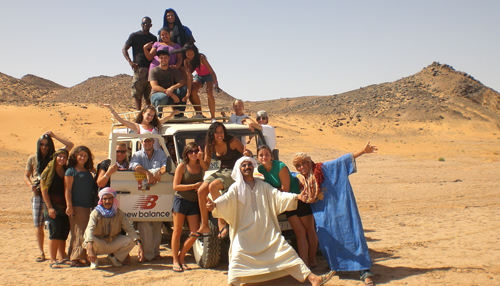 We developed a relationship because we were on the same page and depended on each other for the experience. My professors in Spain were the most amazing professors ever. They were our friends, they genuinely cared for us and made sure we were well taken care of. They became an essential part in our experience and did an excellent job at making us feel at home. Tears were the very least I can say about leaving Valencia on that day. We were all emotional as we said our goodbyes, we cried, we hugged and gave each other kisses. As we all mounted the bus with tears rolling down our faces we couldn't believe that that was it. The most amazing thing that had ever happened to me had come to an end and it was now time to return home.
By Michelle Hernandez
Edited by Robert Hancock