Study Abroad - Jeffrey
1. WHAT'S IT LIKE TO LIVE AND STUDY IN ANOTHER
COUNTRY?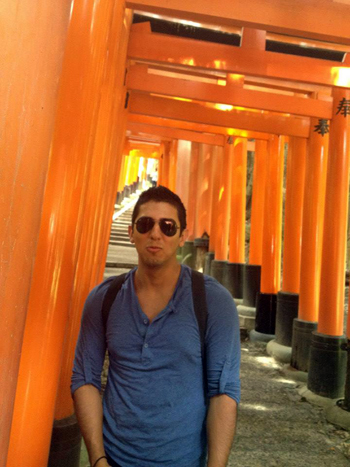 To live and study in another country was a great experience. Back in my home country (U.S.A), I was accustomed to a certain way of life, culture, and certain routines, but that all changed when I went to Japan. I get to see how the Japanese people live their life so different from my own; there are different norms, routines, and customs that I would have never imagined to see before. At first I was confused and disoriented, but after the culture shock, I started to adapt and learn about the new environment I was in.

2. WHAT ARE THE CLASSES LIKE?

Classes in Kansai Gaidai were superb. I took two language courses and other content courses. The language classes helped improve my Japanese language skills and therefore helped me to live and communicate in Japan. Taking the content courses such as the Politics class and Japanese Art class, was such a great learning experience. For example we would study works of Japanese Art and architecture, and luckily for the location of Japan I was in (Kansai Region), I could go out and see these magnificent works in person and not just in a picture in a textbook, as if I were taking this class in New Paltz.

3. WHAT IS IT LIKE GETTING TO KNOW NEW PEOPLE FROM A
DIFFERENT CULTURE?
Immersing myself in such a different culture, was such a rewarding experience. You think you have an idea of the Japanese culture through reading texts and doing research on it, but it is not until you finally experience it first-hand that you really get to learn about a different culture. At first I was an observer of the culture during the first couple of weeks during my program, but after a while I was doing what Japanese people were doing; for example being silent on trains and buses. I was blown away by how the Japanese culture was, so prideful and such a high sense of community, it was an eye opening experience.

4. WHAT ELSE WAS ENJOYABLE ABOUT YOUR EXPERIENCE (ex.
Did you work or go on any special trips)?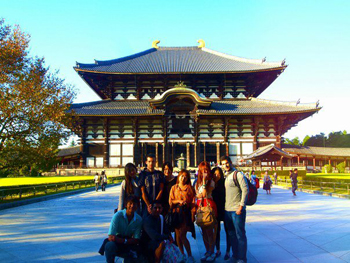 It is difficult to name them all because there were so many. I traveled to many historical heritage sites and cities, but I can recall one that is engraved in my mind, when I went to the Daibutsu (Buddah) in Nara, Japan. Nara itself was beautiful, with all the Shika (deer) roaming freely, and being able to feed them. When I walked into the Todai-ji (name of temple) and saw the immense Buddah I could not believe it, I was in awe. I never would have thought that I would be able to witness something as historical and big as this. Another experience that I can never forget was climbing Mount Fuji (Fuji-san). It was difficult but so worth it, being able to see the sunrise on top of the Mountain and holding my Colombian flag was an experience that I was glad and proud to be a part of.
5. WHAT ABOUT FAMILY AND FRIENDS BACK HOME?
Given the difference in time zones between Japan and the United States it did make it a bit difficult to be in contact with family and friends back at home. At first it was difficult because I was so use to using my cellphone and could call my family with no problem, but in Japan that changed, I could not call every day or as often as I did in the states. I had to get adjusted to the time zone and would probably call two to three times a week to let me friends and family know how I was doing. There would be some days where I would stay up late just to call my family, but for the most part being active on social networks such as facebook and communicating through email made it much easier to contact them.

6. SAYING GOODBYES AND RETURNING HOME?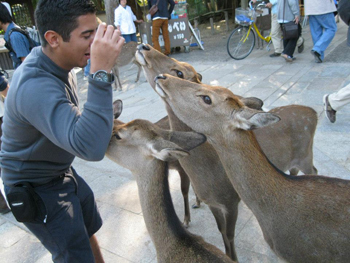 Saying goodbye to all the people I met in Japan was harder than I thought. While I was there I was not thinking that I would have to leave Japan and return to New York. I did not want to think that I had to come back, but when the day came, I was sad. I had met so many great people; many that made this study abroad experience so great. Thanks to social networks and improved means of communication I can still keep in contact with many of those friends that I made in Japan and always know that if they ever came to New York or if I ever went back to Japan we would be able to see each other once again. When I returned home I was glad to see my family and friends that I have not seen in a long time, but coming back to New York felt different. I was accustomed to seeing signs in Japanese, Japanese people, and in New York, I saw English signs, and such a diverse population; I went through reverse culture shock. I had studied about it in class, but to experience it was totally different. Not being able to practice my Japanese as easily, the different food, and having conversations about what I did in Japan was difficult because my other friends and family did not have the same experience as I did. It took me awhile to get back into my routine and way of life when I got back home, but eventually I did, and it was a great learning experience.
7. HOW DID YOU FUND THE PROGRAM?

Thankfully, I was able to work throughout the summer and save up to go study abroad. I saved up a good amount of money but I also received two scholarships, the Gilman Scholarship and the Freeman Asia, which helped me a lot to fund for this program. It made it so much easier for me to live and have a great experience in Japan. To think all I did was meet with advisers and write some papers, I would get enough money to live comfortably in Japan, is unbelievable. Scholarships are a great resource to study abroad and I recommend that everyone should apply for them, it makes the financial situation a whole lot easier for you.