Study Abroad - Danielle
Danielle Chery, a 2009 graduate of the college's journalism program and an EOP student, studied abroad in Melbourne, Australia during the Fall 2008 semester.
WHAT'S IT LIKE TO LIVE AND STUDY IN A FOREIGN COUNTRY?
Living and studying in a foreign country is absolutely amazing! Living and studying in Australia has broadened my horizons to the many different lifestyles and cultures out in the world. I was taken out of my element and exposed to a life of wonders and opportunities. Studying in Australia is similar to studying here in the United States-- but Australians are more casual and relaxed.
WHAT ARE THE CLASSES LIKE?
I took communications classes at Victoria University in Melbourne, VIC and the classes were interesting. Some classes were a bit dull, but you can't expect for all instructors to be exciting. Similar to professors here at New Paltz, many of the Aussie professors practice a lot of improvisation in the classroom. Also, all courses are taught in English, so that's a plus!
I was particularly intrigued by the following: Media, Culture & Society; Communicating Transculturally; Journalistic Writing for the Media; and Chinese Calligraphy. The most interesting project I've done for Journalistic Writing for the Media was going out into the field to interview and write a profile article about a person I thought was interesting. I chose to interview a friend I met from Canada who has an artistic addiction to doing drawing tattoo designs, label designs, fashion designs, and graffiti designs. It was a relevant story because Melbourne, Australia is infamous for their street art. The profile I wrote about him was culturally expressive. For my Communicating Transculturally course, I partnered with an Australian student to do a presentation where we explored the different cultures of Papua New Guineans. My academic experience at Victoria University is definitely something I'll always remember. The dedication I put toward my studies while abroad has truly paid off; I received straight A's! I highly recommend all students to take on the wonderful opportunity of studying abroad.
WHAT IS IT LIKE GETTING TO KNOW NEW PEOPLE FROM A DIFFERENT CULTURE?
I was able to meet and greet a number of Aussies as well as people of other nations and it was truly amazing. Everyone in Australia is pretty lenient; their motto is "no worries." I love that they move at their own pace (especially in Melbourne) because life is about living, not about rushing through everything. Aussies are very friendly and welcoming as were the people I met from Asian- Pacific islands, Europe, Africa, the Middle-East, Russia, etc. Although everyone was extremely different from each other, we all got to know those differences and were able to embrace them.
WHAT ELSE WAS ENJOYABLE ABOUT YOUR EXPERIENCE?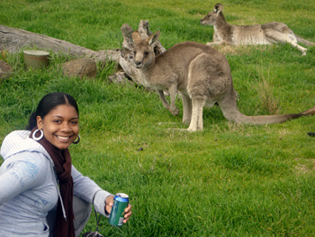 My goal while in Australia was to travel as much as possible within the country. I toured around Victoria (saw the Great Ocean Road and flew in a helicopter over the 12 Apostles), Sydney (Opera House, Harbour Bridge, Bondi Beach, and met a blue-eyed Australian Aborigine), Brisbane, and a small but popular town called Byron Bay. I also met a famous Australia actor Alan Fletcher, he plays Dr. Karl Kennedy on the soap opera "The Neighbours." I unfortunately didn't make it to the Great Barrier Reef or to the Outback on that particular trip, but when I go back those are the top two destinations on my list.
Also while living in Melbourne and going to school as a full-time student, I decided to get a side job as a waitress in a restaurant called "Lazy Moe's." It was a different experience, but after three days there I realized it wasn't for me. Although, it was fun because I attracted a lot of attention from the customers with my "New York" accent. My time there introduced me to even more Australians and the work environment, as well as a close observation of the different intimate relationships between families.
I was also in arms reach of kangaroos, koalas, wombats, emus and other Aussie animals. I tasted many of their infamous foods including kangaroo, I must say it was satisfying.