In the News
Student earns prestigious Broadcast Education Association Scholarship
Congratulations to Digital Media Production major Miriam Ward, recipient of the Richard Eaton Foundation Scholarship, through the Broadcast Education Association. Well done on earning this nationally competitive scholarship!

Full list of Scholarship Award winners here.

Student Film National Finalist

From the article: "Just four video submissions from around the country were recently selected for Polartec's "Made Possible Challenge," and Saugerties native Terence Gardner's video for his SUNY New Paltz Outing Club made the cut. Polartec, manufacturer of outdoor performance fabrics, has sponsored the competition for college outdoor organizations for the past three years. Last year's winner was Princeton University. The winning college's outdoor club receives $10,000. Gardner, a student at SUNY New Paltz and a 2009 graduate of Saugerties High School, is currently majoring in Digital Media Production."

For more information, follow this link.
BEA Announcement
Gregory Bray has just been elected as District 1 Director for the Broadcast Education Association beginning Spring 2013.
Woodstock Film Festival
A round of applause to students who worked diligently for our fifth beginning-to-end video coverage of the Woodstock Film Festival. Be sure to check out their videos here.
Award Winning Summer
There are so many updates! What a terrifically exciting academic year!
Congratulations to the Communication and Media Society at SUNY New Paltz, which has just earned the National Communication Association Club of the Year Award! Check out their Facebook page and be sure to 'like' it for an update on all of their events.
Congratulations to student filmmaker John Mingione. His musical, "All I Can Say: The Musical" has just earned the CINE Golden Eagle this year, one of the most competitive awards in our industry. The only other honoree in his category is from NYU. Earlier, this work received a Broadcast Education Association Award--Second Place, Narrative at the Festival of Media Arts in Las Vegas.
Downhill from I SAID CUT Productions on Vimeo.
Congratulations to student filmmakers Jason LaTorre, Tara S. Brower, Justin Schwartz, and Peter Wright. Their work Downhill has just earned several Telly Awards.
Sleepers from I SAID CUT Productions on Vimeo.
Congratulations to student filmmakers Jason LaTorre, Tara S. Brower, and Peter Wright. Their work Sleepers has earned several Telly Awards including the prestigious Silver Telly Award. In addition it earned the First Place Narrative Award at the 2011 SUNY Wide Film Festival.
Spirit from Nostrand Productions on Vimeo.
Congratulations to student filmmakers Christopher Nostrand, Stephanie Inserra, and Kellie Noshfar. Their work Spirit has earned the prestigious Silver Telly Award.
Head in the Clouds from Matt Dorsi on Vimeo.
Congratulations to students in the Fall 2011 Field Production class. Their work 'Head in the Clouds' won an Honorable Mention at the 2012 Broadcast Education Association Festival of Arts in Las Vegas.
STUDENTS WIN BIG AT THE BROADCAST EDUCATION FESTIVAL OF THE ARTS IN LAS VEGAS, NEVADA
Above: Media Majors Julie-Ann Florio and Tevita Toutaiolepo accept the King Foundation Best of Festival Award for their original documentary, 'Patchwork' produced in the Seminar in Production Class, Fall 2009 Semester.
Above, Gregory Bray (center) with award winning media majors (from left to right) Julie-Ann Florio, Mellisa Misner, and Tevita Toutailepo.
Above: Award For First Place Long Form Documentary Division Media Major ('09) Mellisa Misner holds her award with Faculty Adviser Gregory Bray.
WOODSTOCK FILM FESTIVAL 2009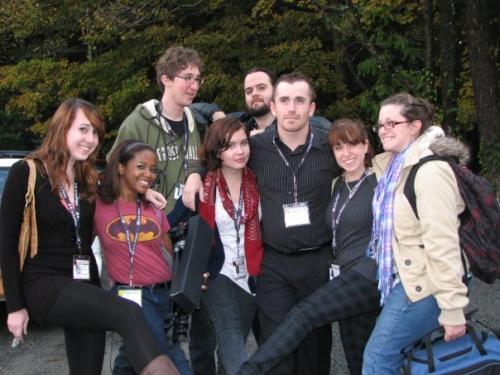 (L-R) Laura Martel, Roshanna Wallerson, Matt Pachefsky, Morgan Smith, Gregory Bray, Dan Barry, Emily Myett, and Mellisa Misner. Photo by Joseph Vlachos
Communication and Media students created media for the Woodstock film Festival Web page, and for their YouYube channel.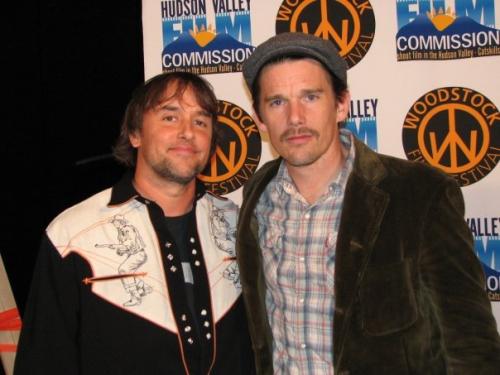 Richard Linklater and Ethan Hawke at the 2009 Woodstock Film Festvial. Photo by Joseph Vlachos.
In five days, the students created over 30 videos, which include interviews with Academy Award winning director Jonathan Demme, actor Ben Foster, actor Steve Buscemi, filmmaker Barbara Hammer, filmmaker Richard Linklater, among many others. They also shot footage of panel discussions with Woody Harrelson, Lucy Liu, and Uma Thurman. Students who worked on this production include 3 alumni, Matt Pachefsky ('09), Dan Butler ('08) and Mellisa Misner ('09), and a number of current majors: Dan Barry ('10), Cat Tosiello ('10), Colleen Kelly ('10), Tina Warrant ('10), Marc Schreibman ('11), Mark Wash ('11), Morgan Smith ('11), Spencer hood ('11), Randy Moses ('11)', Deanna DiBenedetto ('11), Chelsea feil ('11), Katherine Vidal ('11), Laura Martel ('10) Matthew Wright ('11), Chanel Arias ('10), Stefan Beaumont ('10), Julie-Ann Florio ('10), Lisa Montanaro ('10), and Tevita Toutaiolepo. The project was supervised by Gregory Bray and Joseph Vlachos from the Communication and Media Department.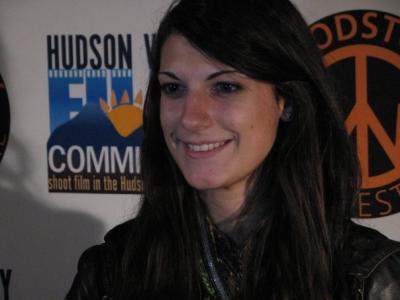 Cat Tosiello at the 2009 Woodstock Film Festival
HENRY HUDSON 400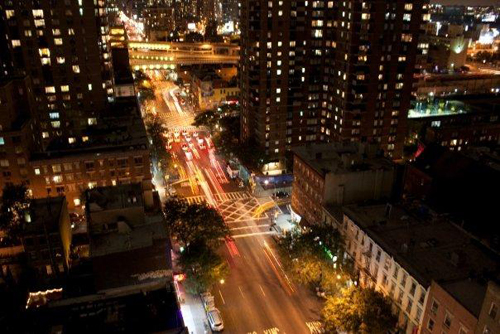 (photo by Adam Schwartz)
Students engage in international media project with InHolland
Communication and Media Students Dan Barry ('10), Mellisa Misner ('10), Emily Myett ('10), Jarred Thomas ('10), Catherine Tosiello ('10), Adam Schwartz ('10), Tina Warren ('10), and graduate/ Graduate Student in English Daniel Butler, co-produced four live/interactive web television programs with students from The University of Noord Holland. These programs were part of the Henry-Hudson 400 celebration. Along with the web programs, two original documentaries were co-produced by the students. The longer form documentary, 'This Land May Be Profitable To Those Willing to Explore It," premiered at a rooftop celebration in New York City in September 2009. The celebration included a fashion show, speeches by delegates from InHolland and The Netherlands, as well as remarks from College of Liberal Arts and Sciences Dean James Schiffer, and an award for students' essays.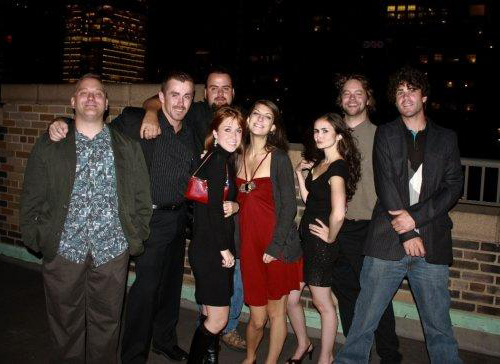 (L-R, Joseph Vlachos, Daniel Barry, Gregory Bray, Emily Myett, Catherine Tosiello, Tina Warren, Daniel Buter, and Adam Schwartz)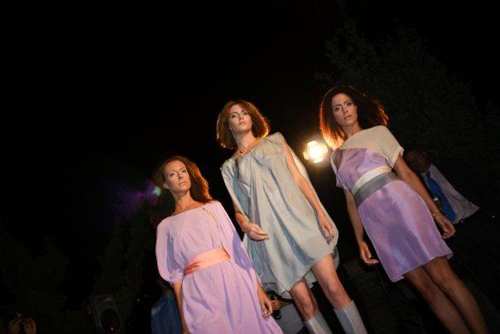 (Photo by Adam Schwartz)
Chancellor's Award For Student Excellence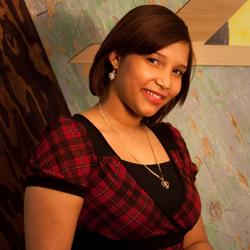 (Photo by Adam Schwartz)
Bexis Matos serves as the Vice-President of Public
Relations of the local Toastmasters chapter at New Paltz.
She has enriched the community by being a senator, a
Spanish tutor, and has brought happiness to others through
her energetic radio show. Most importantly, she is always
looking for new opportunities to help further the
community. She has a deep passion for Public Relations.
She is currently working as the Public Relations
Assistant to a Senior Account Supervisor at MRB-Public
Relations. A member of three national honor societies,
Bexis has been on the Dean's List since her enrollment at
SUNY New Paltz. She is also an honorable recipient of the
Chancellor's Award for Student Excellence and Who's Who
Among American Students in Colleges and Universities. She
has also been awarded the Percy Sutton Award for earning
the highest G.P.A. among the EOP graduates. Upon
graduation, she will be joining the Teach for America team
as a secondary social studies teacher in Pennsylvania.
Bexis plans to pursue a doctoral degree in the
future.