Campus Messages
Daily Digest: SUNY New Paltz News
Posted on: Tuesday, June 15, 2021 at 10:00 AM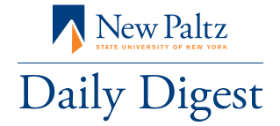 IN THIS ISSUE
3D-printed face shields project awarded IBM Volunteer Excellence grant
College mourns passing of Leroy Carlson, longtime AVP for Administration & Finance
Works in Progress: Campus construction projects for June 2021
SUNY Pride continues this Thursday, July 17, with a Freedom Day program
Elting Pool reopens this week for students, faculty and staff
From Westchester Magazine: A Native History of the Hudson Valley
NP Hawks season recaps: Women's Tennis
An early morning partial eclipse
Events and resources
The latest from media
From our community: Checking in with our newest students @newpaltz2025
College Photographer/Videographer Robin Weinstein woke up early on June 10 to capture the partial solar eclipse. Definitely worth setting the alarm for an image like this!
Resources, events and reminders

Upcoming Human Resources, Diversity & Inclusion trainings
As Orientation gets underway, there's been a flurry of activity over on the independently-run Class of 2025 Instagram account (@newpaltz2025), where new students are introducing themselves and sharing photos, interests, major plans and calls for roommates. We can't wait to welcome you all to campus!
Daily Digest readers: We want to hear from you!


We're always working to make sure this newsletter is providing students, faculty and staff with important and useful information. If you have news you'd like to get out to members of our community, we welcome
submissions* and ideas of all kinds:
Have important news to share with the SUNY New Paltz community?

Developed an innovative solution to improve remote teaching and learning?

Figured out a lifehack to help yourself stay positive?

Want to share a photograph with friends and colleagues?
Please just reply to this email or write to communication@newpaltz.edu and let us know what you would like to see in this space. Thank you!
*Note: Opinions expressed by our contributors
belong solely to their authors and
do not necessarily reflect the positions of SUNY New Paltz.
Message originally distributed via: SUNY New Paltz News