Coronavirus Information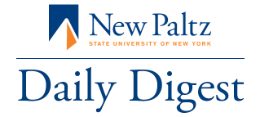 IN THIS ISSUE:
Virtual hot chocolate with the president
Teaching with compassion in an age of remote learning
Observance of Passover will take place as scheduled
Online fitness classes from the Athletics & Wellness Center
Important safety guidance on cybersecurity and mail pickup
Compensatory pay option for UUP-represented employees
Trainings and professional development opportunities
The latest from media
Well-wishes from the Educational Opportunity Program family
Resources for remote teaching and learning
Professional development and training opportunities
Virtual faculty tea & coffee (& PETS!)


Join the Faculty Development Center for conversation and decompression after the first week of remote instruction. Bring your pet! Special guest: Zachary Bowman, education manager at The Dorsky Museum


TODAY, April 3, 2 - 4 p.m.

A message to students from the SUNY New Paltz EOP family. Follow @np_eop