Coronavirus Information and Resources
Active Student Cases *
3
For Jan. 22.
Active Employee Cases
3
For Jan. 22.
Total Cases Last Week
7
For week ending Jan. 15, 2021.
Recovered *
6
Since Jan. 1, 2021.
Total Students and Employees Tested On Campus **
1102
For Jan. 22.
Positive Rate from On-Campus Testing **
2.13%
For Jan. 22.
Total Students In On-Campus Quarantine
11
For Jan. 22.
Total Students in On-Campus Isolation
2
For Jan. 22.
Total positive cases among students who have been on campus since Jan. 1, 2021:
5
Total positive cases among employees who have been on campus since Jan. 1, 2021:
8
Total students residing in Ulster County who have reported a positive test to the College:
2
Fall 2020 (Aug. 24 - Dec. 31, 2020)
Total positive cases from on-campus population for Fall 2020: 75
Total COVID-19 tests conducted on campus in Fall 2020: 10,750
Positivity rate for COVID-19 tests conducted on campus in Fall 2020: 0.36%
Spring/Summer 2020 (March 1 - Aug. 23, 2020)
Total positive cases from on-campus population for Spring/Summer 2020: 31
* While our Active and Recovered case tallies may include individuals who were tested at off-campus facilities, these figures will not be included in the Positivity Rate calculation, which only counts tests that take place on campus.
** On-campus testing is performed by Enzo Labs, SHS and SUNY Upstate Medical University for all students and employees coming to campus. This figure reflects tests performed, therefore some test results may still be pending.
Active cases are defined as a confirmed positive COVID-19 test among individuals who have been on campus and may have exposed others. Learn more about our testing and tracing protocols here. This dashboard will be updated by 10 a.m. daily, Monday-Friday.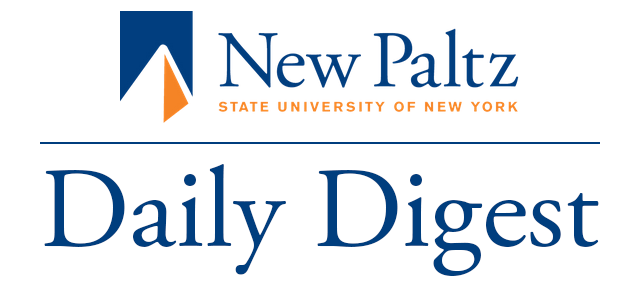 IN THIS ISSUE
Coronavirus update: No new cases to report as of 4 p.m. yesterday
Students: Until you produce a negative COVID-19 test, you cannot attend in-person classes or use most campus facilities
Info and appointment links for all 13 state-operated vaccination sites
Message from the Student Association regarding the Mandatory Student Activities Fee
SUNY congratulates 2020 Police Chiefs Association Award recipients
Office 365 pro-tip: Schedule WebEx meetings from your Outlook online calendar
Register for SUNY's Student Success Summit, April 22 & 23
A groundbreaking at the future site of the New Paltz Firehouse
Events and resources
The latest from media
From our community: A homegrown meme from the Graphic Design Program
Local leaders held a groundbreaking ceremony at the site of the future New Paltz Firehouse on Jan. 19, 2021.
The new facility will be located on Henry W. Dubois Drive and will be larger, more energy efficient and more resilient than the current space on Plattekill Avenue.
Attending the event were President Donald P. Christian (not pictured), New Paltz Mayor Tim Rogers, Ulster County Executive Pat Ryan, Town Supervisor Neil Bettez, Fire Department Chief (and SUNY New Paltz alumnus) Cory Wirthmann '13 (Biology), Lori Dubord '94 (History), an alumna and former Commencement speaker who now works in the Governor's office of Storm Recovery, and Project Architect Rick Alfandre '80 (Communication Studies), an alumnus who assisted with the project's design and sustainability elements (not pictured).
Events, resources and reminders

The Graphic Design Program (@npzdesign) having some fun with the Bernie inauguration meme. Those mittens would fit right in on our campus in January.