Coronavirus Information and Resources
Active Student Cases *
5
For Dec. 4.
Active Employee Cases
2
For Dec. 4.
Total Cases Last Week
15
For week ending Nov. 27, 2020.
Recovered *
60
Since Aug. 24, 2020.
Total Students and Employees Tested On Campus **
10,725
For Dec. 4.
Positive Rate from On-Campus Testing **
0.32%
For Dec. 4.
Total Students In On-Campus Quarantine
2
For Dec. 4.
Total Students in On-Campus Isolation
4
For Dec. 4.
Total positive cases among students who have been on campus since Aug. 24, 2020:
58
Total positive cases among employees who have been on campus since Aug. 24, 2020:
9
Total students residing in Ulster County who have reported a positive test to the College:
11
Total positive cases from March 1- Aug. 23, 2020: 31
* While our Active and Recovered case tallies may include individuals who were tested at off-campus facilities, these figures will not be included in the Positivity Rate calculation, which only counts tests that take place on campus.
** On-campus testing is performed by Enzo Labs, SHS and SUNY Upstate Medical University for all students and employees coming to campus. This figure reflects tests performed, therefore some test results may still be pending.
Active cases are defined as a confirmed positive COVID-19 test among individuals who have been on campus and may have exposed others. Learn more about our testing and tracing protocols here. This dashboard will be updated by 10 a.m. daily, Monday-Friday.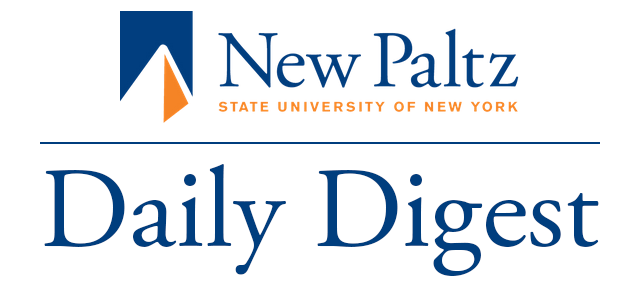 IN THIS ISSUE
Coronavirus update: No new cases to report as of 4 p.m. yesterday
Save the date for training on Jan. 14 & 15
Meet alumna Camille Jacobs '91 (Communications Media), who moderated last month's Dismantling Racism Town Hall
A how-to guide to returning textbook rentals to the Campus Bookstore
From the Oracle: Protecting mental health could be the greatest gift this holiday season
Today at 3 p.m.: Theatre student, faculty talk sound design during pandemic
A look at "Reconfiguration," the latest solo exhibition from alumna Lacey McKinney '12 (Painting & Drawing)
Events and resources
The latest from media
From our community: UPD Officers go holiday shopping for local kids
Congratulations to alumna Lacey McKinney '12 (Painting & Drawing), whose new solo exhibition, "Reconfiguration," is on view now through Jan. 24, 2021, at the Everson Museum of Art in Syracuse, New York.
The collection showcases her approach to merging multiple faces in a single composition - a process she describes in detail in this video tutorial on digital collage.
Pictured above: Lacey McKinney, "Reconfiguration 16," 2020, Oil and acrylic on panel, 20 x 20 inches, Courtesy of the artist
Officers Pece, Larchevesque, Haubrich and Stenta went shopping for Christmas presents for local families in need this holiday season, using funds donated by University Police Department members. UPD joined the Educational Opportunity Program and Chi Alpha Epsilon Honor Society chapter in helping Agri-Business Child Development and Family of New Paltz provide gifts for children this year.⁠