Coronavirus Information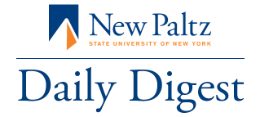 IN THIS ISSUE:
What New Paltz students need to know about voting in the June 23 primary
Esports teams shine in first-ever Chancellor's Challenge tournament
New Paltz student spotlighted on The Moth Radio Hour
Community Pandemic Blog: Photos and video document the work of self-care
SUNY FACT2 symposium today
Webinar on successful grant proposals
From our community: A #ThrowbackThursday with First World Graduation
Coronavirus updates
The latest from media
Documenting the struggle to keep learning, practice compassion and stay positive
All students, faculty and staff are welcome to submit original writing, visual art, or other creative responses to be shared in our new Community Pandemic Blog. We also invite faculty to submit exceptional student work, on behalf of and with permission from their students.
Please use this link to read more about this project and share.
The First World Graduation celebration for first-generation students and students of color began at New Paltz more than 40 years ago, and has grown to become one of the most storied and vital traditions on our Commencement calendar. We're using this #ThrowbackThursday to share a photo from an early 1990s First World Graduation.
Even though an in-person event could not be held this spring, First World still featured prominently in our virtual Commencement. Use this link to view remarks from President Christian and First World President Kiana Graham '20 from our undergraduate ceremony.