Campus Messages
Daily Digest: SUNY New Paltz News
Posted on: Thursday, February 11, 2021 at 10:00 AM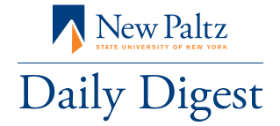 This newsletter is a daily source of campus news,
useful tips,
events
information, and updates about confirmed cases of COVID-19 in our community. Read more here.
IN THIS ISSUE
Coronavirus update: Two additional students have tested positive
COVID-19 testing today for College of Liberal Arts & Sciences majors (excluding Psychology), and PBA, PEF, NYSCOPBA, M/C, CAS, RF and all other campus employees
COVID-19 testing tip: Be sure to bring your campus ID card!
News from the Student Association Executive Board
February trainings from the Office of Human Resources, Diversity & Inclusion
Faculty: Please submit enrollment census information by Feb. 14
Students: Still time to register for the SUNY-wide ESports league
Ilyasah Shabazz '85 (Biology) discusses Malcolm X's legacy on Good Morning America
FAQ: What are the consequences if students do not comply with screening and testing requirements?
Events and resources
The latest from media
From our community: Cozy by the fire
Weekly COVID-19 testing schedule and resources
If you are a College of Liberal Arts & Sciences major (excluding Psychology), or a PBA, PEF, NYSCOPBA, M/C, CAS, RF or other campus employee, please get tested today if you're on campus at all this week

Deadline is Feb. 12 to join for solo and team competition in Overwatch, Smash, Fortnite, COD and more

VIDEO: Alumna Ilyasah Shabazz '85 (Biology) appeared on ABC's Good Morning America to discuss the legacy of her father, Malcolm X, and a resurgence of interest in the human rights activist's life and work. Watch the full interview here, and check out "The Awakening of Malcolm X," Shabazz's new novelization of her father's early years and the development of his thinking on race, politics, religion and justice.
FAQ on Weekly COVID-19 Testing

What are the consequences if students do not comply with screening and testing requirements?
If students are on campus and have not done their daily screening for three consecutive days, their card access will be disabled and they will be unable to enter most campus buildings or attend in-person classes until they remedy the situation.
For students, failure to test during a week in which you are on campus will result in disciplinary action including disciplinary probation and eventually suspension from on-campus presence, including in-person instruction and denial of campus residency.
Events, resources and reminders

February is Compliance Review Month for employees
Please complete annual Policy & Procedure Acknowledgement, Workplace Violence Prevention Review and Title IX/Sexual Harassment Review by Friday, Feb. 26
All required reviews can be completed by vising my.newpaltz.edu

Nine facts about Title IX at SUNY New Paltz
The SUNY-wide survey on Campus Climate is coming next week!
Start getting ready now with useful information about the federal civil rights law that protects all members of our campus community from gender discrimination, sexual harassment, sexual assault, sexual violence, interpersonal violence and stalking

It's cold out there - stay cozy, everyone.
Daily Digest readers: We want to hear from you!


We're always working to make sure this newsletter is providing students, faculty and staff with important and useful information. If you have news you'd like to get out to members of our community, we welcome
submissions* and ideas of all kinds:
Have important news to share with the SUNY New Paltz community?

Developed an innovative solution to improve remote teaching and learning?

Figured out a lifehack to help yourself stay positive?

Want to share a photograph with friends and colleagues?
Please just reply to this email or write to communication@newpaltz.edu and let us know what you would like to see in this space. Thank you!
*Note: Opinions expressed by our contributors
belong solely to their authors and
do not necessarily reflect the positions of SUNY New Paltz.
Message originally distributed via: SUNY New Paltz News