Campus Messages
Daily Digest: SUNY New Paltz News
Posted on: Tuesday, April 6, 2021 at 10:00 AM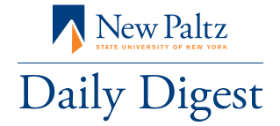 This newsletter is a daily source of campus news,
useful tips,
events
information, and updates about confirmed cases of COVID-19 in our community. Read more here.
IN THIS ISSUE
Coronavirus update: Three students and one employee have tested positive
Today's the day: All New Yorkers 16 and up are now eligible for the vaccine
SUNY announces program to offer vaccination to resident students
Addressing Anti-Asian and Asian American Bias
Marijuana Regulation and Taxation Act does not change campus policies
President Christian's April 2021 Report to the Faculty
Lots of events today, including an EAP Nature Scavenger Hunt, a STEM Lecture on engineering in the middle of nowhere, an Ottaway talk on the gig economy, an internship workshop and a Listen Forward performance by music students
A surprise visit from the Office of Development & Alumni Relations
The latest from media
From our community: A framework for thinking about self-care
Events, resources and reminders

Grateful today for this reminder from the Student Resilience Advocates (@np_resilience) - as they say, "Self care looks different for everyone, and there's no 'right way' to practice."
Daily Digest readers: We want to hear from you!


We're always working to make sure this newsletter is providing students, faculty and staff with important and useful information. If you have news you'd like to get out to members of our community, we welcome
submissions* and ideas of all kinds:
Have important news to share with the SUNY New Paltz community?

Developed an innovative solution to improve remote teaching and learning?

Figured out a lifehack to help yourself stay positive?

Want to share a photograph with friends and colleagues?
Please just reply to this email or write to communication@newpaltz.edu and let us know what you would like to see in this space. Thank you!
*Note: Opinions expressed by our contributors
belong solely to their authors and
do not necessarily reflect the positions of SUNY New Paltz.
Message originally distributed via: SUNY New Paltz News