Campus Messages
Daily Digest: SUNY New Paltz News
Posted on: Monday, April 19, 2021 at 10:00 AM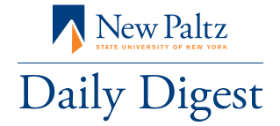 This newsletter is a daily source of campus news,
useful tips,
events
information, and updates about confirmed cases of COVID-19 in our community. Read more here.
IN THIS ISSUE
Coronavirus update: Two students have tested positive
Walk-in vaccination in Ulster County on April 19, 20 & 24
Fall undergraduate course registration begins today
Two important changes to the process of enrolling for classes for fall 2021
SUNY announces 20% increase in EOP funding
Sodexo is hiring! Paid internships available to New Paltz students
SUNY workshop on applying for NSF grants, April 23
Finding friends in campus ponds
Events and resources
The latest from media
From our community: That feeling when you get your first-ever win against a conference rival
Events, resources and reminders

That feeling when you beat your conference rival for the first time ever.
Women's lacrosse fought through the rain to take a 13-12 win over SUNY Oneonta, their first victory against the Red Dragons in program history.
"We really came together as a team to pull out this win," said senior attacker Amy Hofer, who led the way offensively with seven goals.
The 5-2 Hawks continue their playoff push today against Plattsburgh.
Daily Digest readers: We want to hear from you!


We're always working to make sure this newsletter is providing students, faculty and staff with important and useful information. If you have news you'd like to get out to members of our community, we welcome
submissions* and ideas of all kinds:
Have important news to share with the SUNY New Paltz community?

Developed an innovative solution to improve remote teaching and learning?

Figured out a lifehack to help yourself stay positive?

Want to share a photograph with friends and colleagues?
Please just reply to this email or write to communication@newpaltz.edu and let us know what you would like to see in this space. Thank you!
*Note: Opinions expressed by our contributors
belong solely to their authors and
do not necessarily reflect the positions of SUNY New Paltz.
Message originally distributed via: SUNY New Paltz News