Campus Messages
Daily Digest: SUNY New Paltz News
Posted on: Thursday, July 15, 2021 at 10:00 AM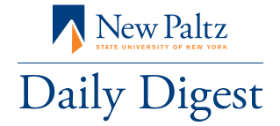 IN THIS ISSUE
Administration & Finance updates for the 2021-22 academic year
Three more Drescher leave awards for fall 2021 extend run of support for pre-tenure faculty
John Shupe announces Nov. 1 retirement after 20+ years at the College
Dependent Care Advantage Account grace period extended through Sept. 15
For Gene Ventriglia '67, West Point Hall of Fame induction is a crowning achievement to a lifetime in soccer
A Hudson Valley Mentors success story: Eliza & Wyld
The 2021 PianoSummer Faculty Gala, available on demand
Events and resources
The latest from media
From our community: Orientation is for parents, family and guardians, too!
The virtual PianoSummer 2021 is underway, and Faculty Gala performances featuring Artistic Director Vladimir Feltsman and longtime faculty colleagues Robert Hamilton, Phillip Kawin, Alexander Korsantia and Paul Ostrovsky are now live for your viewing and listening pleasure.
Resources, events and reminders

Orientation isn't only for new students! There are also special programs to welcome parents, family members and guardians to our community, including the Services Fair, which showcases resources available to their Hawks. Keep tabs on the summer fun @nporientation.
Daily Digest readers: We want to hear from you!


We're always working to make sure this newsletter is providing students, faculty and staff with important and useful information. If you have news you'd like to get out to members of our community, we welcome
submissions* and ideas of all kinds:
Have important news to share with the SUNY New Paltz community?

Developed an innovative solution to improve remote teaching and learning?

Figured out a lifehack to help yourself stay positive?

Want to share a photograph with friends and colleagues?
Please just reply to this email or write to communication@newpaltz.edu and let us know what you would like to see in this space. Thank you!
*Note: Opinions expressed by our contributors
belong solely to their authors and
do not necessarily reflect the positions of SUNY New Paltz.
Message originally distributed via: SUNY New Paltz News