Campus Messages
Daily Digest: SUNY New Paltz News
Posted on: Tuesday, September 14, 2021 at 10:00 AM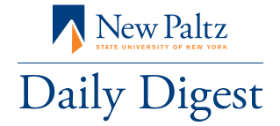 IN THIS ISSUE
Lessons from Two Decades of Disaster Response: IDMH conference, Sept. 29 & 30
Meet "Generation Disaster": An interview with IDMH Deputy Director Karla Vermeulen
COVID-19 testing schedule: Make your appointment early!
Students taking a fully online course schedule may be eligible for an exemption to SUNY's vaccine requirement
Reporting on the latest COVID-19 Dashboard numbers
Students: Have you tried the "Raise Your Hand" feature in Starfish?
A message from two campus leaders
Events (so many events this week!) and resources
The latest from media
From our community: A sweep for women's volleyball at the Hawks Invitational
A message from two campus leaders: President Donald P. Christian and Student Association President Jordan Hennix '22 are calling on all members of our community to mask up, vax up, and take other proactive measures to protect one another.
Resources, events and reminders

CDC Report Finds Masks Curb Spread of COVID-19 on Campus

Analysis of data from five months at St. Louis University found the odds of receiving a positive test result were "substantially higher" among close contacts who'd had unmasked exposure (32.4%) than among those who'd been masked (7.7%)

Inside Higher Ed, 9/10/21
Big weekend for Hawks athletics, and no one impressed more than the women's volleyball team. At the first Hawks Invitational tournament since 2019, this group defended their turf with three wins in two days, building some momentum for the start of conference play this week.
As always, full coverage of all New Paltz athletics events is available at nphawks.com.
Daily Digest readers: We want to hear from you!


We're always working to make sure this newsletter is providing students, faculty and staff with important and useful information. If you have news or just something fun to share, we welcome
submissions* and ideas of all kinds:
Have important news to share with the SUNY New Paltz community?

Want to get the word out about an event you're hosting?

Have a photo or video to share?

Figured out a lifehack to help yourself stay positive?
Please just reply to this email or write to communication@newpaltz.edu and let us know what you would like to see in this space. Thank you!
*Note: Opinions expressed by our contributors
belong solely to their authors and
do not necessarily reflect the positions of SUNY New Paltz.
Message originally distributed via: SUNY New Paltz News