Campus Messages
Daily Digest: SUNY New Paltz News
Posted on: Thursday, September 23, 2021 at 10:00 AM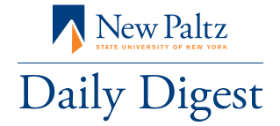 IN THIS ISSUE
Ulster County Pop-Up Vaccine Clinic returns to campus this Monday
Student feedback propels New Paltz to top 350 nationwide in Wall Street Journal rankings
Reporting on the latest COVID-19 Dashboard numbers
Celebrate the Fall Equinox at Wooster Hall, today at 12:45 p.m.
Today at 3:30 p.m.: Open forum on SUNY's revised GE Framework
Lessons from Two Decades of Disaster Response: IDMH conference next week
Students: Interested in volunteering? Get involved with Saturdays of Service!
Live Q&A with campus leaders on COVID-19, today at 5 p.m.
Events and resources
The latest from media
From our community: Every practice is a battle...
Get your COVID questions answered!
Today at 5 p.m., join us for a Facebook Live Q&A with campus leaders and Student Association representatives about the upcoming SUNY vaccine deadline and other pandemic issues.
Leave your comments in the chat, and our panel (including President Donald P. Christian and SA President Jordan Hennix '22) will respond to as many as they can get to. And if you can't join us this evening, the full session will be posted on YouTube later this week.
Resources, events and reminders

First day after a W, no time to rest! Women's soccer picked up two wins last week and celebrated with a little battle rope tug o' war at practice.
Daily Digest readers: We want to hear from you!


We're always working to make sure this newsletter is providing students, faculty and staff with important and useful information. If you have news or just something fun to share, we welcome
submissions* and ideas of all kinds:
Have important news to share with the SUNY New Paltz community?

Want to get the word out about an event you're hosting?

Have a photo or video to share?

Figured out a lifehack to help yourself stay positive?
Please just reply to this email or write to communication@newpaltz.edu and let us know what you would like to see in this space. Thank you!
*Note: Opinions expressed by our contributors
belong solely to their authors and
do not necessarily reflect the positions of SUNY New Paltz.
Message originally distributed via: SUNY New Paltz News