Coronavirus Information and Resources
Active Student Cases *
4
For Oct. 28.
Active Employee Cases
2
For Oct. 28.
Total Cases Last Week
4
For week ending Oct. 23, 2020.
Recovered *
15
Since Aug. 24, 2020.
Total Students and Employees Tested On Campus **
4478
For Oct. 28.
Positive Rate from On-Campus Testing **
0.2%
For Oct. 28.
Total Students In On-Campus Quarantine
3
For Oct. 28.
Total Students in On-Campus Isolation
2
For Oct. 28.
Total positive cases among students who have been on campus since Aug. 24, 2020:
19
Total positive cases among employees who have been on campus since Aug. 24, 2020:
2
Total students residing in Ulster County who have reported a positive test to the College:
4
Total positive cases from March 1- Aug. 23, 2020: 31
* While our Active and Recovered case tallies may include individuals who were tested at off-campus facilities, these figures will not be included in the Positivity Rate calculation, which only counts tests that take place on campus.
** On-campus testing is performed by Enzo Labs, SHS and SUNY Upstate Medical University for all students and employees coming to campus. This figure reflects tests performed, therefore some test results may still be pending.
Active cases are defined as a confirmed positive COVID-19 test among individuals who have been on campus and may have exposed others. Learn more about our testing and tracing protocols here. This dashboard will be updated by 10 a.m. daily, Monday-Friday.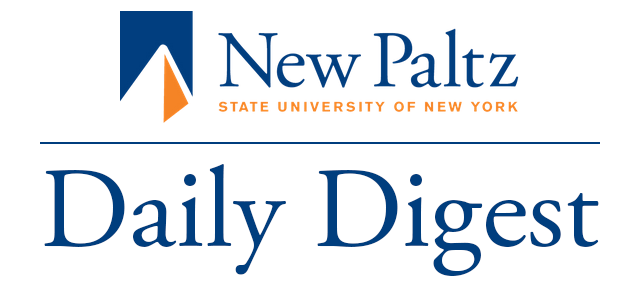 IN THIS ISSUE
Coronavirus update: No new cases reported as of 5 p.m. yesterday
New York's Cluster Action Initiative, and how it may affect SUNY New Paltz
In case you missed it: Video recording of Town Hall on Work-Life Balance
Today at 3 p.m.: Help shape the future of General Education
New Paltz Allies workshop today: LGBTQIA+ Concerns in the Classroom
Still time to register for Friday's Hudson Valley Future Summit
Campus experts share strategies for coping with election stress, tonight at 6:30 p.m.
Study Abroad Goes Virtual: SUNY workshops for faculty start Nov. 2
Alumnus finds his passion teaching youth basketball
Events and resources, including newly scheduled HRDI trainings for employees
The latest from media
From our community: Early voting transportation from campus
Alumnus Nate Duran '18 (Management) has always seen basketball as a way of building inner strength. Now he's sharing that vision with youth in East New York, Brooklyn.
"For a kid at that age to learn the game is a beautiful experience in its own right, but it's also a way to build character, accountability and respect, and help them make friends," Duran said. "This is the most fulfilling thing I've done in my entire life."
COVID-19 testing information
Upcoming Human Resources, Diversity & Inclusion Trainings


All this week, students can get free transportation from campus to the early voting location at the New Paltz Community Center. Get more info from the Center for Student Engagement.