Center for Middle Eastern Dialogue
Mission Statement
The purpose of the Center is to promote constructive dialogue about the Middle East that will explore ways to establish lasting peace in the region, encourage economic collaboration, and stimulate cultural and educational exchange. The Center provides a forum for students, faculty, community members, scholars, and diplomats of various points of view to exchange ideas in a respectful way that will promote greater understanding of this complex and volatile region of the world. We believe that the Center will demonstrate the possibility and value of meaningful dialogue between people of goodwill, even between those who disagree on fundamental issues.
Committee Members
Center Coordinator: James Schiffer, Department of English
Mona Ali, Department of Economics
Clinton Bennett, Department of Philosophy
Simin Mozayeni, Department of Economics
Stephen Pampinella, Department of Political Science and International Relations
Upcoming Events
TBA
Past Events
"Coups, Clerics, and Conspiracies: What Lies Ahead for Turkish Democracy?" (September 13 at 7 p.m. in the Coykendall Science Building Auditorium) - Ş. İlgü Özler is the Director of the SUNY Global Engagement Program in NYC and an Associate Professor of Political Science and International Relations at SUNY New Paltz. Her research is on the relationship between comparative political institutions and civil society. She focuses on political parties, non-governmental organizations and social movements. She has done research on the urban slums and squatter areas in Turkey, Mexico and Chile. Her recent work has been on Turkish civil society organizations and the Justice and Development Party in Turkey. She is a special consultant to the Earth Child Institute, a United Nations Economic and Social Council accredited non-governmental organization. She is the founder and coordinator of the Mid Hudson Valley Amnesty International Chapter, the president of the United Nations Association of the Hudson Valley, and serves on the board of the World Affairs Council of the Mid-Hudson Valley. Özler received her Ph.D. in Political Science from the University of California, Los Angeles (2003).
---
The Center for Middle Eastern Dialogue at SUNY New Paltz presented a panel on Syria from 5-6:30 p.m. on Thursday, April 14, 2016, in LC 104.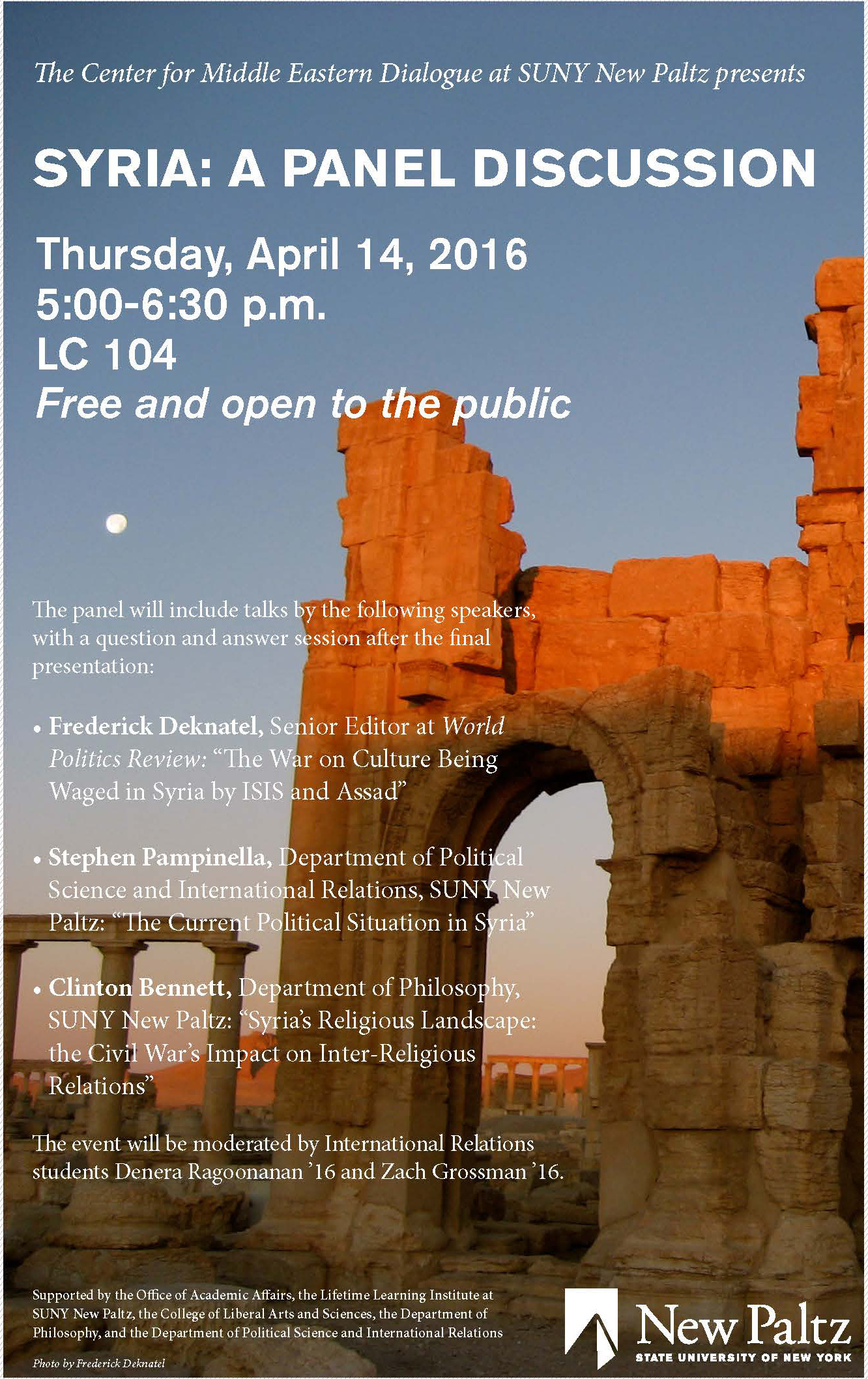 The panel included talks by the following speakers, with a question and answer session after the final presentation:
Frederick Deknatel is a senior editor at World Politics Review, an online global affairs journal based in New York. He's also a freelance journalist and writer and has contributed to The Nation, Foreign Policy, The New Republic, and other publications, covering Middle Eastern politics, culture, and books. He was a Fulbright fellow in Syria in 2008 and 2009, where he studied architectural preservation in the Old City of Damascus. He has an MPhil in Modern Middle Eastern Studies from Oxford and a BA in history and Arabic from Vassar. His presentation will be on "The War on Culture Being Waged in Syria by ISIS and Assad."
Stephen Pampinella is Assistant Professor of Political Science and International Relations. He specializes in international security, counterinsurgency, and state building. Pampinella is also a Fellow at the Bard Center for Civic Engagement and recently served as Academic Director of the Bard College US Foreign Policy Summer Institute. His topic will be "The Current Political Situation in Syria."
Clinton Bennett holds a PhD from Birmingham University in Islamic Studies and has authored over a dozen books on various aspects of Islam, including contemporary thinkers and movements. He has taught Religious Studies part-time at SUNY New Paltz since 2008. His presentation will be on "Syria's Religious Landscape: the Civil War's Impact on Inter-Religious Relations."
The event, which was sponsored by the Office of Academic Affairs, was moderated by students Denera Ragoonanan (International Relations) and Zach Grossman (History and International Relations).
---
"U.S. Foreign Policy in Regard to ISIL/ISIS/IS" - The Nov. 20, 2014, panel discussion was sponsored by the Center for Middle Eastern Dialogue and the Department of Political Science and International Relations.
Panelists included professors Vijay Prashad (Trinity College), James P. Ketterer (Bard College), and Lewis Brownstein (SUNY New Paltz). Stephen Pampinella, a professor at SUNY New Paltz, moderated the discussion.
Prashad serves as the George and Martha Kellner Chair in South Asian History at Trinity College in Hartford, CT, and is the author of 16 books, including "The Poorer Nations: A Possible History of the Global South" (2013), "Arab Spring. Libyan Winter" (2012), and "The Darker Nations: A People's History of the Third World" (2007). He edits the "Dispatches" series of books for LeftWord Books and is a columnist for Frontline (India), a regular contributor to The Hindu (India), and a contributing editor for Himal South Asia (Nepal) and for Bol (Pakistan).
Ketterer is Senior Fellow, Institute for International Liberal Education and Director of International Academic Initiatives for the Center for Civic Engagement at Bard College. He is affiliated with the Bard Globalization and International Affairs Program, and the Middle Eastern Studies and Political Studies Departments at Bard. Ketterer is the author of numerous articles and book chapters on international and comparative politics. He has been a Boren Fellow in Morocco, a Rotary Ambassadorial Scholar in Tunisia and a State Department Fellow at the White House. He has served on international missions and consultancies for the Organization for Security and Cooperation in Europe, the United Nations Development Program, and the U.S. Agency for International Development in a host of countries in Europe, Africa, and the Middle East.
Brownstein is Emeritus Professor of International Relations at SUNY New Paltz, having taught for 45 years in the Political Science and International Relations Department. His major areas of expertise include American Foreign Policy, which he taught and lectured on for many years, and the International Relations of the Middle East with particular emphasis on the Israeli-Palestinian conflict. After the attacks of 9/11, Brownstein created a course on Terrorism in World Politics which has been offered regularly.
Support for this event was provided by the Office of Academic Affairs, the Honors Program, the College of Liberal Arts and Sciences, and Campus Auxiliary Services.
---
"Blood, Sweat and Tear Gas: Challenges to Autocracy in Turkey and the Middle East" - The April 23, 2014, program featured a talk by John VanderLippe, associate professor of history at the New School for Social Research.
VanderLippe's work includes "The Politics of Turkish Democracy" (2005), as well as numerous articles on Turkish Republic. He is the former Editor of the Middle East Studies Association Bulletin and has received grants from the NCSEER, the Kennan Institute at the Woodrow Wilson Center, the Hoover Institution, and the HR Guggenheim Foundation.
This event was sponsored by The Center for Middle Eastern Dialogue at SUNY New Paltz, the College of Liberal Arts and Sciences, and Campus Auxiliary Services.
---
"Challenges for American Foreign Policy in the Middle East" - The April 16, 2013, program explored the challenges for U.S. policy in the Middle East in 2013 and beyond. Dennis Ross, Ambassador and Counselor at the Washington Institute for Near East Policy, examined the implications of the Arab Awakening for the region and U.S. policy; the U.S., Israel, and the Iranian nuclear issue; and what is possible for peace between Israel and the Palestinians. Following the lecture, a question and answer session was moderated by Ottaway Fellow and NPR Middle East correspondent Deborah Amos. The program was a part of the university's Distinguished Speaker Series.
---
"A Passport to the Middle East: A Career of Revolution, Upheaval and Hope" - The April 18, 2013, program featured a talk by NPR Foreign Correspondent Deborah Amos, winner of the 2013 Alfred I. DuPont-Columbia University Award. Ms. Amos used experiences from her more than 20 years of reporting from the Middle East to reflect on the upheaval in Syria and the impact of the Arab Spring. She considered the monumental changes in the region as a generational event (more than 60 percent of the population of the Middle East is under 30). A book signing and reception followed.
---
"Voices from Iran: Contemporary Literature and Music" - The program focused on the many ways in which recent scholarship, works of fiction and memoirs from or about Iran, whether written originally in English or translated from Persian, is enhancing cultural dialogue between the peoples of the United States and Iran.
The program consisted of readings by Manijeh Nasrabadi from her memoir, "A Far Corner of the Revolution," followed by a lecture by Professor Ahmad Karimi-Hakkak titled, "In Search of Responsive Understanding: Iranians Bring their Story to the World." Celebrated pianist Ariana Barkeshli performed a number of piano pieces from Iranian composers.
Manijeh Nasrabadi is a doctoral student at New York University and Co-Director of the Association of Iranian-American Writers. She holds a B.A. from Brown University and an M.F.A. in Creative Writing from Hunter College. Dr. Ahmad Karimi-Hakkak is Professor and Director of the Roshan Center for Persian Studies at the University of Maryland, College Park. Ariana Barkeshli is a pianist, music educator, and scholar. She has performed at American universities and at numerous international conferences and cultural events.
Students and faculty in a variety of disciplines benefited from this program on contemporary Iranian Literature and music. In light of much negative political coverage of Iran, this program helped our students, faculty, and community members learn about Iranian people, their experiences, culture, and aspirations.
---
"Diversity in the Middle East: Commonalities and Polarities" - The conference, led by SUNY New Paltz faculty and students, aimed to deepen understanding of the region through in-depth analysis of economic, political and religious factors. Drawing on knowledge and experience of the region, participants challenged stereotypes and common perceptions. Particular attention focused on commonalities that unite "us" and "them" and on polarities that divide people in the region and create distance between "our" aspirations and theirs. Breakout sessions on the role of women, Turkey, economics and politics, religious diversity and an exhibition of student art and a student-led plenary on youth and the spreading revolution, helped interpret current and recent events. Concurrent sessions ran on the topics of "Upheaval in the Middle East: A Path to Development?" organized by Professors Mona Ali (Economics) and Lewis Brownstein (Political Science).
---
"Islam and a Just World Order" - The Center presented a talk by Professor Hamid Dabashi of Columbia University. The event included musical entertainment by Yemeni singer, percussionist (dumbek and frame drum) and oud player Ahamed Alrodini and Israeli percussionist Isaac Gutwilik.
---
"Recent and Future U.S. Policy in the Middle East" - The inaugural event in April 2009 featured a discussion between Professor Fawaz A. Gerges of Sarah Lawrence College and Professor Lewis Brownstein of SUNY New Paltz.
---
Links of Interest
For more information, contact:
James Schiffer, Professor of English
Phone: 845-257-3676
Email: schiffej@newpaltz.edu