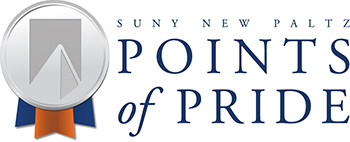 This Web site contains answers to commonly asked questions about SUNY New Paltz's Escort Service. We encourage you to use the "Loop" Escort Service and the Walking Patrol Service whenever you feel that walking alone may not be in your best interest. Please call 257-3338 for a walking escort or pick up from 10 p.m. - 4 a.m. during the fall and spring semesters.
What is the purpose of the Escort Service?
The Escort Service is designed to enhance your safety on campus if you must walk alone. The primary goal is to enable you to travel from point to point on campus with a greater sense of security. This is not a taxi service!
Who is eligible to use the Escort Service?
The Escort Service is available for all students, staff and faculty at the college. There is no fee for using the Escort Service.You must show your Picture SUNY New Paltz ID card in order to ride the "LOOP." If a student is intoxicated they can be refused a ride and University Police may be called. Groups of two or more that are concerned with their safety can call for a walking escort between the hours below.
When are Escorts available?
The Escort Service and Walking Patrol runs from 10 p.m. - 4 a.m., 7 days a week, during the fall and spring semesters. Check out the map to see our drop off and pick up stops on campus.
Where can I be Escorted?
The Escort Service will either walk or ride you to your destination anywhere on campus. Please review the map to see where our "pick ups" are located. Parties of two or more that are walking to the same destination will be offered a walking escort.
What is Walking patrol?
Our walking Patrol can be easily located by their bright orange jackets. Our student workers are in radio contact at all times with the University Police Department.
Need a Job?
We hire approximately 10 students each semester for the escort service. If you are interested in working with our staff, contact Lieutenant John Ritayik at the University Police Department at 845-257-3657 or e-mail ritayikj@newpaltz.edu.
Escort Pick Up Spots Residence Halls:
* Bouton: back circle
* Capen: rear of building
* Scudder: rear of building
* Gage: rear of building
* Bliss: rear of building
* Crispell: rear of building
* Lefevre: behind Hasbrouck dining hall
* Bevier: behind Hasbrouck dining hall
* Deyo: side door by gunk
* Dubois: side door by bridge
* Esopus: front door
* Shango: fire escape by parking lot
* College: side door by WSB
Other Pick Up Spots:
* Lot 18 (farthest point towards Convenient Deli)
* Library: parking lot by stairs
* Gym: front doors
* SBB: front of building
* Humanities: parking lot, basement level
Note:
* After 11 p.m. when residence hall doors lock, drop off spots might alter for safety reasons. However, pick up spots will always remain the same.
* If you call for an escort please be at the designated pick up spot on time to ensure quality service.