About the Professorship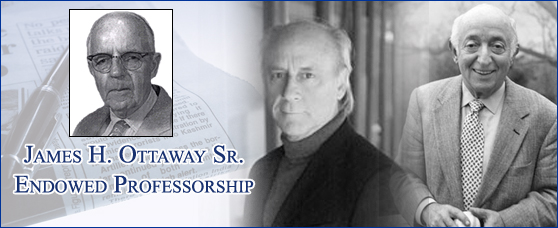 The James H. Ottaway Sr. Visiting Professorship, the first Endowed Professorship in Journalism at SUNY New Paltz, is named for the founder of Ottaway Newspapers Inc., which is now a coast-to-coast group of 13 daily, 11 Sunday and more than 30 weekly newspapers with a total circulation of 387,224. The flagship newspaper of the chain is the Times Herald-Record in Middletown, N.Y.
A generous donation endowed the professorship, created to recognize the contributions to journalism of James H. Ottaway, Sr., who died in January 2000 at the age of 88. Ottaway Sr. was a leader of the American Press Institute, an industry education center in Reston, Va. Ottaway Sr. received the center's first lifetime achievement award in 1996.
Ottaway Sr. was a highly regarded publisher of community newspapers. According to his son, James Jr., "his (father's) vision of a good community newspaper was that it should tell the truth without fear or favor, and build a strong sense of community by helping volunteer groups and good government to improve leaders' lives." He has been described by many as a man of great enterprise, integrity, generosity and good humor.
For information on how to apply, click here.