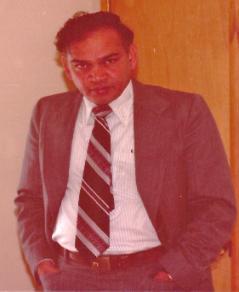 The C. R. Seshu Scholarship offers several awards to Economics majors each year. These scholarships are each $1,000 financial grants dispersed to students on the basis of merit over two semesters of their studies at SUNY-New Paltz.
C. R. Seshu Scholarship: Professor Chigurupati Rama Seshu taught Economics at State University of New York-New Paltz from 1972 to 2002. After immigrating to New York City from India, Professor Seshu received his Ph.D. from the New School for Social Research. His teaching interests were in Development Economics, Comparative Economic Systems, and International Economics. Professor Seshu was primarily concerned with issues that developing economies faced. His family, friends, and colleagues jointly established this scholarship as a memorial to his unwavering commitment to New Paltz. This scholarship is awarded annually to students who share Professor Seshu's interests in developing economies.
Eligibility: These awards are disbursed on the basis of merit as determined by the Scholarship Review Committee of the Economics Department at SUNY-New Paltz. Recipients of both awards must be declared Economics majors at SUNY-New Paltz with junior or senior standing. Recipients must have a minimum grade point average of 3.2 and must take a minimum of five upper division economic courses during the two semesters in which they receive these scholarships.
Application Deadline: April 5
Award Announcement: May 5
---
Recipient of Seshu and Economics Scholarships:
2015-2016 Kevin Castel (C. R. Seshu Scholarship)
2014-2015 Simon Li (C. R. Seshu Scholarship)
2014-2015 Nicholas Thorn (C. R. Seshu Scholarship)
2013-2013 Kevin Early (C. R. Seshu Scholarship)
2013-2014 Corby Ferlesch (C. R. Seshu Scholarship)
2012-2013 Jacob Meglio (C. R. Seshu Scholarship)
2012-2013 Alexander Penney (C. R. Seshu Scholarship)
2011-2012 Juliana Roding (C. R. Seshu Scholarship)
2009-2010 Sandra Davis (C. R. Seshu Scholarship)
2008-2009 Esmeralda Barreiro (C. R. Seshu Scholarship)
2007-2008 Chase Evans (C. R. Seshu Scholarship)
2006-2007 Yuyi Chen (Department of Economics Scholarship)
2006-2007 Rana Quadri (C. R. Seshu Scholarship)
2006-2007 Lindsay Weintraub (C. R. Seshu Scholarship)
2005-2006 Robert C. King (C. R. Seshu Scholarship)
2005-2006 Evan Browning (Department of Economics Scholarship)
2005-2006 Jonathan Mann (C. R. Seshu Scholarship)
2005-2006 Ryan Willemsen (C. R. Seshu Scholarship)
2004-2005 Andrea Restripo (C. R. Seshu Scholarship)