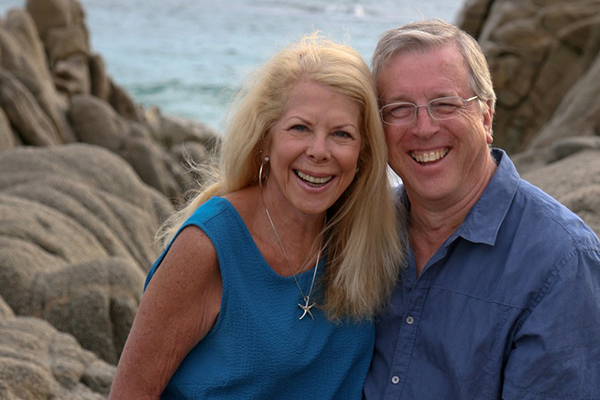 Gayle Jacobs "Jake" Olson-Binder '68 (Art Education), pictured here with her husband, Mike Binder, says SUNY New Paltz was instrumental in her successful life, and she's showing her appreciation by establishing resources that will help future generations of students succeed as well.
Gayle has enjoyed a rewarding career as a commercial artist, teacher of English and art, counselor, psychologist administrator, working primarily with at-risk youth in student services and special education roles. Most recently she served as a retirement benefits counselor of the StateTeachers Retirement System.
Gayle complemented her professional activities through volunteer work in counseling, psychology and administration. She was elected president of the Student Services Special Education Council Retirement Committee and received the Advocacy Award from Phi Delta Kappa. Gayle lobbied in Sacramento, California, and Washington, D.C., to fund special education programs, protect teachers' retirement benefits and support the Social Security Fairness Act.
Some years ago, she furthered her commitment of gratitude to New Paltz when, in anticipation of her retirement, she decided to support the College by making a gift in her will. She hopes the gift will serve students and public education at New Paltz for generations to come.
Learn about more ways to give online.